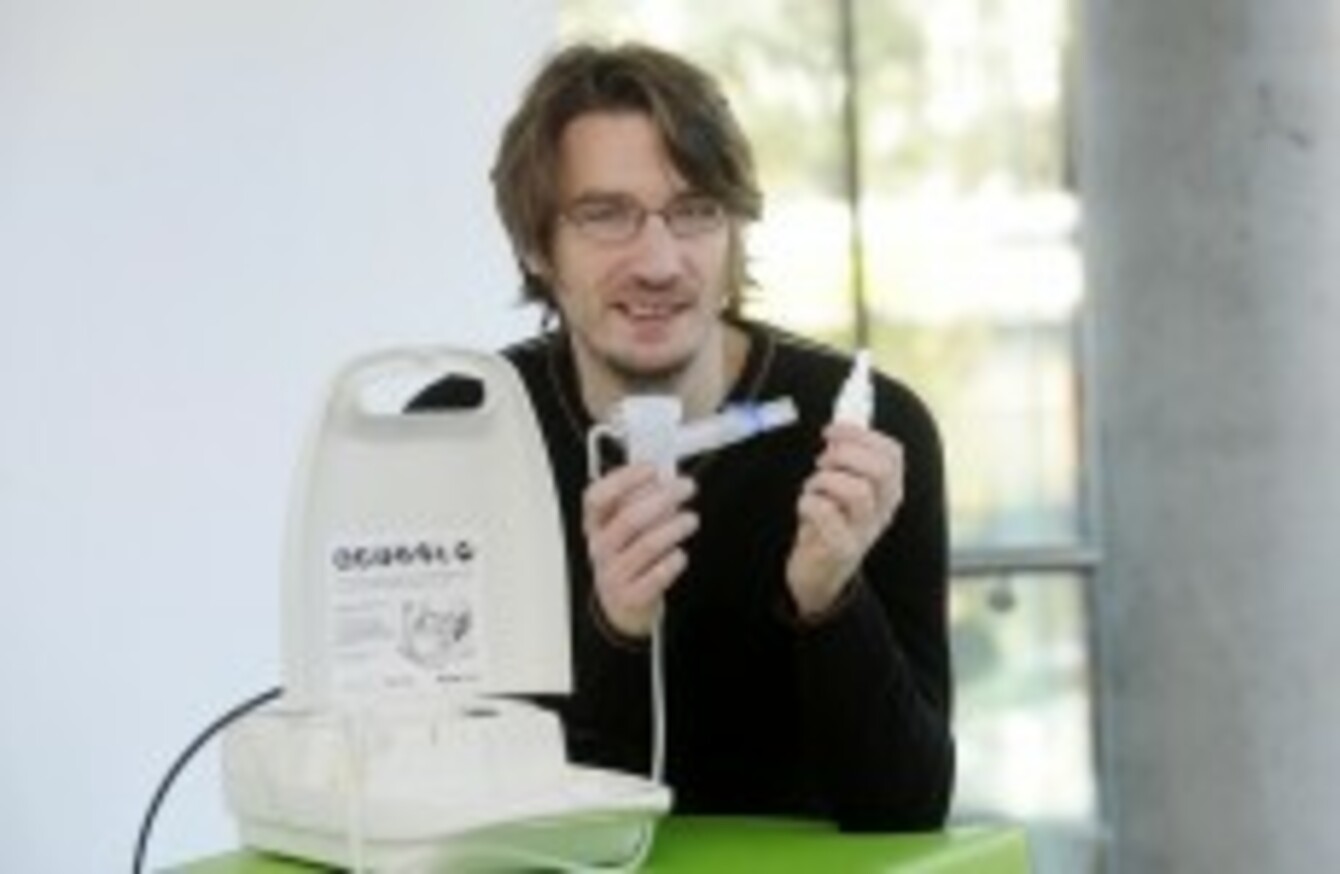 Cystic Fibrosis (CF) patient, Tomás Thompson pictured holding a Podhaler (right)
Image: Laura Hutton / Photocall Ireland
Cystic Fibrosis (CF) patient, Tomás Thompson pictured holding a Podhaler (right)
Image: Laura Hutton / Photocall Ireland
A NEW INHALER has been launched for Cystic Fibrosis (CF) patients that cuts down on the time needed to take an antibiotic treatment.
The new 'wireless' drug development in the treatment of CF is a hand-held inhaler called the 'Podhaler', which is used instead of the traditional nebuliser.
The 'Podhaler' reduces the time needed to receive antibiotic treatment from almost an hour a day (connected to a mains-powered nebuliser) to just five or six minutes.
Ireland has the highest incidence of Cystic Fibrosis in the world with one in 19 people carrying the gene responsible for the disease.
CF causes a thick sticky mucus to be produced, blocking the bronchial tubes and preventing the body's natural enzymes from digesting food.
CF patients need to keep up a daily routine of physical therapy to keep their lungs free of congestion and infection.
Tomás Thompson from CF Ireland uses the Podhaler and says that it is hugely beneficial.
It's wireless so there's no nebuliser required; so you don't have to have a bulky nebuliser to do it. It doesnt need to be carried around – you can put it into your pocket, take it work, school or college. It speeds up the time whereby you take the antibiotic in two ways – it's much quicker. You take the inhaler for six minutes – by normal nebuliser it takes 20 minutes to half an hour each time. It also doesn't need to be cleaned. With a conventional nebuliser, you have to clean it regularly.
He added:
It was available to people who were on the trial, but to most of the population it is only available as of last week. People can get it through their CF centre – it would be prescribed by their consultant. We estimate half the population would benefit from this.
He said the new inhalier is greatly welcomed by those with CF: "It helps your quality of life."
Also exciting news for CF patients is a new breakthrough drug that targets the condition at a cellular level.
A licence for the drug – known as VX-770 – is being sought by the American pharmaceutical company Vertex.
If approved, it will make it the first drug on the market that treats the underlying cause of CF – existing treatments target the symptoms.