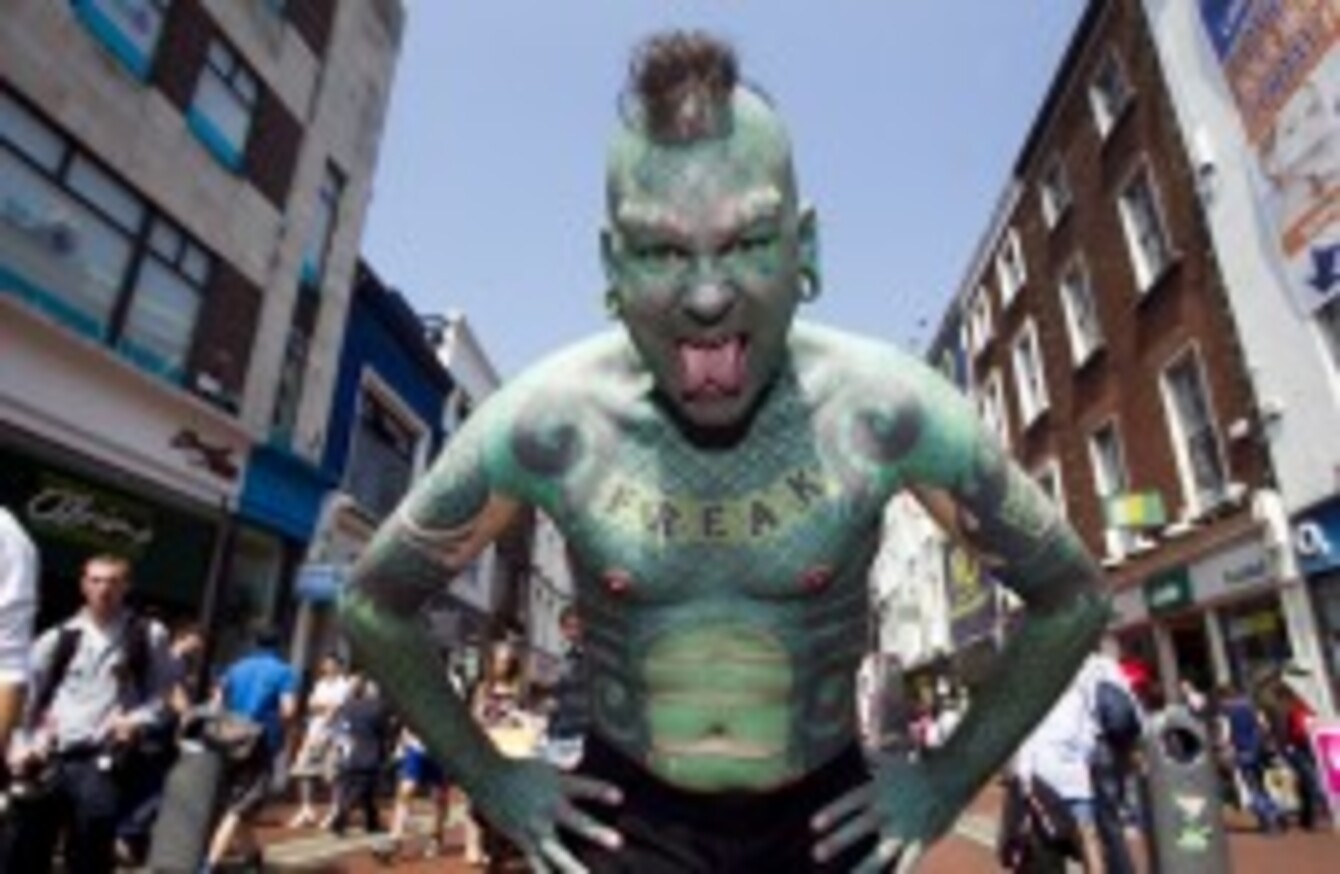 Iconic international performer The Lizardman, who performed at this year's Street Performance World Championship in Dublin
Image: Leon Farrell/Photocall Ireland
Iconic international performer The Lizardman, who performed at this year's Street Performance World Championship in Dublin
Image: Leon Farrell/Photocall Ireland
STREET PERFORMERS IN Dublin are being asked to abide by a new code set by the city's council.
The new voluntary code was launched today by Cllr Gerry Breen, who represented the Lord Mayor of Dublin, Naoise Ó Muirí, at the event in St Stephen's Green.
Pilot
The code has been proposed by Dublin's street performers and was developed with local traders and Dublin City Council.
The code, which will be piloted for three months, covers issues such as amp free zones, behaviour, crowd control and health and safety.
Dublin City Council Arts Officer, Ray Yeates, said:
This voluntary code honours the unique contribution that buskers make to city life while asking them to respect their fellow citizens and adjoining businesses. The code is for everyone to adopt and discuss and in three months time it will be reviewed by Council as to its workability and enforcement.
Code
The voluntary code addresses a number of issues. It states that performers will only use amplifiers of no greater power than 15 watts, and that there will be a number of amp-free zones.
Performers will not set up within 50 metres of each other, and they should be conscious of businesses and dwellings near their performance areas, not allowing volume to affect them.
Ethics is also covered in the code, with performers not permitted to "hog" or monopolise a performance site. A time limit of 1 hour is set for all acts, except for human statues, pavement artists and balloon modellers.
Performers are not to dress, act, say or do anything that is likely to cause alarm or distress to people, and sale of merchandise is not allowed.
Those who dislike bands repeating the same songs will be glad to hear that performers should have a repertoire of at least 20 songs.
Drumkits are to be replaced by unamplified cajon/percussion instruments.
Traders and performers
Martin Harte from Temple Bar Traders commented that the group is delighted with the introduction of this code.
He said it is:
a positive first step which we believe will greatly assist in making the city an even better, more pleasant place for street performers, the public and the businesses at large.
Local street performer Brian O'Connell, who performs his circus-based act under the name Tremendous Trevor, said that street performance is a "time honoured art form that adds to the attractiveness and colour of Dublin City". He said that street performers "welcome this step forward together".
Full details of the code are available to download from DublinCity.ie.
Councillors in Killarney have agreed to assess the volume of street performers there this tourist season, following complaints from residents.