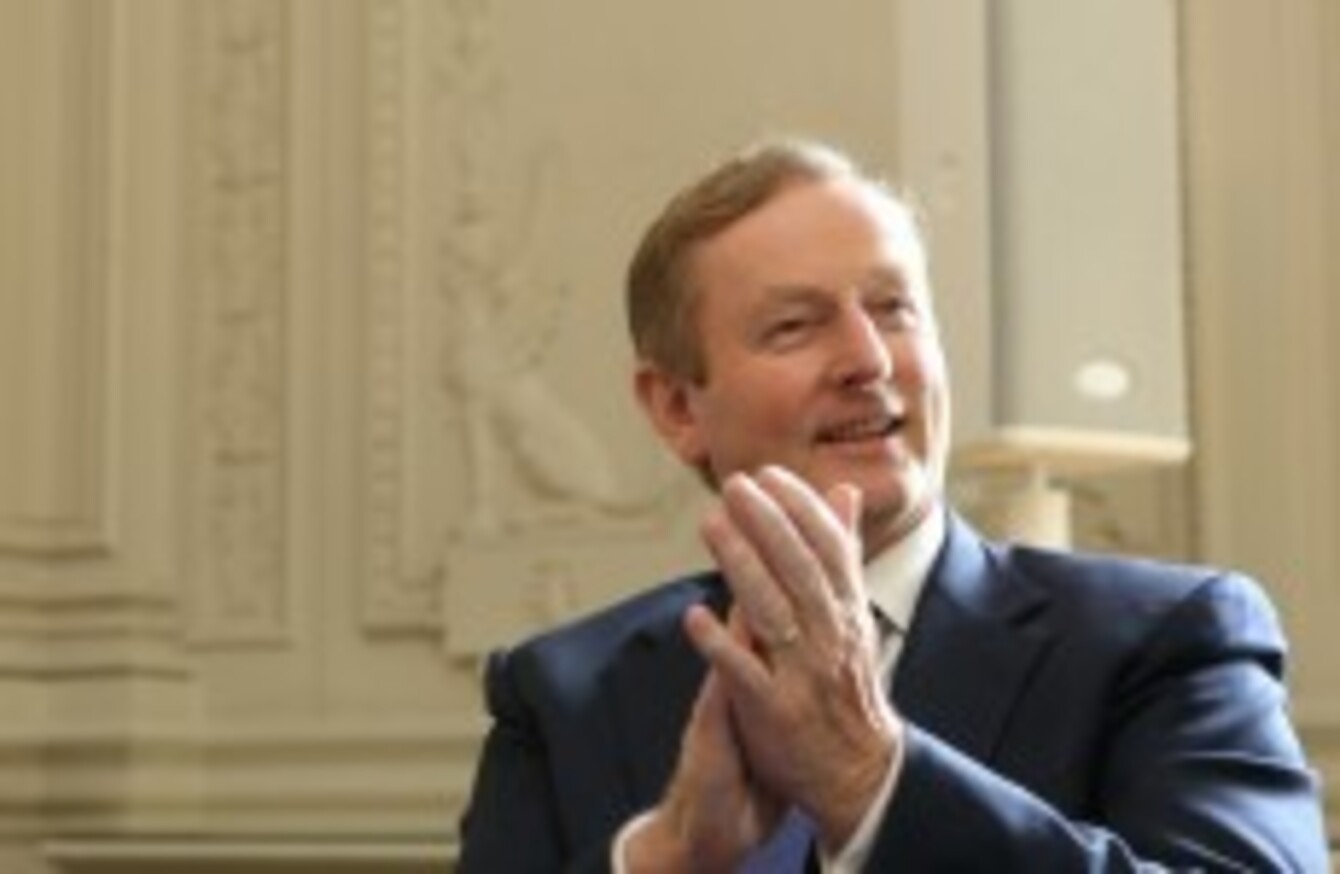 Taoiseach Enda Kenny
Image: Sam Boal/Photocall Ireland
Taoiseach Enda Kenny
Image: Sam Boal/Photocall Ireland
Updated at 12.04pm
TAOISEACH ENDA KENNY has said the Central Bank's new mortgage rules "strike the right balance" and it was important officials learned the lessons from past mistakes.
His comments came after the bank's governor, Patrick Honohon, defended his decision to include a partial exemption for first-time buyers as part of the new rules applying lending limits to mortgages.
It was expected that the regulator would issue a blanket rule meaning buyers would have to have 20% of the value of the house themselves.
However the regulations – finally announced yesterday – have been relaxed somewhat, with an option for first-time buyers to borrow 90% of the property's value up to €220,000. An 80% limit will apply on anything over this amount.
Speaking about the rules on Newstalk's The Pat Kenny Show today, the Taoiseach said putting the restrictions in place was "not just about now, this is for the future".
"I never again want to see the situation where young couples, young families, are sort of led down the road of walking into the trap of negative equity and borrowing to the extent of what went down before," he said.
"These are guidelines to put a brake on that kind of bubble erupting again."
€30,000 deposit 'achievable'
When asked whether workers like teachers would be able to afford €25,000 or €30,000 deposits to get on the property ladder, Kenny said: "It's always a challenge but I think that's achievable."
"That's much better than walking into a situation where you were given a 100% mortgage and find it's a millstone around your neck for the next 40 years."
The average asking price for homes across Ireland was €193,000 for the last three months of 2014, while the figure was nearly €250,000 for properties in north Dublin.
Earlier, Honohan told Morning Ireland the Central Bank had "felt it quite safe" to move in the direction of helping first-time buyers attempting to get on the property ladder.
"First-time buyers of smaller houses never caused a boom," he said.
Asked how the limit of €220,000 had been settled upon, Honohan said about half of the houses first-time buyers were purchasing in Dublin came in below that price.
A sliding scale will apply after the 10% cut-off which means the deposit for a first-home buyer on a property worth €440,000 would rise to around 15%.
Source: Sasko Lazarov/Photocall Ireland
As part of the new rules, all mortgages taken by owner-occupiers will be subject to an 80% limit, and buy-to-let borrowers will have a limit of 70%.
Certain exceptions are allowed – for instance, no more than 10% of future buy-to-let mortgages can be for more than that 70% value.
Buy-to-lets feed bubbles
Honohan said the buy-to-let sector "does have the tendency to contribute a lot to a bubble-like atmosphere and we're strictly limiting those, although allowing – as we do for all of these – a leeway in case they find cases that they feel they can safely lend above".
"It's a small leeway for the buy-to-lets – just 10% of the portfolio in that area. But for the others, there's a 15% leeway for special cases.
People may say may say 'well I'm not a first time buyer but I have a particular situation that it really makes sense for me to have it higher'.
The Central Bank wasn't second guessing the decision of the lender, he said, stressing that each decision would be made locally.
The new rules will come into effect "in a matter of days", Honohan said.
What we're trying to do is prevent that psychological loop between credit and prices and credit. If we can avoid that we can keep banks safe, we can keep borrowers safe."
Honohan said Finance Minister was "OK" with the new rules, which will have to pass through the Dáil before they are officially introduced.
In a statement yesterday, Noonan said the announcement would "provide certainty to borrowers and ensure that banks continue to engage in prudent lending practices".

Additional reporting Peter Bodkin