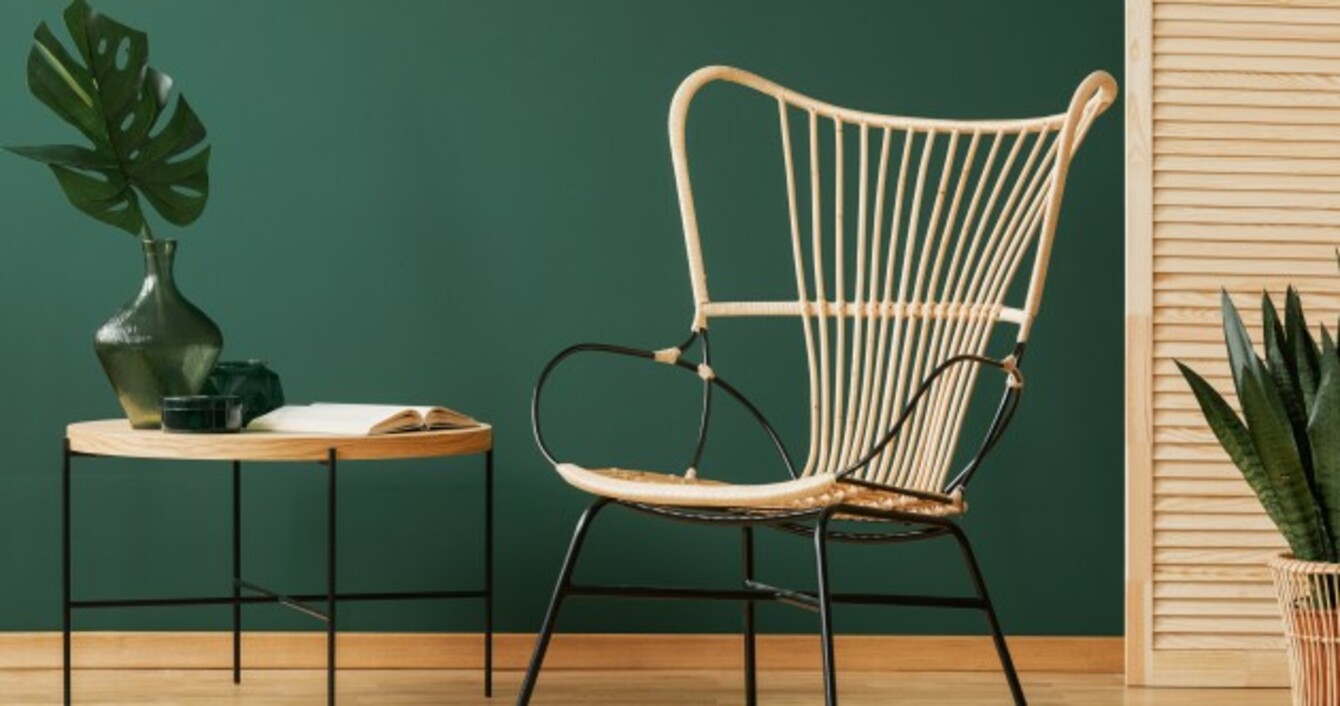 Image: Shutterstock/Photographee.eu
Image: Shutterstock/Photographee.eu
SPRING IS IN the air. While the weather might not be the most reliable indicator of the changing seasons, your decor at home can do the job pretty well.
This season is a wonderful time for trends as we move away from the darker palettes and heavier textures that have dominated throughout winter. There's a wealth of new spring-appropriate materials, prints and colours starting to dominate in shops and online, but which ones will last into summer and beyond? 
Below is a selection of trends I've seen cropping up so far this season, and that I already have high hopes for…
1. All rattan everything
Rattan is is a trend that's been slowly on the up since last year. Across most high street stores, you're unlikely to find a spring collection that doesn't include this affordable and aesthetically pleasing material. From Bohemian-style rattan headboards (KAVE Home online is your best bet and least expensive here) to statement chairs that would work well in any room of the house, a pop of rattan will instantly elevate your living space. To ensure you get the mileage out of it, think about the textures and cushions you can pair with your rattan as the season moves on. A herringbone knit throw, a sheepskin rug draped across it, a seat cushion – you can create several different looks with the one piece. Sostrene & Grene's rattan offerings are flying off the shelves, and for a statement armchair, IKEA's Buskbo looks far more expensive than it actually is (€150).
2. Soft green colour palettes
This spring there's a noticeable shift towards a very soft, calming colour palette that sits under the green umbrella. Strong racing green feature walls have had their moment and now we're seeing less of the feature wall and more of the all over colour, particularly with these more pared back shades. Opt for a sophisticated sage green in the living room or a sea green or minty hue in the bedroom where tranquility is the name of the name of the game. If you're not in a position to get the paint rollers out, look to introduce this colour palette into your soft furnishings. Scatter cushions on the sofa can soften the aesthetic and you'll even find this palette in tableware. Flower vases and ceramic lamps with this appealing family of hues are a worthy and cost-effective investment that won't feel dated for a very long time.
3. Textured bedlinen
H&M Home's spring bedroom collection is full of rich textures that are ideal for spring and beyond. Cosier textures are typically associated with winter, but if you keep the colour palette light and work in different fabrics you can create a haven of indulgence in the bedroom that will work at any time of the year. Linen works wonderfully in springtime and as bed linen is something you constantly swap out, you'll get plenty of wear out of it. Pair the linen sheets with waffle textured bedspreads, woven tassel cushions for decoration and your bed will instantly become more inviting. Bed cushions can move around the house as your decor needs and desires change.
4. Mixing your decades
One trend that's settling in for spring and sure to last for a year or two is the idea of mixing old and new styles throughout the house. For example, if you fall in love with a mid century piece of furniture for the living room, this does not have to dictate the rest of the pieces you go for. Any kind of seamless perfection is out the window for 2020 and this mixing and matching of your favourite pieces – be they old and vintage or brand new and very contemporary – allows for a lot more individuality in your home. When planning a makeover of one room, don't think about the furniture or the elements of the room as a set. Fall in love with items and trust that the whole room will come together. This also allows you to shop the high street and visit some vintage sellers all the while keeping your costs down.
5. Orange accents
A slight move away from mustard and ochre sees us embracing something a little bolder this season: pops of orange. This ties in perfectly with the pared back minty, sea-green hues mentioned above, allowing the orange to work as your accent or dominant colour, while more subtle hues can take the background. If you're a little unsure about this one, and have worrisome visions of orange walls and sofas, be sure to remember that accent colours come in small doses, providing a contrast and a point of interest. They don't take over the whole space. Meadows & Byrne's spring soft furnishing offering allows for the perfect introduction to orange, complete with wonderful colour pairings so you cannot go wrong.
6. Clear the decks
The last few seasons have warmly embraced the idea of having things on display – particularly in the kitchen. We fell for it too – when you have perfectly organised open kitchen shelves, it can really create the illusion of a lot more space. But then there's the dust. And the fact that every time you'd go to use a cup you'd have to rinse it first. The more stuff you have open and front facing, the more of an issue this will become. For pure practicality reasons, and perhaps because of the innate need to spring clean at this time of year, we're going back to stocking things away behind cupboards. Keep your kitchen counters as clear as possible.