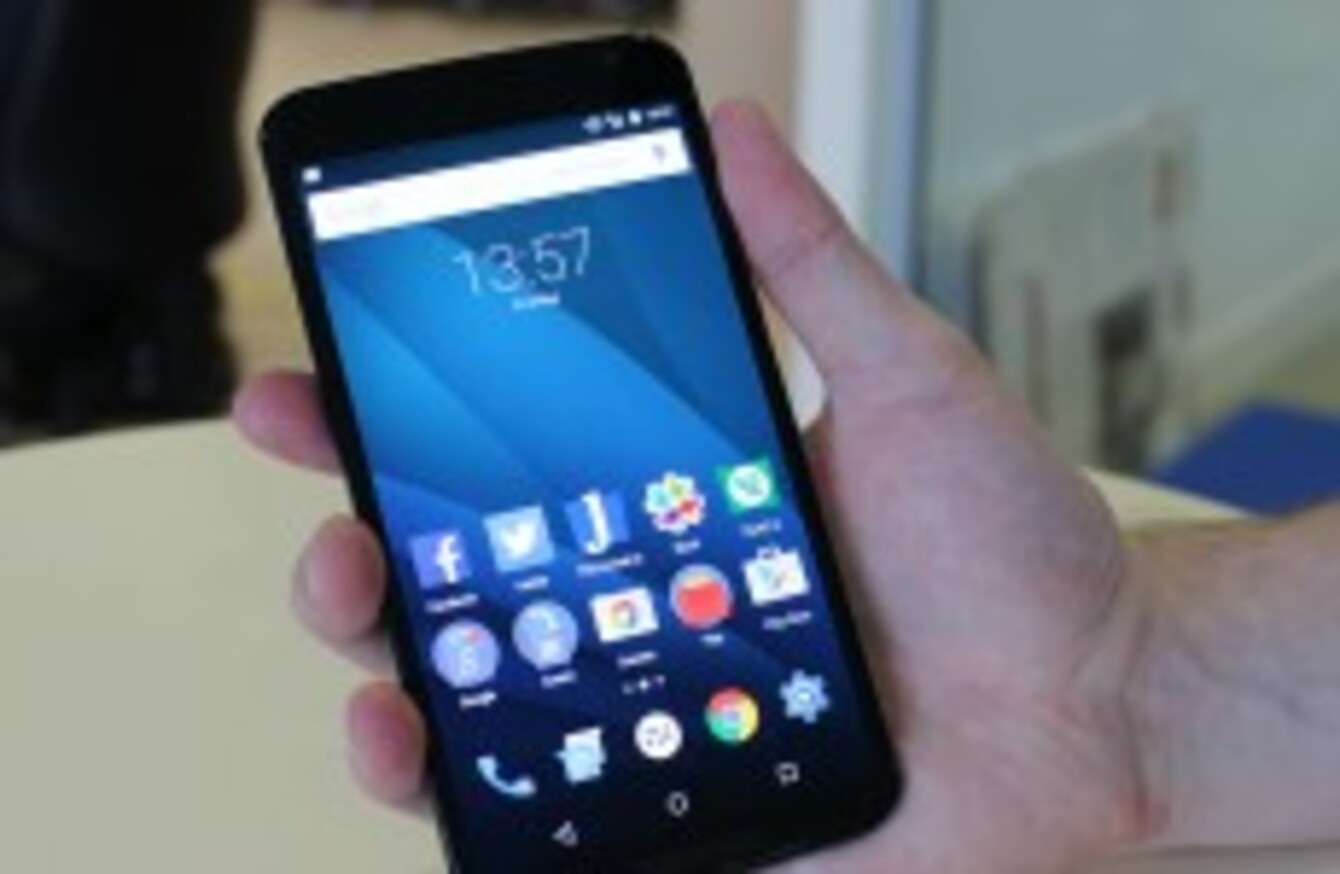 Image: TheJournal.ie
Image: TheJournal.ie
Score: 7.5/10
Verdict: A good improvement over its predecessor, but a gigantic screen and high price point will put some off.
IT TOOK A long time for it to arrive over here, but the Nexus 6 finally made its way to Irish shores.
It's the successor of the Nexus 5, a fan favourite among Android users for having good specs at an affordable price. While that was the case back in 2013 when it was first released, things have changed a little.
This time, Google has gone for premium specs with a phablet design and enlisted the help of Motorola to help design this. But how does it compare to the other big hitters like the Samsung Galaxy Note 4 and the iPhone 6 Plus?
Look and feel
The first thing you will immediately notice is the size. This is a big phone, something you'll keep remembering whenever you use it.
A 6-inch screen allows for a lot on screen but at the best of times, one-handed use is difficult. It just manages to be a little too big for you to feel comfortable using it without both hands and this is something that crops up regularly.
That's a pity as the design choices are quite good. Using a plastic backing, a metallic ridge and glass screen, the screen edges are smooth and the slightly curved backing does allow for comfort when nestled in your hand.
The only two physical buttons are located at the side, the power button and the volume buttons. Interestingly, the power button has a number of grooves on it while the volume button is smooth, likely to tell which is which by touch alone. This would be handy if it was a smaller phone, but even reaching for those buttons one-handed is pretty difficult.
There's no notification light for this version. Instead, it uses 'Ambient Display' which has the screen lighting up in black and white whenever you get a notification. It feels less intrusive than a notification light and it's less strain on the battery, which is always a good thing.
The two speakers are located at the front of the device, in the form of two ridges at the top and bottom. It's a standard more smartphones are following since it allows better quality sound when watching video, and in this case, the quality is good.
The Hardware
Since this is Google's attempt at creating a high-spec phone, it went all out on developing it. Using a 2.7 GHz quad-core processor and having 3GB of RAM means everything zips along nicely and it's able to handle the more demanding tasks.
It also packs in a lot of pixels (1440 x 2560) producing a screen on par with the Samsung Galaxy S6 and Note 4. Colours on the Nexus 5′s screen could look soft and blend in together, something that made taking photos a little difficult, but there's a noticeable increase in sharpness here.
The one thing a large phone offers is a larger battery (3220 mAh) and to its credit, it does last a while. There were times after the end of a day through normal use (medium screen brightness, checking notifications, email, news, messages, etc.), we were left with roughly 30% of battery life which is decent, if not great.
Google's claim that it can achieve 24 hours of use is a little generous mind, and a more realistic timeframe would be 14 to 18 hours depending on how heavily you use it.
The camera has received a boost as well, and is much better than the Nexus 5, one of the phone's weak points. The 13MP rear camera is able to pack in high quality shots during the day, but in darker or low light situations, it will take a bit of time before you end up with a shot that gets the brightness right.
The 2.1MP front facing camera is pretty good for selfies, although nothing to write home about.
Nexus 6 camera

Nexus 6 camera

Nexus 6 camera

Nexus 6 camera

Nexus 6 camera

Nexus 6 camera
The Software
Since it's Google's phone, the Nexus series is always an opportunity to showcase what Android can do and it's par for the course here. The larger size means you can squeeze more apps and widgets onto the home screen, whether you'll do that or not is another thing but it will certainly look nice either way.
The performance is great as well. It zips from one task to another effortlessly and there's very little that will make it break a sweat. Even the more demanding games like Dead Trigger 2 and Goat Simulator perform without fuss.
Yet, and this may be an odd criticism, stock Android isn't really designed with large phones in mind. Granted you have the Nexus 7 and 9 which have Lollipop, but when you consider the measures the Samsung Galaxy Note 4 and the iPhone 6 Plus added to help people manage the large screen, such functionality is absent here which is a pity.
Should you buy it?
Honestly, it depends on how much you prefer specs over functionality. Yes, it is definitely an improvement over the Nexus 5 and it's great to use if you're a fan of Android in its purest form, but the sheer size of it and the high price (it's €599 for the 32GB version) will likely deter most from purchasing it.
If you appreciate high-end specs, then you need to weigh it up against the number of devices like the OnePlus One that are offering higher end specs for the price of a medium range smartphone.
As a showcase for Android, it's another great phone, but competition at the top is tighter than ever, and you have other similar sized devices like the Samsung Galaxy Note 4 and iPhone 6 Plus (both have slightly smaller screens at 5.7-inches and 5.5-inches respectively), devices that add ways to help manage the large screen.
Yet on the other hand, this SIM-free version is cheaper than the other two smartphones mentioned so you have to decide what you prioritise more.
There is a group of people who will love the Nexus 6 and there are many positives here, but just be aware of the concessions you'll be making.
Pros
- Improved high-end specs.
- Impressive speed. Virtually no chance of slow down.
- Still a contract/SIM-free device so not locked down to one carrier.
Cons
- Large screen is difficult to use one-handed.
- Uses stock Android so no features designed to help manage 'phablet' device.
- High price will put some people off.
The Nexus 6 costs €599/€649 (32GB/64GB) and is available on Google Store.