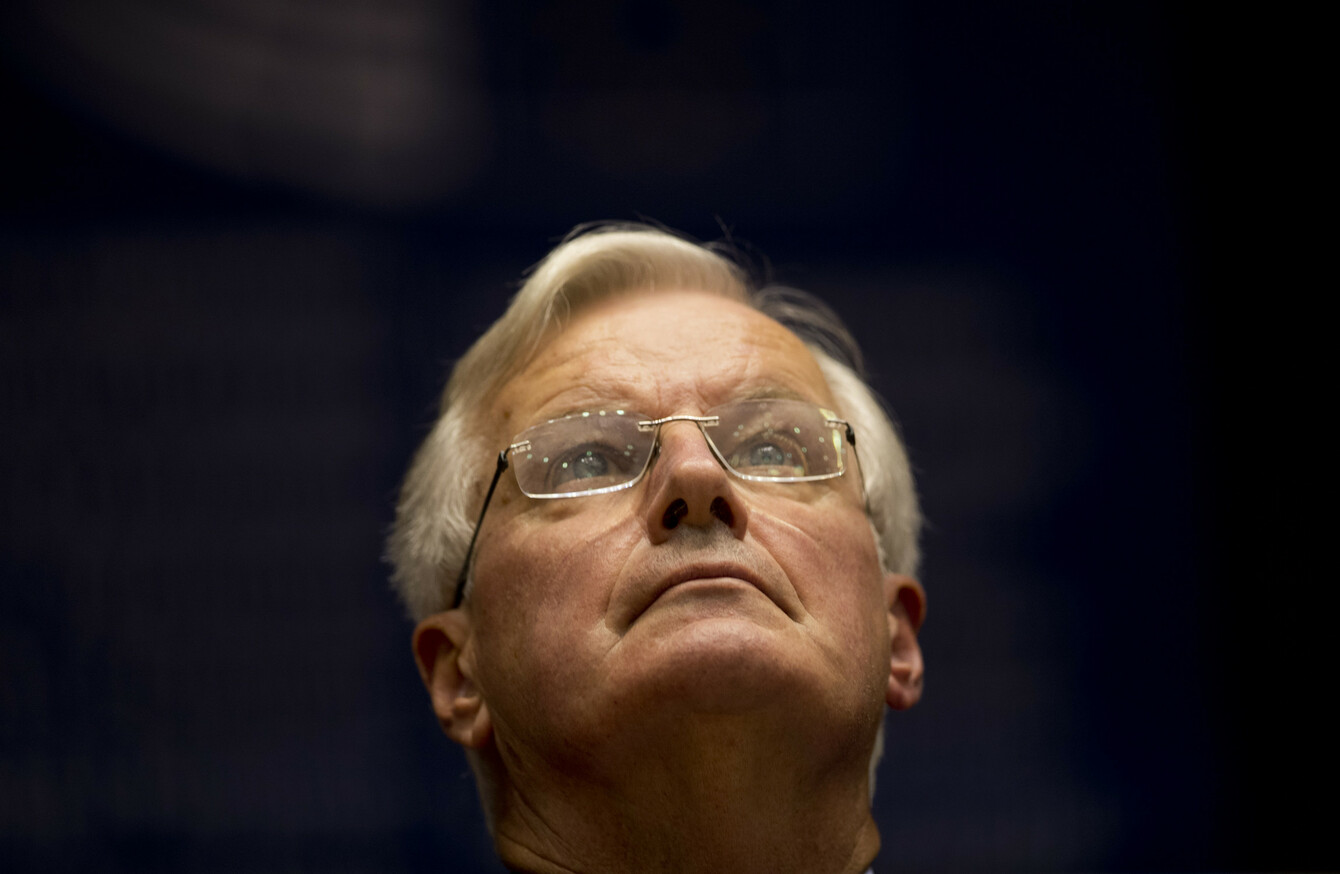 European Union chief Brexit negotiator Michel Barnier.
Image: PA Images
European Union chief Brexit negotiator Michel Barnier.
Image: PA Images
Updated Oct 14th 2018, 7:30 PM
LAST-DITCH BREXIT talks between UK and EU officials aimed at reaching an agreement on trade rules for Northern Ireland have broken down this evening.
The talks were aimed at reaching an agreement before a crunch summit on Wednesday but the EU's chief negotiator Michel Barnier tweeted this evening that no deal was reached. 
Failing to agree a deal at the summit would increase the chances of a disorderly and damaging British departure from the bloc. 
Britain's Brexit Secretary Dominic Raab was in Brussels today for a previously unannounced meeting with Barnier. 
"With several big issues still to resolve, including the Northern Ireland backstop, it was jointly agreed that face-to-face talks were necessary ahead of this week's October European Council," a spokeswoman for Raab's ministry said ahead of the meeting.
Those talks have now completed with Barnier saying the Irish backstop remains an issue. 
Rabb is reported to have left Brussels with no more meetings planned with Barnier tomorrow.
The backstop arrangement to avoid a had border would see Britain leave the EU customs union while Northern Ireland remains in alignment with EU trade rules.
British Prime Minister Theresa May has said that her priority is to avoid such a situation and DUP leader Arlene Foster says her party would vote against any such deal in the House of Commons.
The DUP is propping up May's slim Commons majority and the party has therefore has had an outsized influence on the negotiations, leading to Foster meeting Barnier last week. 
Leaked emails following that meeting have shown that Foster reportedly sees a no-deal Brexit as the "likeliest outcome".
Foster was said to be "deeply disappointed" with the outcome of her meetings with Barnier.
The Observer newspaper has published a private email exchange between senior UK officials on Foster's thoughts following the meeting. 
The exchange was based on a dinner Foster held with Conservative MEP Ashley Fox.
"She described Barnier as being difficult and hostile in her meeting today…," the leaked email from an adviser involved in the Brexit talks says.
"AF [Arlene Foster] said the DUP were ready for a no-deal scenario, which she now believed was the likeliest one."
Foster is due to meet with Taoiseach Leo Varadkar in Dublin tomorrow to discuss Brexit and other issues. 
British Prime Minister Theresa May has been informed about Foster's stance, coming just as she faces an intense Brexit battle in the coming week. 
May faces a fight on two fronts, battling to convince her own ministers and then Brussels as the Brexit talks come to a head.
She must see off the threat of a cabinet mutiny and then try to overcome a logjam in divorce negotiations at a summit in Brussels — with a breakthrough still seeming elusive.
Time is running out on Britain's EU exit talks — and this week's gathering of European Union leaders could prove decisive on the path to striking a deal between London and Brussels.
With Britain set to leave the bloc at the end of March, European Commission head Jean-Claude Juncker is demanding "substantial progress" this week, specifically on the border issue.
As for May, she not only has to win over her continental counterparts but also increasingly restive allies back home.
The hard work starts for May on Tuesday when she will rake over the Irish border issue with her cabinet, amid speculation that further ministers could quit if the PM ploughs on with her proposals.
David Davis, who quit as Brexit secretary in July over May's broad blueprint, wrote in The Sunday Times newspaper that her plans were "completely unacceptable" and urged ministers to "exert their collective authority" this week.
Border backstop
Neither London, Dublin nor Brussels wants to see checks imposed on the Irish border, but the problem persists of finding a way to square that aim with May's desire to leave the European single market and the customs union.
Britain has proposed that it would continue to follow EU customs rules after Brexit as a fallback option to keep the border open, until a wider trade deal is agreed that avoids the need for frontier checks.
May says this will only be temporary, but her spokeswoman was forced to clarify the point after media reports that the final backstop arrangement will have no legal ending date.
Source: Sky News/YouTube
'Dodgy deal'
Writing in the Belfast Telegraph yesterday, DUP leader Arlene Foster said the backstop would be "the permanent annexation of Northern Ireland".
Meanwhile, leading Conservative eurosceptic Jacob Rees-Mogg said there were 39 like-minded Conservative MPs who "will not turn" from opposing the current plans.
Conservative Party vice-chairman James Cleverly told Sky News:
We are not going to stay indefinitely in a customs union… we are not going to see Northern Ireland carved off.
Health Secretary Matt Hancock told BBC News that any customs backstop would be "time limited", but did not say whether an expiry date would be written into the deal.
Some diplomats in Brussels have suggested the leaders could talk through the night on Wednesday and approve the outlines of an agreement while they are still in the Belgian capital for broader talks on Thursday.
With reporting by © – AFP 2018