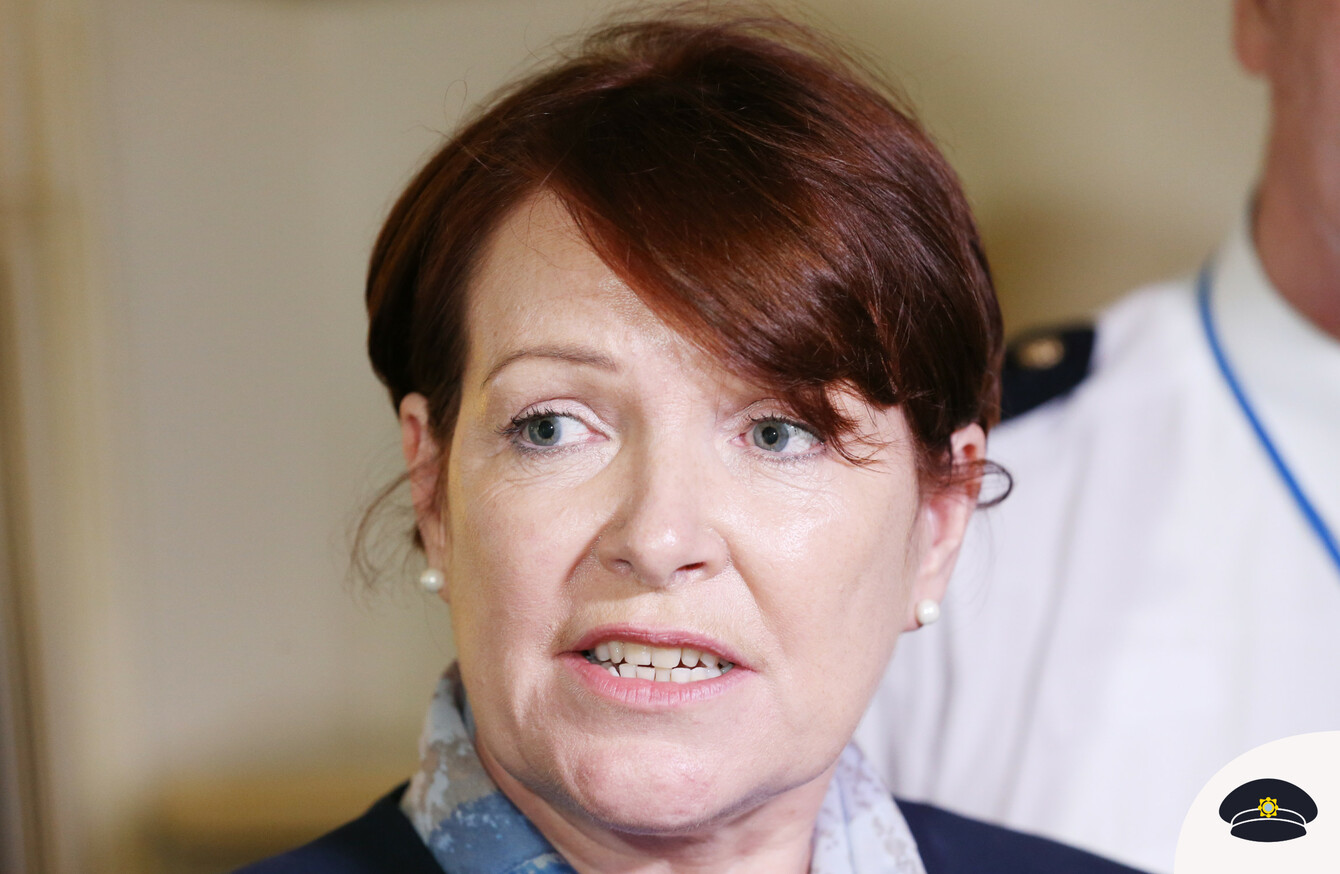 Image: RollingNews.ie
Image: RollingNews.ie
IT WAS EXPECTED that Nóirín O'Sullivan would appear at the Disclosures Tribunal this week but, as preceding witnesses took longer than expected, we now know that she will definitely be appearing this Monday.
Those who appeared this week gave the details of how it came to be that O'Sullivan's legal strategy at the O'Higgins Commission was to challenge Maurice McCabe's credibility and motivation for making allegations against gardaí.
That commission was set up on the back of McCabe's claims of garda malpractice and corruption in the Cavan-Monaghan division, and its brief was to establish the facts of what happened in the cases in question.
We've heard about how haphazard, and even rushed, the gardaí's approach was to preparing for this commission so the former garda commissioner is sure to be asked why that was.
Here are some of the other main questions Nóirín O'Sullivan will need to answer when she finally gives evidence at the Disclosures Tribunal:
1. How much did she know about the Ms D allegation about Maurice McCabe?
A small but crucial detail.
In December 2006, the daughter of a colleague of McCabe's made an allegation that he sexually abused her when she was a child.
An investigation was conducted by Superintendent Noel Cunningham and the DPP decided that even if what had been alleged had happened, it wouldn't constitute a sexual assault or even an assault. The family of Ms D were not happy with the decision not to prosecute, and this led to a series of angry, public confrontations with McCabe.
At this point, McCabe sought to vindicate himself so he made a complaint to a senior officer to have the DPP directions given to both himself and the D family to clear his name. This was denied.
The garda legal strategy at the O'Higgins Commission years later would say McCabe was motivated to make complaints against gardaí because he was angry at being denied these directions.
How much Nóirín O'Sullivan knew of this whole affair, and when she found out about it, will be important to find out.
2. Why did she give the go ahead to impugn McCabe?
In the months before the O'Higgins Commission began in May 2015, O'Sullivan had actually met with McCabe a number of times.
The garda policy was to engage with whistleblowers, listen to their concerns and not discourage them from coming forward.
Why then, did that suddenly switch to challenging McCabe's credibility at the O'Higgins Commission?
We've so far heard testimony from Annmarie Ryan, from the Chief State Solicitor's Office who was assigned to represent O'Sullivan, and Chief Superintendent Fergus Healy, who was the commissioner's "eyes and ears" at the commission.
Both Healy and Ryan said that it was the barristers who, after being filled in on McCabe's background, first advised that McCabe's credibility and motivation be challenged at the commission.
On the evening of 14 May 2015, the day the O'Higgins Commission had started, these barristers acting as Nóirín O'Sullivan's counsel were urgently seeking her instructions.
They wanted to pass on their advice, and see what way O'Sullivan would proceed.
Healy managed to reach her on the phone that evening and he says that O'Sullivan chose to go with this advice to challenge McCabe's motives for making complaints.
Her decision to do this will surely be put under scrutiny. Furthermore, when she finally met with counsel over a week into proceedings, what did she say to them?
Why take this strategy of listening to whistleblowers on the one hand, and then challenge their credibility in the other?
The garda line, which has been borne out to some extent in evidence from Ryan and Healy so far, is that since McCabe was making such serious allegations against senior officers, these had to be challenged somehow.
Healy told the Disclosures Tribunal on Thursday: "We were now facing into a situation where we had a commission of investigation into certain circumstances.
We had an opportunity to get to the truth once and for all… I think in the interests of fairness to everybody, certain issues had to be raised.
It is likely that Nóirín O'Sullivan will adopt the same line but, given her role as the most senior garda in the country, this question must still be asked.
3. Motivation, credibility and… integrity?
When counsel for the gardaí first began to go down this line of impugning McCabe, it led to a furious set of exchanges at the O'Higgins Commission between Colm Smyth, O'Sullivan's counsel, Michael McDowell, McCabe's counsel, and Mr Justice O'Higgins himself on 15 May 2015.
While Healy urgently tried to contact O'Sullivan to reconfirm that this was the route she wanted to go down, Mr Justice O'Higgins wanted clarity from Smyth on what exactly they were challenging on.
The judge said: "Yes. It seems, unless I am mistaken, Mr Smyth, that your case is that in relation to the matters under investigation… that they are not properly motivated, that they are not genuine, that they are done for improper motives."Smyth replied: "Whatever the reasons are for it on his side and it runs right through all of the…"

The judge interrupted: "But you are attacking his motivation and you are attacking his integrity."

Smyth: "Right the way through."
The integrity line is also important. Challenging motivation is one thing, but integrity goes further than that.
Smyth agrees with the judge, but was he correct to say that. Were the instructions from O'Sullivan that she should challenge McCabe's integrity too?
Smyth would, months later on 4 November 2015, say that integrity was the wrong word to use and that his instructions were to challenge motivation and credibility. Nóirín O'Sullivan will surely be asked if the strategy included attacking McCabe's integrity.
4. What did she say when she rang the secretary general of the Department of Justice?
When Healy managed to get hold of her on the day it was all kicking off at the O'Higgins Commission, we know that O'Sullivan immediately rang Noel Waters, who was secretary general of the Department of Justice at the time.
The timing would appear too coincidental to not be related to these events.
Noel Waters couldn't remember having this 14-minute conversation with Nóirín O'Sullivan.
Even when the time, date, duration of call was put to him, he couldn't recollect any of the details when asked about them last week at the Tribunal.
According to Chief Superintendent Healy's notes from the time, the commissioner "sought to speak to the Department of Justice" at this time.
O'Sullivan will surely be asked why she rang Waters.
Was it for advice? Was it a warning that things were getting out of hand? Was it a simple heads up that this was what was going on?
If she can recollect what happened, then she'll surely have to provide details of what went on here.
5. Why did she ask Frances Fitzgerald to tell the Dáil what the legal strategy was, and why did she ask the Minister to publicly back her?
Details were presented at the Tribunal of an email sent by Nóirín O'Sullivan to Minister Frances Fitzgerald in May 2016, shortly after the O'Higgins Commission report was published.
O'Sullivan, who sent the email from a private Gmail account, detailed the legal advice to challenge McCabe.
"You may choose to put this on the record in the house," O'Sullivan said. "If you do, I would request that you state I volunteered this is in the public interest."
Why did she send these to the Minister? And why did she want it put on the Dáil record?
Even more curiously, she provided suggestions for the exact wording of what Fitzgerald should tell the Dáil.
It included this line: "I wish to state here now that I have full confidence in the Commissioner."
Why did she tell the Minister to back her like this? Was O'Sullivan telling the Minister for Justice to back her publicly a regular occurence?
Incidentally, Fitzgerald opted not not to express her faith in the commissioner at Leaders' Questions that day.
6. Given the chance, would she do anything differently?
This question has been posed to a few of the witnesses so far.
Ken Ruane, the garda's head of legal affairs, told the Tribunal that he should said to O'Sullivan: "With hindsight, perhaps I should have contacted the commissioner and said 'you really need to think about this'."
Annmarie Ryan maintained that it was right to challenge McCabe in some way given the allegations he was making against officers, dating back many years.
She said: "I have to say the clients I was dealing with, I would describe them as deflated [people]. They were under enormous stress… I used to say ring me at whatever stage to get it off your mind, so you get a few hours sleep.
They were under enormous stress. Their wives, children and their families. Since 2008, they've been under eternal investigation. They just wanted an end to it.
Given the opportunity, would Nóirín O'Sullivan changed how she approached this?
Would she have been more proactive in getting a legal strategy in place that wasn't so last-minute?
Would she still stick to counsel's advice and challenge McCabe, given her previous stance of supporting whistleblowers?
Would she have made herself available on the crucial weekend where counsel and her solicitor sought a meeting to talk through all of this with her?
This won't be the only time we hear from Nóirín O'Sullivan at the Disclosures Tribunal, but it will be the first.
As Mr Justice Charleton put it: "It's down to this. Did Commissioner O'Sullivan use unjustified grounds in order to discredit Sergeant McCabe at the commission? My plea is that we all focus on that."
After Monday, we may be a step closer to finding that out.