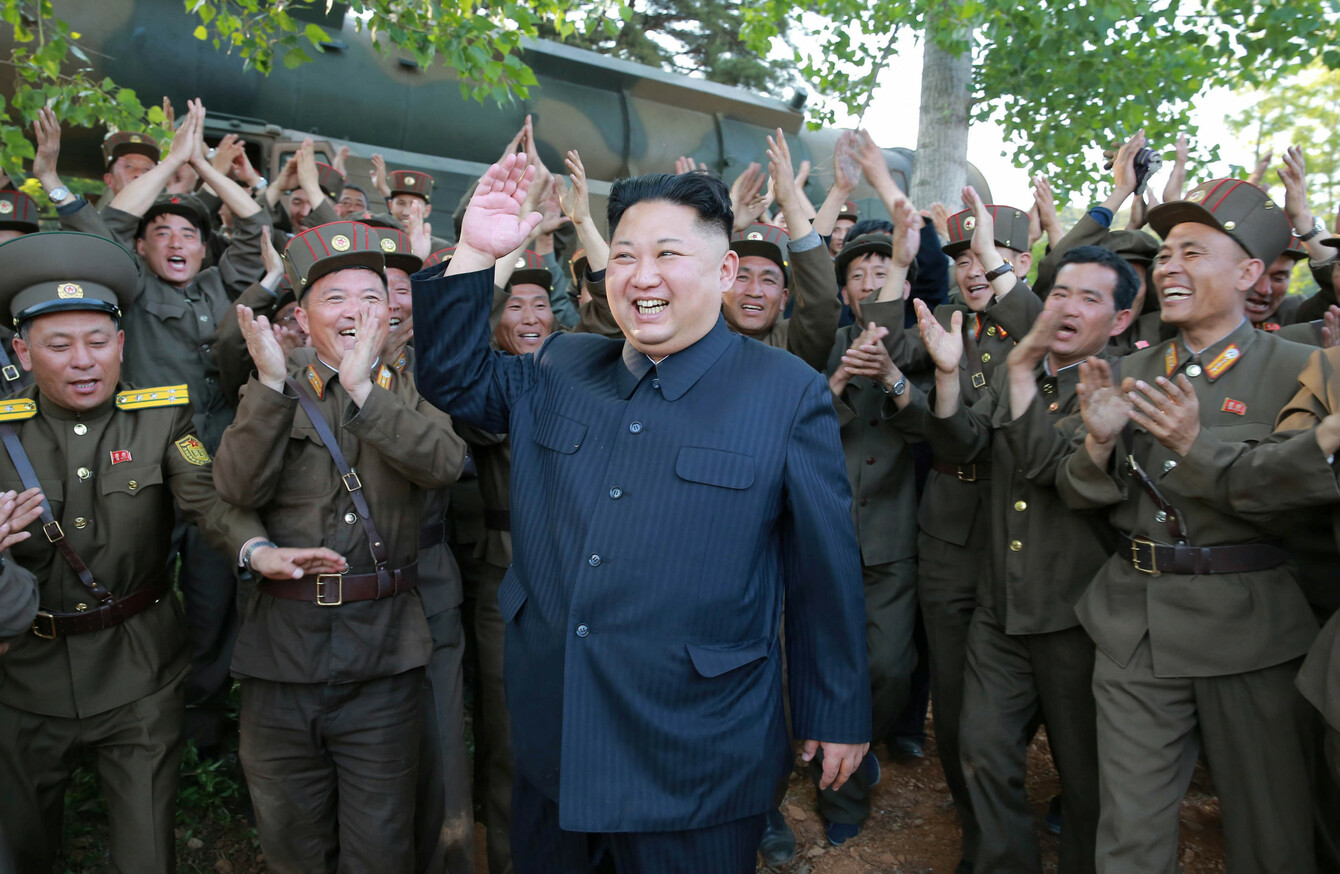 Image: KCNA/Reuters/PA Images
Image: KCNA/Reuters/PA Images
KIM JONG-UN boasted of North Korea's ability to strike any target in the US after a second ICBM test that weapons experts said could even bring New York into range.
China condemned the test but US Secretary of State Rex Tillerson said Beijing and Moscow bore "unique responsibility" for the growing threat posed by the reclusive North.
Under Kim's leadership North Korea has accelerated its drive towards a credible nuclear strike capability, in defiance of international condemnation and multiple sets of UN sanctions.
Kim said the test "is meant to send a grave warning to the US" and demonstrated the North's ability to launch "at any place and time", the official Korean Central News Agency (KCNA) said.
"The leader said proudly the test also confirmed all the US mainland is within our striking range," it said.
Trump denounced the launch as "reckless and dangerous" and rejected Pyongyang's claims that such tests helped ensure its security.
The United States will take all necessary steps to ensure the security of the American homeland and protect our allies in the region.
Weapons experts said the altitude and flight time of yesterday's missile suggested it was significantly more powerful than the 4 July test, with a theoretical range of around 10,000 kilometres meaning it might be able to reach east coast US cities like New York, depending on the payload size.
"North Korea seems to have made a logical step forward, as it tries to perfect the technologies to build and field an operationally-viable ICBM that can threaten the mainland United States," said Michael Elleman, missile defence specialist at the London-based International Institute for Strategic Studies.
'Growing threat'
Kim Dong-Yub, a defence analyst at the Institute for Far Eastern Studies at Kyungnam University, said the North may have succeeded in miniaturising warheads down to 750 kilograms.
"If the missile carries a 750 kg payload, its range could be 10,000 kilometres. Taking into account the Earth's rotation, it means it could reach not only the western cities but New York and Washington as well," he told AFP.
Tillerson said Pyongyang's main ally Beijing, together with Moscow, bore responsibility for the growing threat from Pyongyang.
"As the principal economic enablers of North Korea's nuclear weapon and ballistic missile development programme, China and Russia bear unique and special responsibility for this growing threat to regional and global stability," he said.
Japanese Foreign Minister Fumio Kishida said he held telephone talks with Tillerson and agreed on the need to put "the heaviest possible pressure" on North Korea.
"We confirmed that we will closely cooperate in adopting a fresh UNSC (UN Security Council) resolution, including severe measures, and working on China and Russia," Kishida told reporters.
In a standard response to the test, Beijing urged restraint by all sides, after the US and South Korea conducted a live-fire exercise using surface-to-surface missiles.
#Open journalism No news is bad news Support The Journal

Your contributions will help us continue to deliver the stories that are important to you

Support us now
The heads of the US and South Korean militaries also discussed "military response options" after North Korea's launch, the Pentagon said.
South Korea said the test had prompted it to speed up deployment of a US missile defence system, despite consistent protests from China that the programme would destabilise the region.
"The THAAD (missile defence) system deployment cannot solve South Korea's security concerns, nor can it solve the problems facing the Korean peninsula," China's ministry of foreign affairs said in a statement today.
North Korea's unrelenting pursuit of its missile and nuclear programmes poses a thorny policy challenge for Trump, who is at loggerheads with Beijing over how to handle Kim's regime.
Trump has repeatedly urged China to rein in its recalcitrant neighbour, but Beijing insists dialogue is the only practical way forward.