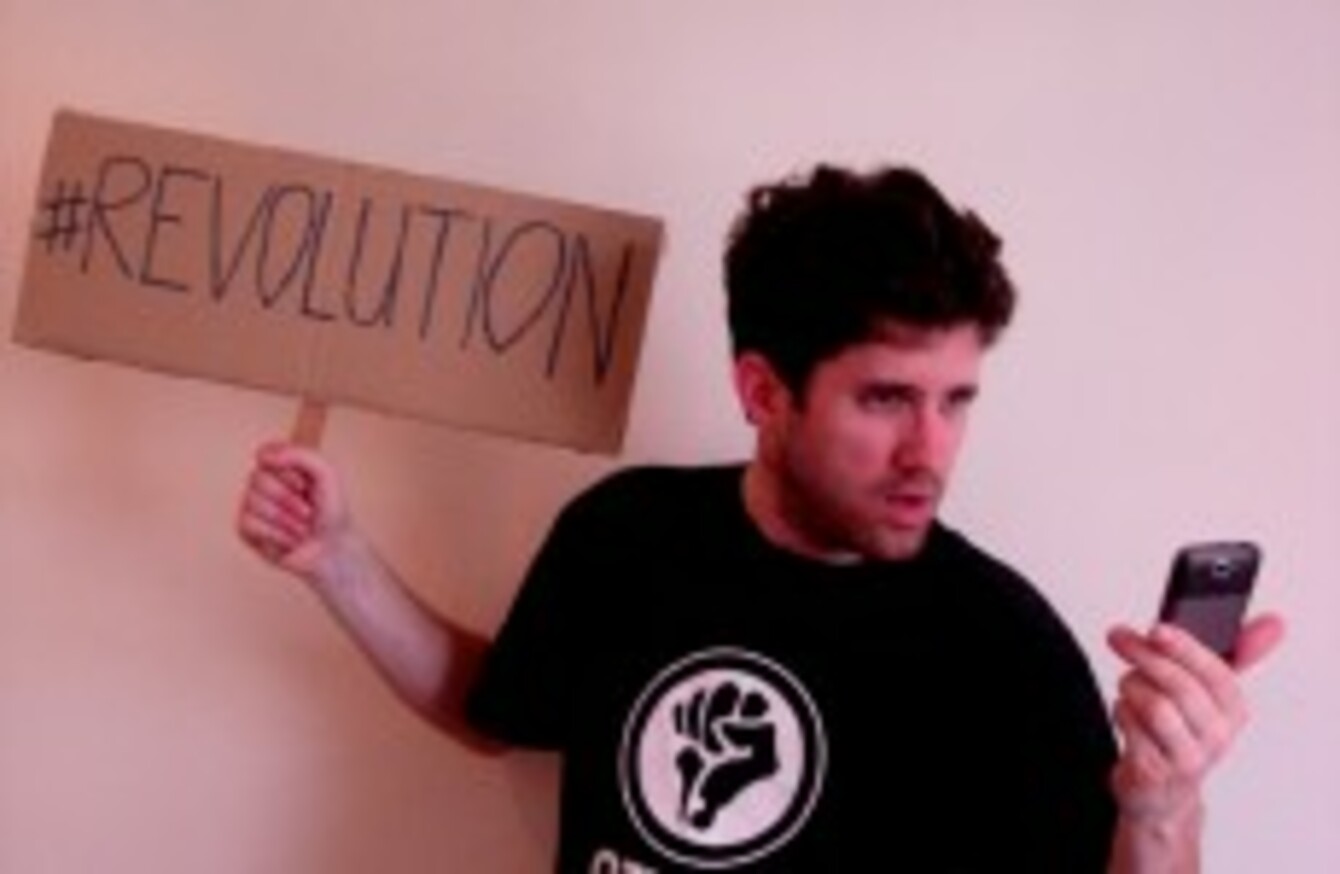 Image: ABSOLUT Fringe 2012
Image: ABSOLUT Fringe 2012
THE ABSOLUT FRINGE 2012 has more than 100 shows playing out across Dublin until 23 September. Each day, TheJournal.ie will bring you our readers' reviews of the pick of the crop and everything in between. You'll get the chance to get in on the act yourself with our daily reader review tickets giveaway!
Today's review:
The Revolution will be Televised, Retweeted and Available on 4OD
(Abie Philbin Bowman)
Judy Conmey's review: In this 60 minute show Abie Philbin Bowman gives us a master class on how to start a revolution, in point by point form. He is quite the expert to be teaching this topic interestingly, having himself studied a master's degree in the subject.
From the beginning the audience were engaged with as the comedian enthusiastically encouraged people to move closer to the action. At first I wasn't sure whether to trust him or not – considering he was wearing a balaclava which his concealed his face – which I found a bit bizarre and bewildering. When it was explained (to show solidarity to Pussy Riot of Russia), it all made sense, as it linked nicely with the theme of the show.
The audience interaction continued throughout the show, leaving it a mix between a comedy show and a discussion on economics. The atmosphere was relaxed; we even let him away with checking his notes more often than he should have. He tended to go off a tangent and it seemed to me that it took a long time to get back to the subject of the night: revolution. Also, watching him check his watch didn't make things flow as well, I would have liked to have forgotten what time it was and just relaxed, but the last few minutes seemed rushed.
For me, a 20-year old student, the show was surprisingly educational. I tend to try to ignore politics. An audience member said that Irish people haven't had a revolution because we hope/believe "someone smarter" will sort it out. Well, I've ignored politics because I think the opposite; there are too many stupid people in power for one smart person to make a difference. The show got me thinking, but not a lot.
It made me laugh, it was the most relaxed I've been for any show I've seen at the Fringe festival and I definitely enjoyed myself.
In three words? Enlightening, relaxed, engaging