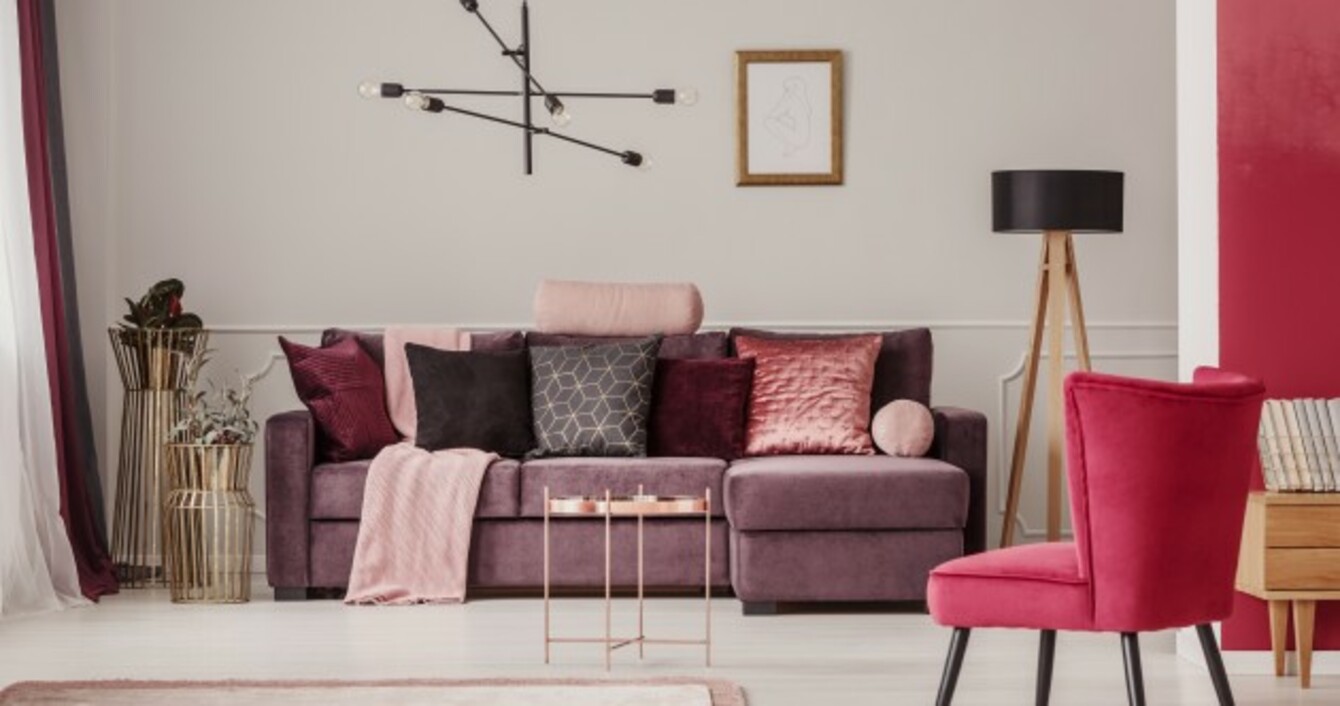 Image: Shutterstock/Photographee.eu
Image: Shutterstock/Photographee.eu
THERE'S A COMMON misconception that interior design is reserved for the few people who can afford expensive Italian design – Carrara marble this and solid brass that.
Or, on the flip side, there's an equally common myth that affordable home design means a stressful trip to a big box store, followed by a day of arguing over flat pack instructions. 
There is, however, a middle ground, and it is often outside the box and off the wall. 
To lend a helping hand as you spruce your place up for 2020, I spoke with six of Ireland's most stylish interior designers to find out where they start when they're searching for nifty pieces on a smaller budget. 
They're spilling all the tea here… 
Top pick: I love to sieve through John Sirr Antiques, in Charlestown, Co Mayo. John has a great eye, reasonable prices and always has something new when you visit! I have multiple pieces from him; my vintage pink Chesterfield sofa is a fabulous example. Off the back of his popularity, he's just opened a second shop in Boyle, Co Roscommon. If you can think outside the box and see the beauty in an old piece, he's definitely worth a visit for a find that won't break the bank!
I also love to support Irish makers, so my lighting guru for unique pieces is Copperfish Lighting. Eoin makes bespoke lighting out of his studio in Delgany, Co Wicklow. They are beautiful with such a story behind each piece.
I recently completed a fit-out for a children's attic cinema room and den. The pièce de résistance setting the tone as you entered the room was a multicoloured neon LED slogan light by Bag and Bones, hung on the backdrop of slate-coloured walls. Bag and Bones is the result of the wonderful minds of London-based Gigi and her Dublin-based sister Cavanagh. The homeowner (and my mini client) were both over the moon! 
When curating a space, I think it's really important to mix and match decorative objects and furniture, both old and new. Shop local and sustainable where you can, and consider sourcing pre-loved or vintage furniture. It's amazing how new upholstery and trimmings can breathe new life into a piece.
Etsy and eBay have a great selection of vintage and pre-loved furniture and furnishings, just be mindful of import charges if you're buying from abroad. If you have the time to search, you can also find some vintage gems on online sites like Adverts and DoneDeal. Plus, don't forget to visit your local charity shops – I love Age Action on Camden Street in Dublin.
Mosa Studio is incredible for salvage and vintage pieces. House Of Indi sources unique and eclectic pieces worldwide, including Indian antiques, and Sparkle and Bell is great for customised lighting that won't break the bank. Lastly, Hen's Teeth is a wonderful spot for coffee table books, prints and a delicious brunch! 
Louise Rankin and Lauren Martin, North Design
Recently, Dublin welcomed some lovely new additions to the interior shopping scene. Over Christmas we discovered the new Oliver Bonas store on Wicklow Street, which has some very eclectic interior styling bits. It's a high street store, technically, but because it's so new to Ireland, it's practically a whole new world!
Our go-to spots for showhouse styling are Jysk, Sostrene Grene, Industry & Co. and Meadows & Byrne. All of these are super affordable and offer gorgeous boho/Scandi selections. For special larger pieces of furniture, we love Irish companies like Lamb Design, CA Design and Pieces on George's Street in Dublin.
When we're starting the sourcing process for clients, we always cast the net far and wide, yet one of our favourite haunts is actually almost on our doorstep: Lost Weekend, in Dun Laoghaire, Co Dublin. 
Another amazing source for unique pieces is the range of salvage yards around the country. One of our favourite spots is B.G. Salvage in Naas. Shopping with an open mind to give something pre-loved a new use is so rewarding (as well as sustainable), and makes for a one-of-a-kind space!
Charity and second-hand furniture warehouses are popping up all the time and I visit a few different ones often. I think you have to visit these kinds of shops regularly, because the items rotate so frequently. I've found some incredible gems, like an Ercol rocking chair for only €20. My favourite places are the St. Vincent de Paul furniture warehouse in Clonmel, CJM Furniture in Cork city and Munster Warehouse in Waterford.