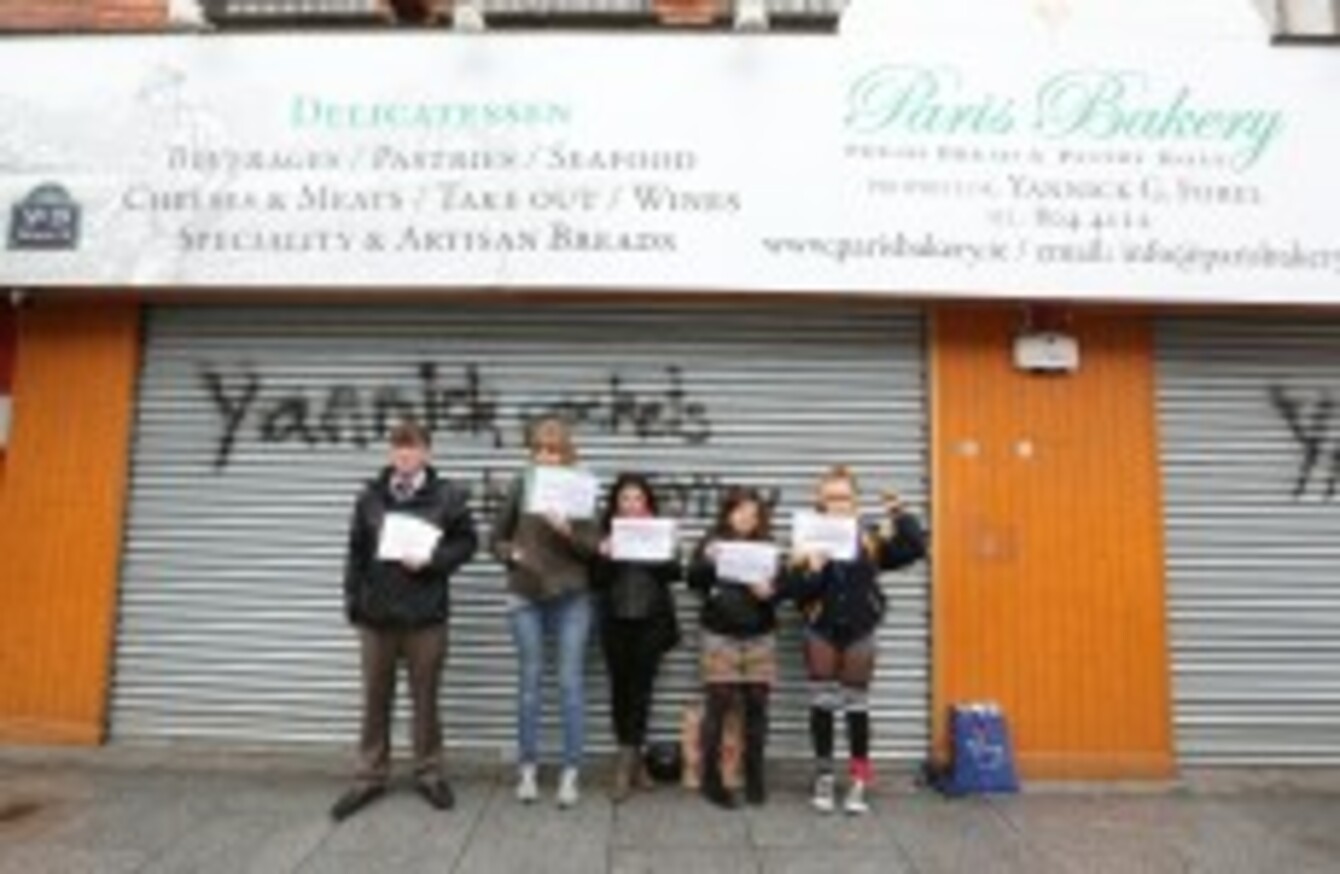 Workers protesting the alleged non-payment of wages at the Paris Bakery
Image: Sam Boal
Workers protesting the alleged non-payment of wages at the Paris Bakery
Image: Sam Boal
THE COMPANY WHICH owns the Paris Bakery in Dublin was issued a final demand letter by the for Revenue Commissioners €193,106.98 in outstanding taxes last year.
The letter from Revenue to the Paris Bakery and Pastry Limited company demanding payment was sent on the 7th of May 2013, requesting payment within seven days.
A copy of the letter has been seen by TheJournal.ie.
A schedule of sums owed by Paris Bakery and Pastry Limited attached to the letter shows that the vast majority of the monies owed were in relation to employee PAYE and PRSI.
Sums owed
A total of €164,301 was owed under these two categories, with the remainder being demanded for non-payment of VAT.
Twelve instances of failure to pay PRSI and VAT are identified by in the schedule, covering a range of dates from 1 January 2011 to 31 March 2013.
PRSI, or Pay Related Social Insurance, is a contributory payment paid by employers for their employees, while PAYE or Pay as You Earn is an employee's own income tax, collected and paid on their behalf by an employer.
The largest outstanding payment is for €129,446 and covers the entire year for 2012.
The letter warns that the matter could be the subject of Court proceedings for recovery of the debt, or could be referred to the Sherriff or County Registrar.
It warns that "any such action will be taken without further warning".
Revenue blamed
Speaking to TheJournal.ie, general secretary of plasterers' union OPATSI Billy Wall said that the letter shows how deeply in trouble the business was as far back as two years.
One of the workers staging the sit-in is an OPATSI member, and Wall vowed to back both him and others engaged in the occupation.
Wall said that the Revenue Commissioners should have seen the warning signs and acted sooner to make sure that the company was acting appropriately.
Certainly red lights should have been going off
Workers from the Paris Bakery have been engaged in a sit-in protest at the former premises of the business since last week, and are alleging non-payment of wages of up to €55,000.
The owner of the bakery is due to take part in talks with the workers this afternoon.