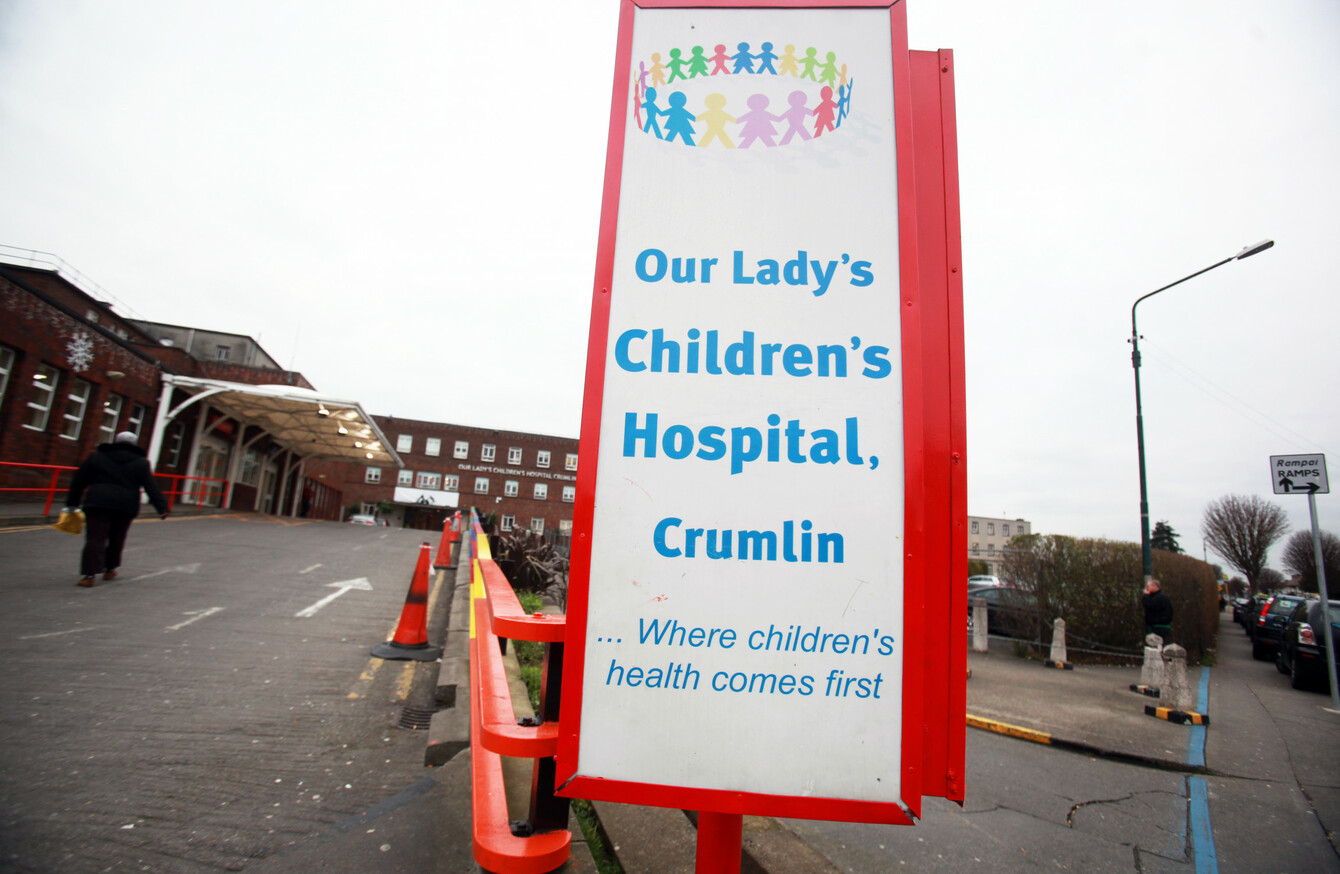 The case occurred at Our Lady's in Crumlin
Image: Leah Farrell/Rollingnews.ie
The case occurred at Our Lady's in Crumlin
Image: Leah Farrell/Rollingnews.ie
AN ADULT PATIENT was incorrectly told that she did not have a gene that put her at a higher risk of developing cancer, and later developed ovarian cancer.
Our Lady's Children's Hospital in Crumlin is now conducting a review into how the error occurred but said it appears to be an isolated incident based on human error, while it's understood Minister for Health Simon Harris has requested updates on the matter and sought assurances this error couldn't happen elsewhere. 
The Social Democrats have urged Harris to direct the HSE to carry out an audit of women given the all-clear based on tests for this gene, with its co-leader Róisín Shortall saying "we need to know how this error happened". 
The details of the case were reported in The Sunday Times this morning.
The woman was told in 2009 that she had tested negative for the BRCA1 gene. Someone who tests positive for this gene is at a higher risk of developing breast or ovarian cancer.
Her doctors were told last month that she in fact had tested positive for the gene. Women who test positive for the gene often take steps to further mitigate the risk of developing cancer, a well-known example of which was actress Angelina Jolie choosing to have a double mastectomy.
The woman's solicitor told the newspaper that her client is now in a "grave situation" and wants the HSE to organise a review of all of the BRCA tests carried out at Crumlin.
In a statement, a spokesperson for the Children's Hospital Group said it apologises to the woman at the centre of this transcription error and "regrets the series of events that led to her current difficult situation".
All facts in this incident currently point to the fact that a transcription error of a genetic test result occurred. This is currently considered to be an isolated incident caused by human error. This fact has been communicated to the woman involved through her treating clinician.
We want to offer reassurance to other patients who have undergone testing that this is not a testing error and therefore there is no cause for concern or distress.
In a statement, a spokesperson for Minister Harris said that while he couldn't comment on individual cases, "the minister is aware of the review of the National Centre for Medical Genetics in Crumlin and he has been assured by the HSE all steps are being taken to ensure its recommendations are implemented".
Shortall said that it's "vital that all women who have undergone the same test are contacted immediately and provided with clear and accurate information about where they stand". 
The Minister for Health and the HSE must move swiftly to review the test results of all women who have undergone BRCA tests at Our Lady's Children's Hospital Crumlin in the past decade, to ensure no one else is at risk.