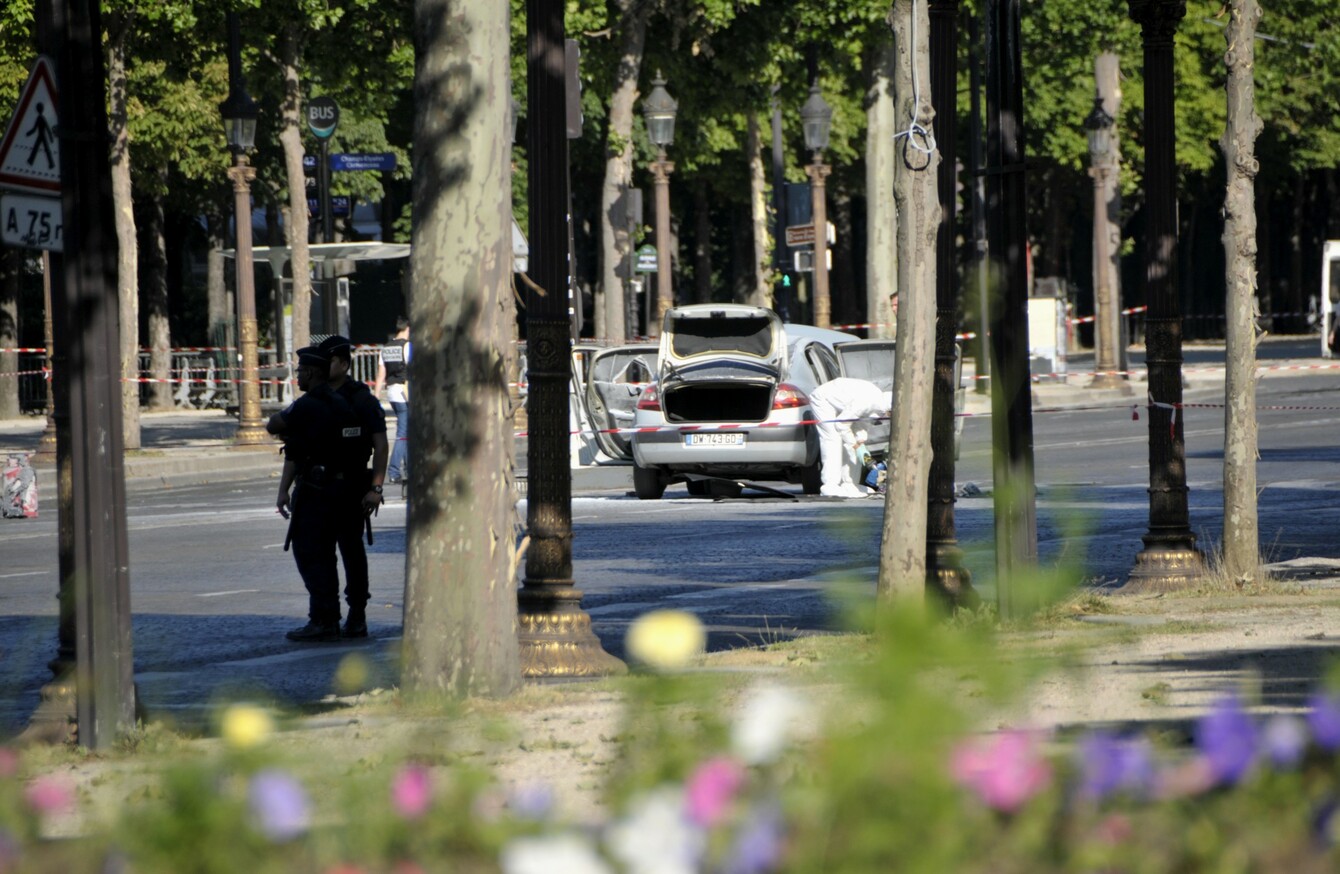 Image: Apaydin Alain/ABACA
Image: Apaydin Alain/ABACA
FRENCH POLICE HAVE taken into custody four members of the family of a radicalised Islamist who was killed when he rammed a car loaded with guns and a gas bottle into a police van on the Champs-Elysees, according to a judicial source.
The ex-wife, brother and sister-in-law of Adam Dzaziri were detained yesterday afternoon after police questioned them at the family home near Paris.
The assailant's father was also "taken into custody during the evening", the source said.
31-year-old Dzaziri, who was on a jihadist watchlist, rammed the car into a police van on the Champs-Elysees yesterday but inflicted no casualties, in the latest of a string of attacks in Paris, sources said. The assailant died in the incident.
The attack occurred just a short distance from where a jihadist shot dead a police officer two months earlier.
Interior Minister Gerard Collomb confirmed that a car hit the leading vehicle in a line of police vans as they headed down the Champs-Elysees, near the Grand Palais exhibition hall.
"The security forces have been targeted in France once again," he said.
Ministry spokesman Pierre-Henry Brandet said the car, a white Renault Megane, caught fire.
Video showed a thick orange smoke pouring from the car after the impact as the vehicle sat in the middle of the prestigious avenue which is lined with shops and cinemas.
Police sources told AFP that they found a Kalashnikov assault rifle, two handguns, ammunition as well as a gas bottle in the car.
The "arms, explosives… could potentially blow this car up," Collomb said. Sources previously told AFP that there were multiple gas bottles in the car.
No police or bystanders were injured in the incident.
Reporting by © – AFP, 2017