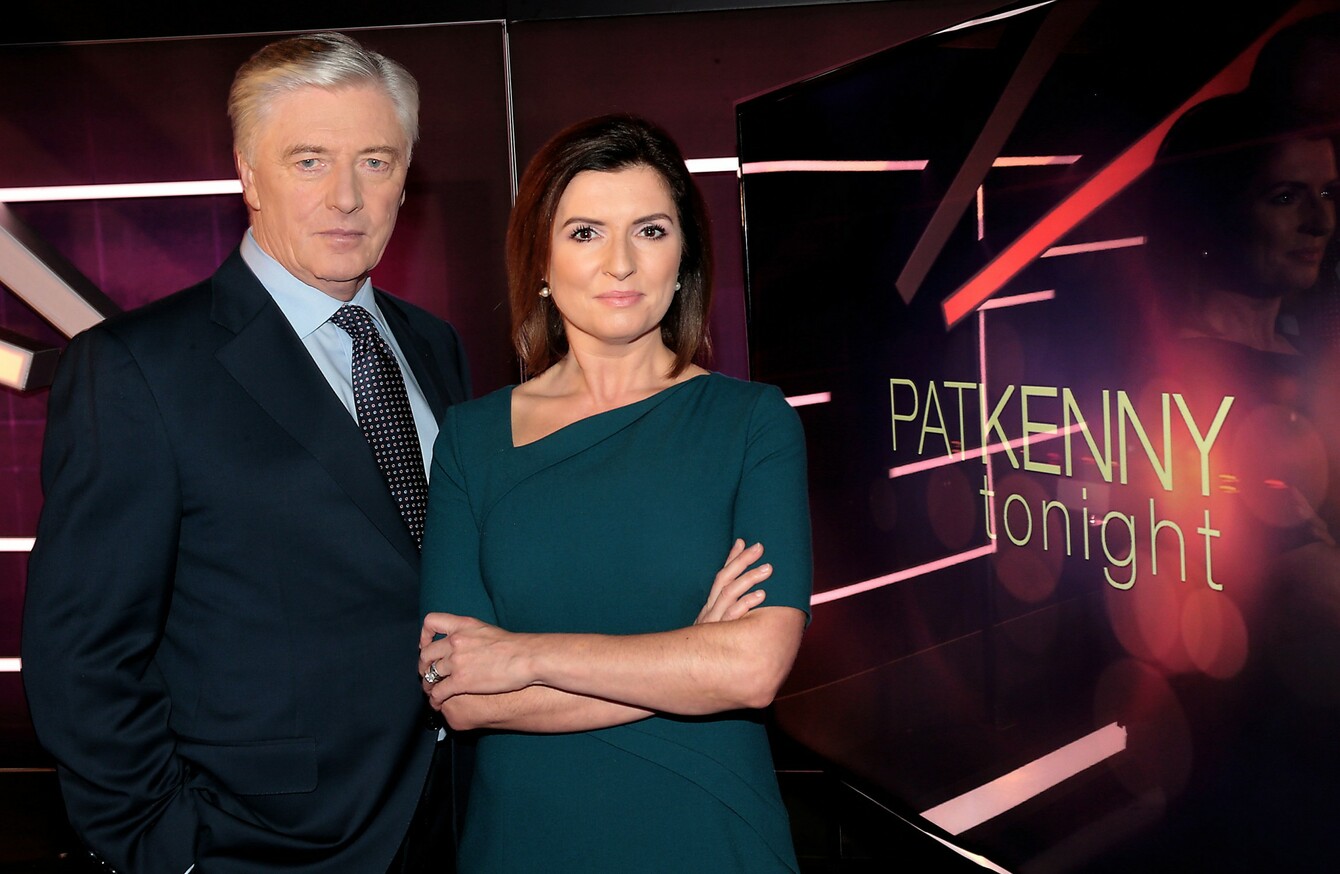 Colette Fitzpatrick and Pat Kenny pictured today on the set of Pat Kenny Tonight at the Virgin Media TV3 HD Studio in Ballymount, Dublin.
Image: Brian McEvoy
Colette Fitzpatrick and Pat Kenny pictured today on the set of Pat Kenny Tonight at the Virgin Media TV3 HD Studio in Ballymount, Dublin.
Image: Brian McEvoy
THINGS WERE ALL go at TV3 studios in Ballymount this afternoon as the crew made the final preparations for the first episode of its new show.
The set was prepared, the lighting was done, all that was left was to put in the bleachers for the 150-strong studio audience.
The network has set its eyes on a current affairs prime time slot, with broadcast veteran Pat Kenny and TV3 regular Colette Fitzpatrick at the helm.
Pat Kenny Tonight will air tomorrow night for the first time, billed as a current affairs programme providing interviews and in-depth analysis on the most pressing topics.
The show has already caused some controversy in its build up, however, with women's groups criticising the title of "Pat Kenny Tonight" which completely omits Fitzpatrick.
Speaking to TheJournal.ie this afternoon, both Kenny and Fitzpatrick insisted that the title "has nothing to do with gender".
"People have asked me about all the sexism stuff and the name of the show and it's nonsense,"said Colette.
"It has nothing to do with gender. The fact of the matter is Pat has almost three decades of experience on me.
He's the lead presenter. I'll be looking at him, learning from him… He's the lead anchor and I have no issue with that and I've no issue with the title.
Kenny himself also said there was "nothing sexist" about the title, and paraphrased Fitzpatrick, saying that "in the coalition she's the junior partner".
"I would say at this stage, we want the thing to evolve and I would like to see a time in the coming weeks where Colette would do the bulk of the show and I would do bits," he said.
Pat Kenny Tonight is a marketing thing… and that's the only reason there's nothing sexist [about it].
So what can viewers expect tomorrow? 
Pat Kenny Tonight will be squeezing into a crowded and RTÉ-dominated current affairs prime time slot.
Monday, Tuesday and Thursday are already occupied by Claire Byrne Live and two Prime Time programmes respectively – so what can TV3 bring to the table?
"I think it makes us all raise our game," said Fitzpatrick.
We're all going to be competing for guests, for topics, for big issues, for ministers for high-profile interviews.
Fitzpatrick said that the show will deal with the most current issues, with a roughly planned schedule in place for each episode, but that could "all go out the window if something happens on the day".
"That's the just nature of it," she said.
Tomorrow night's show is expected  to deal with consumer issues, pricing and the cost of living in Ireland.
Kenny said that with the number of pressing domestic and international issues currently dominating the headlines, the time was right to launch a new current affairs programme.
"I do think that we're into another very interesting period," he said.
"Because of the kind of high stakes that are being carried out… domestically we've an awful lot happening," he said.
I think we're in a very uneasy period, and therefore it's a period when we can make very interesting TV programmes, thought-provoking TV programmes.
There are many, many talking points.
The show will be broadcast in front of a live studio audience, with audience interaction and comment throughout.
#Open journalism No news is bad news Support The Journal

Your contributions will help us continue to deliver the stories that are important to you

Support us now
Broadcasting 
Kenny and Fitzpatrick appeared together on TV screens last February for a series of leaders' debates on the run up to general election.
"Obviously some people got the notion that we should do something a little more permanent,"Kenny said.
Pat Kenny (68) is a broadcast veteran, having hosted a number of his own shows over the course of a career spanning five decades.
He's signed up for a multi-year contract with TV3 for this show, and says this will "probably" be the last big current affairs show he hosts.
"To suggest otherwise would be ridiculous. I don't even want to look three years ahead," he said.
Kenny said he would see how the first run of episodes went, and then reassess his next move.
For Fitzpatrick (42), who has been a fixture on TV3 for over a decade, and who is the station's main news anchor, the show is her first foray into current affairs broadcasting in front of a live studio audience.
And while she is content for now to be the Labour to Pat Kenny's Fine Gael, she said "of course" she would like to present the show herself at some stage.
"I would love the chance to present it on my own, but that's down the line," she said.
Our project for Wednesday is to land it one piece and bed this show down.
Pat Kenny Tonight will be broadcast live on TV3 tomorrow night at 9.30pm