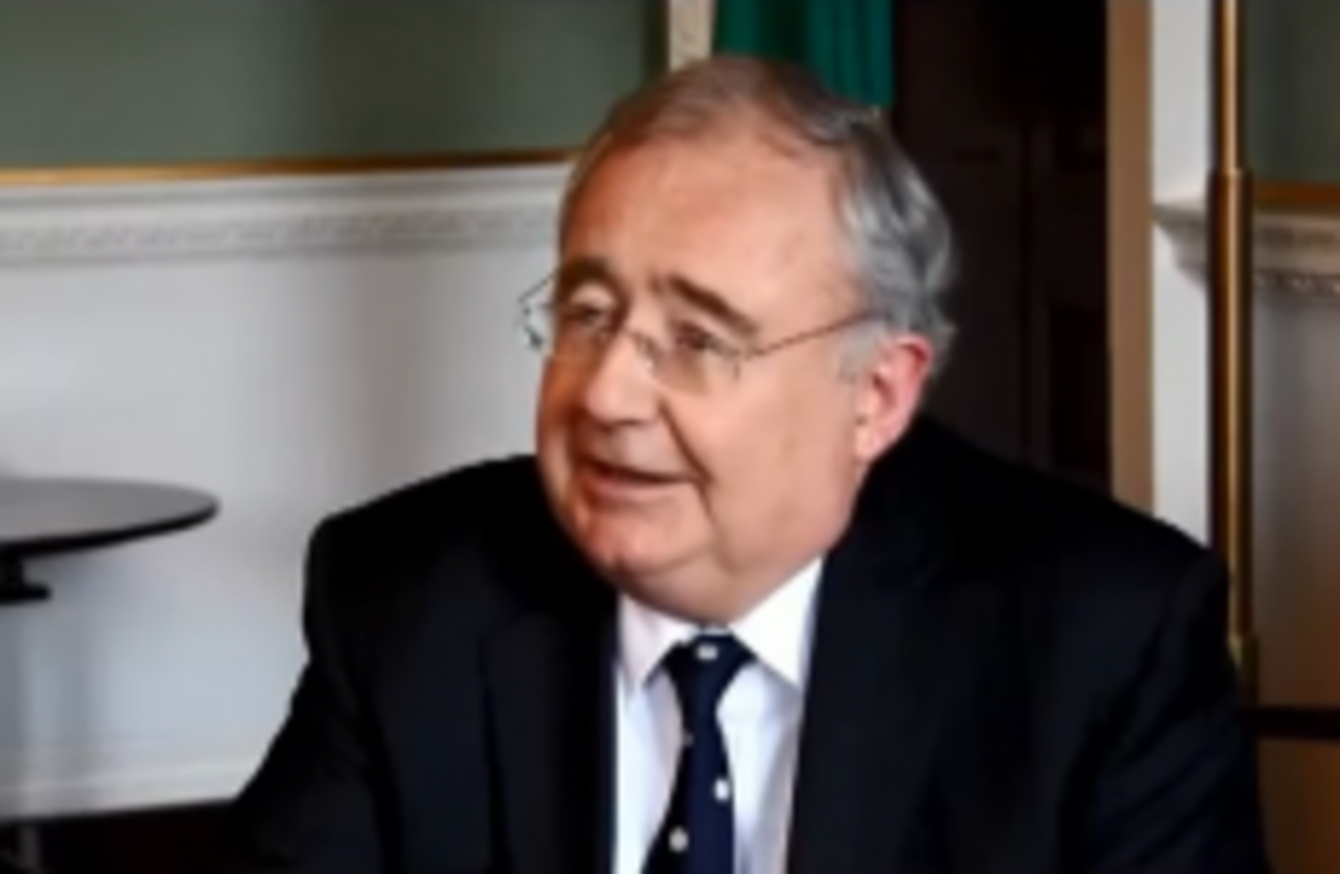 COMMUNICATIONS MINISTER Pat Rabbitte has insisted that his cabinet colleague Alan Shatter was not trying to claim a constitutional privilege when he was stopped and breathalysed at a Garda checkpoint.
In an exclusive interview with TheJournal.ie, Rabbitte said Ireland had been "caught up in the froth of politics" by parsing Alan Shatter's explanation of his encounter with a Garda in 2009 beyond what was necessary.
On the question of whether Shatter had tried to invoke a constitutional privilege, by telling the Garda he has on his way home from the Dáil – thereby exempting himself from arrest – Rabbitte said such suggestions were simply not true.
"If he had invoked his constitutional protection, he wouldn't have sought to blow into the [breathalyser] bag," the minister insisted.
"If I'm asked when I'm coming home tonight, 'Where am I coming from', by a Garda, I'm going to say I'm coming from the Dáil," he continued.
I mean, I can't say I'm coming from a pub or Croke Park or the Abbey Theatre if I'm coming from the Dáil.

So I presume he [Shatter] was answering a question, and to put a construction on it that he was pleading the constitutional protection of deputies is ridiculous.
Rabbitte explained that the constitutional clause which exempts members of the Oireachtas from arrest while travelling to and from Leinster House dated from an incident in the 1920s now known as the 'Jinks affair'.
In 1927, Sligo TD John Jinks missed a crucial vote of no confidence in the government, allowing the government to survive only on the casting vote of the Ceann Comhairle. Popular myth suggests Jinks was deliberately plied with alcohol the night before so that he could not make it to Leinster House in time for the vote.
Rabbitte also dismissed suggestions that Shatter's disclosure had breached trust with the Garda Commissioner Martin Callinan, explaining that Callinan had told Shatter about Wallace's actions specifically because of the possibility that they may have become public knowledge anyway.
I honestly don't think whether Deputy Wallace got a phone entangled in his grey locks while standing at the Five Lamps is really a matter of national security.
Rabbitte, in remarks made the evening before the Dáil began debating a motion of no confidence in Shatter, said aserted that Shatter "shouldn't have made the remark he made on Prime Time" but that "we all make mistakes".
"If I make mistakes, I would hope it's as trivial as the one Minister Shatter made," he said.

He also attacked independent TD Mattie McGrath for his "baseless" accusation that Shatter had acted inappropriately to the Garda who had stopped him, saying even McGrath himself had pulled back from his account of the incident.
"Having thrown the ball in, he has left with Fianna Fáil with red faces because they are now prosecuting a motion of no confidence based on Mattie McGrath's allegation, and McGrath today clearly no longer has any confidence in the allegation itself," he said.
TheJournal.ie asked Rabbitte to respond to McGrath's Dáil quip from earlier that day, where the Tipperary South TD had said Rabbitte's habit for public commentary meant "there was no cow that wouldn't pass through a crossroads that you wouldn't milk".
Deputy McGrath is a very eminent parliamentarian who would know more about milking cows at crossroads than I would – and if he says that, he may well have a point. [...]

Mattie is a colourful figure and… you know. Accusing me of milking cows at the crossroads… Mattie himself, parliamentary wise, is about as useful as tits on a bull.
* The bell in the background of this video is a bell to signify a Dáil vote. Apologies for the sound interference.
Filming and editing by Michelle Hennessy