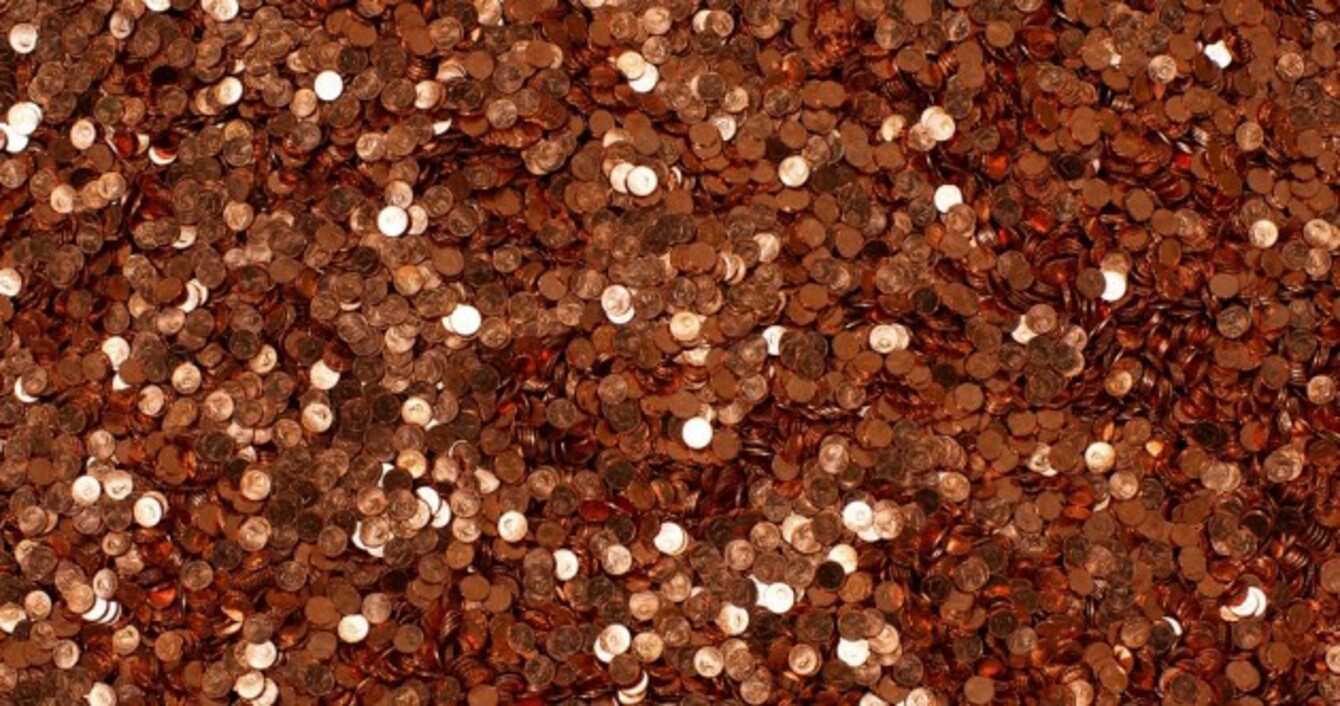 Pennies, pennies everywhere - but it costs more than 1c to mint every single 1c coin.
Pennies, pennies everywhere - but it costs more than 1c to mint every single 1c coin.
EVERY WEEK, TheJournal.ie offers a selection of statistics and numerical nuggets to help you digest the week that has just passed.
€843,000 – The remuneration package for Bank of Ireland chief executive Richie Boucher last year, which was signed off at the bank's AGM on Wednesday. The state did not use its 15pc stake in the vote on whether to approve it.
€167,000 – The amount that RTÉ spent covering the Papal Conclave in February, according to its head of news Kevin Bakhurst. (That's just under a fifth of Boucher's salary.)
€36,606 - The amount that all of Ireland's political parties, put together, disclosed in donations for 2012. Parties are legally required to disclose any donations when they add up to more than €5,078.95.
€1.9 billion – The approximate cost of NASA's Curiosity Mars rover, which became noteworthy this week for becoming the first entity to draw a massive penis shape on the surface of another terrestrial body. Like, seriously: a bloody giant penis.
120 million – The number of Chinese-made condoms which are being recalled in Ghana after tests showed they were prone to leaking. 20 million of them had already been distributed.
1.65c – The cost of minting every 1c coin, according to Central Bank data produced this week. The National Payments Plan is proposing that one Irish town voluntarily give up 1c and 2c coins – rounding bills to the nearest 5c when paying with cash – as part of a trial to abolish them entirely.
18 – The reported number of doctors that a pregnant woman could be asked to see if they are suicidal and seeking an abortion. It was reported this year that one panel of three doctors would form an opinion, which another panel of three would have to agree to. If the woman was denied an abortion and wanted to appeal, the appeal would then be heard by another 12 doctors.
14 – The number of countries which now permit civil marriage for same-sex couples, after France voted through a same-sex marriage law this week.
1 – The number of previous occasions where two semi-finals in the UEFA Champions League (or the European Cup) resulted in nine goals (or more) being scored. Only the 1960 semis (Eintracht Frankfurt 6 – 1 Rangers, Real Madrid 3 – 1 Barcelona) had more goals.
19 – The number of basic foodstuffs that should be subject to a two-year price freeze, according ton one TD.
55 per cent – The increase in sales in Primark and Penneys across their branches throughout Europe, according to figures released this week by its parent company. The chain scored a €279 million in the six months from October to March.
49 per cent – The minimum amount of the pensions of former Waterford Crystal workers that the Irish state could now be forced to pay out. Workers were left with only between 18 and 28 per cent of their pensions when the company went bust – and the European Court of Justice says Ireland must now pay up.
27.16 per cent – The unemployment rate in Spain, a new record. There are six million people without work in Spain, where 55.7 per cent of under 25s don't have a job.