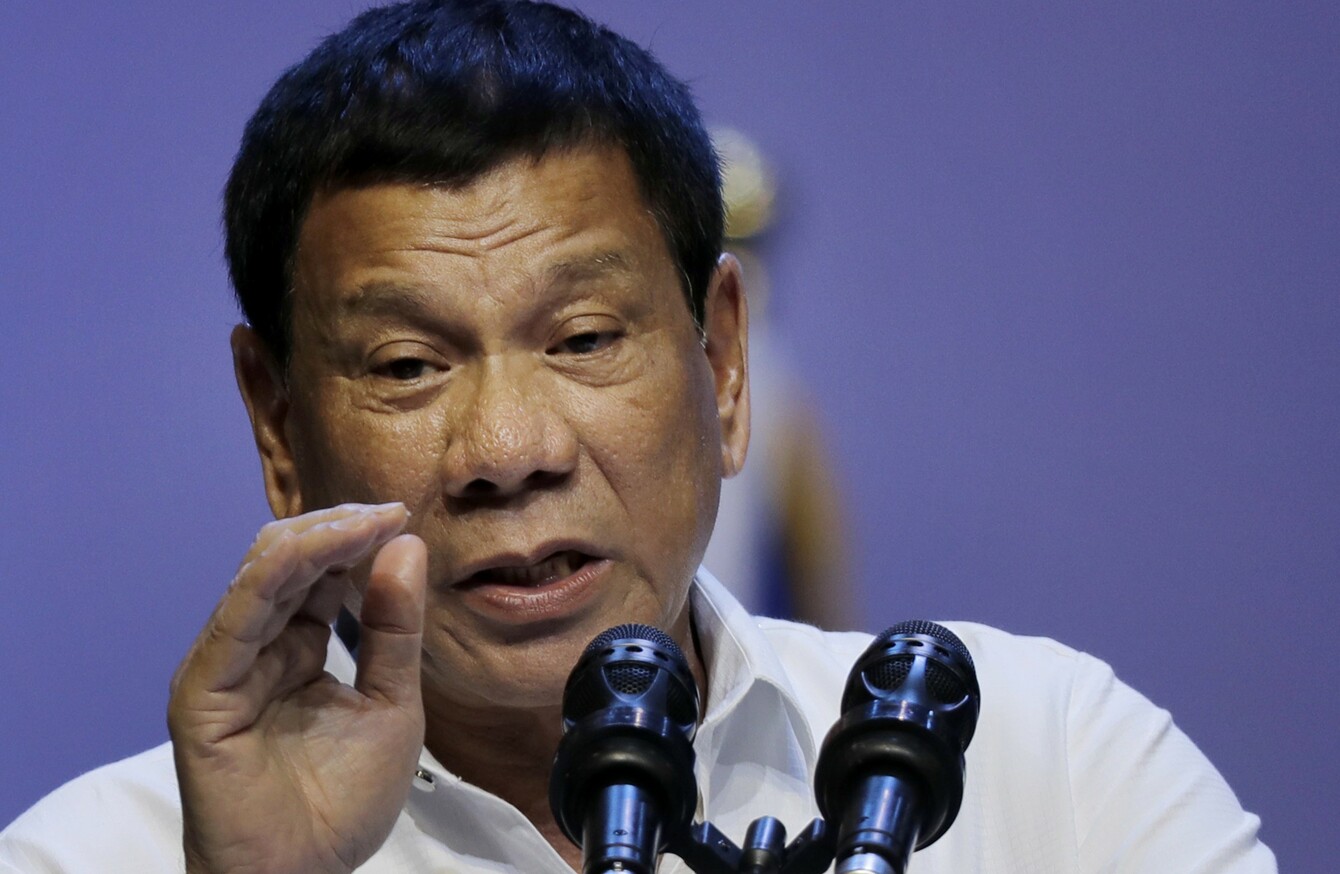 Image: Wong Maye-E/PA Wire
Image: Wong Maye-E/PA Wire
PRESIDENT OF THE Philippines Rodrigo Duterte has backtracked on claims he killed a man by throwing him out of a helicopter.
His original comments were reported by local media while Duterte, who was elected in a landslide victory earlier this year, was discussing the punishments officials could face as part of an anti-corruption drive if they misuse public funds.
"If you are corrupt I will fetch you with a helicopter and I will throw you out on the way to Manila," he told a press conference broadcast live on television, according to The Philippine Star.
I have done that before, why should I not do it again?
However, he has since backtracked on this claim. In an interview with CNN Philippines,  Duterte said that "we had no helicopter, we don't use that", and that the incident was the result of a journalist's "creative imagination".
His spokesperson also told reporters the story was an "urban legend".
The Philippines' independent rights watchdog said last week that it will investigate Duterte's boasts he killed criminals years ago, invoking a strong rebuke from the Filipino leader against a United Nations official who called for the murder probe.
Source: euronews (in English)/YouTube
He said he helped police kill three suspected kidnappers early in the first of his several terms as mayor of the southern city of Davao.
UN rights chief Zeid Ra'ad Al Hussein said Tuesday that Duterte's killings, by his own admission, "clearly constitute murder" and Philippine judicial authorities must launch an investigation.
Duterte, known for his outbursts, replied to Zeid's call in a speech Thursday with a stream of insults, describing the UN official as "either a joker or slightly unhinged" while stating that UN member-nations' contributions pay the UN officials' salaries.
You, the officials sitting there. You assholes, we pay you your salary. You idiot, you do not tell me what to do. I am your employer and (you) do that, do it to a nation. You do not talk to me like that you son of a bitch. Only the Filipinos can call me a son of a bitch if I'm remiss in my job.
Philippine Commission on Human Rights chief Jose Gascon said earlier Thursday he had formed a team of investigators to look into alleged past killings by Duterte. The commission is an independent government body that prosecutes law enforcers or other officials who commit torture, extrajudicial killings or violate Filipinos' constitutional rights.
It had investigated then Davao mayor Duterte over allegations he ran death squads that killed more than a thousand petty criminals there.
Duterte has variously denied or confirmed the allegations. The commission did not file any criminal charges after completing its inquiry.
Contains reporter by AFP