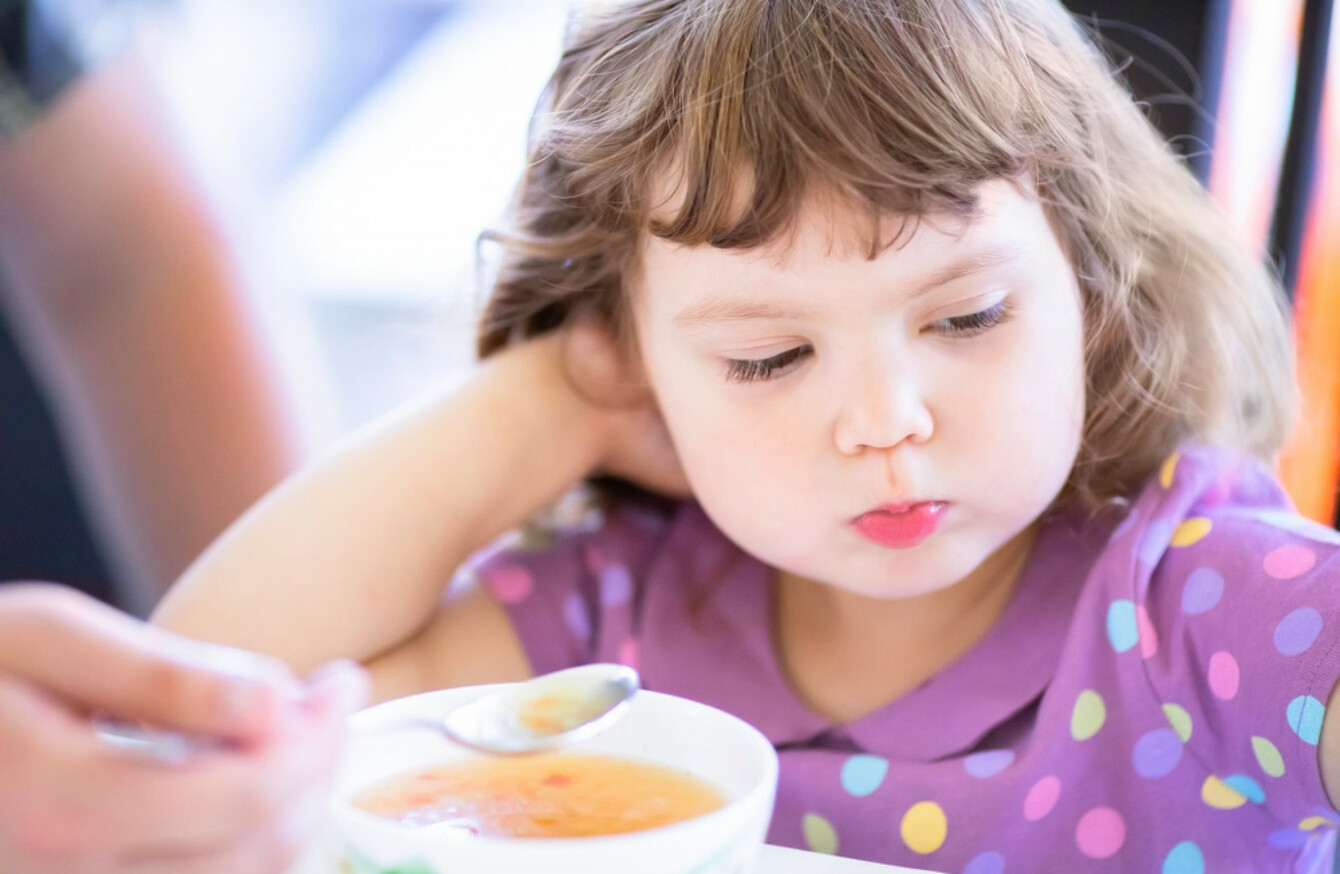 Image: Shutterstock
Image: Shutterstock
EACH WEEK IN our series, Am I Being A Bad Parent?, we hear from a reader who can't figure out what to do about a tricky parenting situation.
To get a balanced view, we put the dilemma to a group of Irish parents, keeping things anonymous to encourage honest answers.
For parents of young children, mealtimes can resemble more of a battlefield than a chance to eat together as a family.
This week, one parent is wondering how to handle her preschooler's refusal to eat most foods at home. The real stinger? She happily consumes a wide variety of meals at creche.
Have a parenting question you'd like some other mums and dads to weigh in on? Let us know anonymously here!
This week's dilemma
My almost three-year-old daughter is an extremely picky eater, or so I thought. At home, she'll only eat 'beige' foods and will refuse with all of her might to eat anything else, even if she's hungry. However, her minders at creche tell me she happily eats her lunch pretty much every day, fruit and veggies included. At home, she won't go near them. I've tried to get her to eat even the same food she has at creche and she won't touch it, so eventually I just give in and give her what she wants (which is sometimes nothing). Am I being unreasonable by giving in to her picky needs at home?
Our anonymous readers' responses
You're being a bit unreasonable. She probably eats the food in creche because she sees the other kids eating it. At home, all of the family should eat together as it sets good habits for eating in general. Also try both cooked and raw versions of most vegetables to see if there's one way she prefers. 
Yes, you're being unreasonable. It's tempting to give in and give your child what you know they'll definitely eat because you're concerned about them being hungry and you want to avoid mealtimes becoming a battleground.  But one dinner only should be made for all the family.  The line I always used with my kids was, "I'm not running a restaurant, you can't order what you want."
Your child won't always eat well at every meal and they'll like some meals better than others but try not to stress about it and remember, in your case, your child is eating well at the creche so she's not going to be malnourished.  The main thing is to stay calm and serve her what's for dinner for everyone and the extreme picky eating should pass. 
No, you're not being unreasonable. The world is full of attractive-sounding theories about how to make kids eat good food. I am not convinced that any of them work particularly well. For what it's worth, we have a no-alternatives policy. We don't stress too much about our three-year-old not eating her dinner, but she doesn't get a substitute. From the extremely limited evidence available, I think the thing that has had the biggest impact for us is eating all together – this has definitely helped encourage her to try more new things.
You're not being unreasonable. We eat together (or at least never have the three-year-old eating by himself) and allow him to sometimes not finish all his dinner but with the understanding that there isn't anything else coming. Getting him to help make the food – stirring a pot, cutting some veggies with a safe knife under supervision – also really helps get him invested in eating the finished product. You don't always have time for that but when you do, it's a magic trick, honestly.
So what's the final tally? Is this reader being unreasonable?
Yes – 2
No – 2
Tell us your thoughts in the comments! 
Have a parenting question you want answered? Let us know anonymously in our survey here or email us on family@thejournal.ie and we'll put it to the real-life experts: your fellow mums and dads.
Want to win a copy of psychotherapist Philippa Perry's bestselling new book, The Book You Wish Your Parents Had Read? Enter our competition here to be in with a chance!