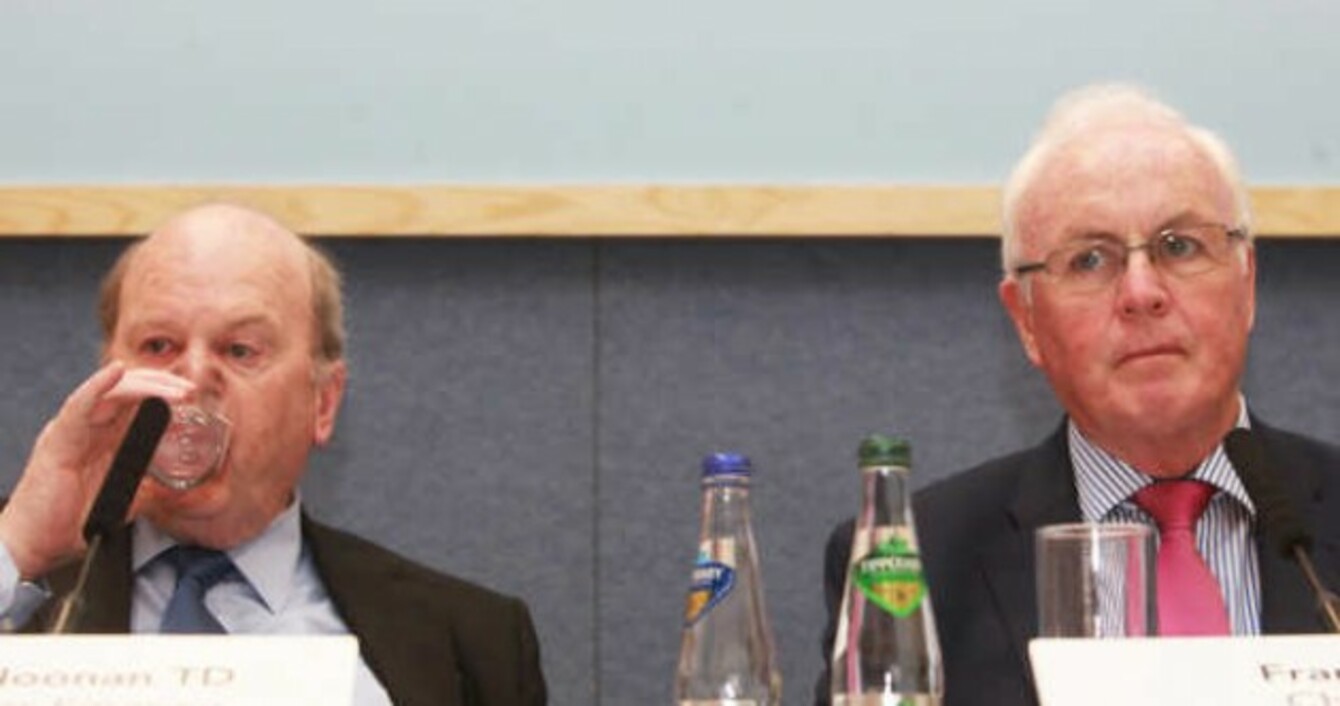 Minister for Finance Michael Noonan with Nama chairman Frank Daly, at Treasury Building in Dublin in June.
Image: Rollingnews.ie
Minister for Finance Michael Noonan with Nama chairman Frank Daly, at Treasury Building in Dublin in June.
Image: Rollingnews.ie
Updated 2.05pm
THE GOVERNMENT HAS said it will publish its report into the €1.6 billion sale of Nama's loan book in the North this week.
Last night Fianna Fáil called on Minister for Finance Michael Noonan to release the report, compiled by the Comptroller and Auditor General (C&AG) into the sale by Nama of its Northern Ireland properties.
Last Wednesday, Noonan said he had been in possession of the report since the middle of August.
Government chief whip Regina Doherty told RTÉ's The Week In Politics today that the report would be released on Wednesday or Thursday of this week.
If an inquiry was needed the Cabinet would make a decision in a prudent manner, she added.
Sinn Féin have long called for a public inquiry in the controversial 2014 sale of Nama's northern loans to US investment company Cerberus Capital Management.
The portfolio had a book value of £4.5 billion, and leaks this weekend suggest "hundreds of millions of euros" were lost due to shortcomings in the transaction, which was approved by Minister for Finance Michael Noonan.
Sinn Féin deputy leader Mary Lou MacDonald, a member of the Public Accounts Committee, said the inquiry should look at the full Nama system, beyond any Garda investigation into a 'lone wolf'.
"There needs to be an acceptance politically, and at the highest levels of Government that what we are facing into here is a scandal," she told This Week on RTÉ Radio One.
"The goings-on around the sale of Project Eagle, that huge portfolio which at the time was the biggest sale transacted by Nama, is taken very seriously [in the UK and US].
"Here, we have had a blind eye turned to a very, very serious matter, which has cost the taxpayer, the southern taxpayer perhaps hundreds of millions of euro. It's us who are picking up the tab."
Fixers' fees
"The Government needs to face the fact that it can't run away from this any longer. Fianna Fáil need to get on to that page as well, both of those have consistently blocked an inquiry into all of these matters," MacDonald added.
"Michael Noonan, bear in mind, bears a very big responsibility for things that happened around this very large sale.
Michael Noonan was aware that there was a problem with the bidding process, that there was an attempt at 'fixers fees' and illegal payments. At that stage, the State in the person of Michael Noonan should have intervened, should have called a halt to that.
She added: "A responsible Minister for Finance would have, in my view, called a halt to the entire process at that stage. He didn't do that, but worse than that, from that day to this the Government of Fine Gael and Independents, backed by Fianna Fáil have used every ruse to see we don't need an inquiry here.
"And now we are looking at the entrails and the consequences of his failure to act. The inaction and denial needs to stop, we need to see the C&AG's report, he should just publish that today or tomorrow morning."
MacDonald added that the Public Accounts Committee needs to investigate the report, and a commission of inquiry with full judicial powers should be established.
Fianna Fáil Michael Martin has said this weekend an inquiry is "inevitable". He told the Sunday Business Post that the whole thing "stinks to high heaven".
Incredible
Labour deputy leader Alan Kelly, Public Accounts Committee vice-chairman, called for a cross-border commission of investigation. "This stinks to high heaven by the looks of things," he told This Week on RTÉ Radio 1. "The idea this can't be investigated is incredible.
"There are criminal investigations in the North, but here we are saying that the C&AG say there was a potential loss of hundreds of millions of euro to the Irish taxpayer. Well in that scenario it has to be investigated.
"This is a huge issue for the Irish Government, it is a huge issue for the Irish public."
Kelly also said Nama should make a public statement. He said he was contacted privately by a Nama executive to meet prior to their September 22 appearance in front of the Public Accounts Committee (PAC).
"I believe they have been quite naive on this, even this week a senior member of Nama contacted me to brief me before they went before the PAC, I redirected him to the chairman of the PAC.
I wasn't comfortable that selective briefing was the way to go or would be appropriate, given the situation we find ourselves in.
"I won't give the individual, but it was just a call during the week to meet up. I explained that the PAC is a different committee to other committees, it has different powers.
I referred to the chairman in relation to this. I didn't think it was the appropriate way to deal with things. I have no idea, I was going to raise it with committee colleagues.
Kelly said he didn't think there was anything "malicious" in the contact, but said it was another aspect of Nama's naivety.
"I suppose they were coming before us in the coming weeks and wanted to brief us on various actions, but that's for Nama to state. I don't know, because I didn't meet them."
Source: PA
Tens of millions
Fine Gael's Noel Rock, who also sits on the PAC, said an inquiry should not be ruled out, but that Nama should first come before the PAC on 22 September.
"If there are unanswered questions, then yes I think there should be further inquiries.
"We're not entirely sure, it depends on the answers we get. I accept there may be a need to compel people to come further forward with answers.
"My understanding is that there is a dispute between the C&AG and Nama on this, naturally I would be compelled to trust what the C&AG says on this. It's quite unusual for any agency to question the findings of the C&AG, and that will be one of the questions I'll be asking at the PAC, why they reached a different conclusion.
"My understanding is the C&AG and Nama are more than tens of millions apart in terms of their estimation of the funds that should have been acquired from certain purchases."
Nama have made a complain to Gardaí about an individual associated with the Project Eagle Sale. Rock said this lent further weight to calls for a public inquiry, but that this would be complicated, and they don't want to "step on the toes" of the UK's investigators.
Belfast businessman
The C&AG report was requested after allegations that a Belfast businessman, who had been advising Nama, had also been working for a US company seeking to buy the state agency's Northern Irish property portfolio.
The controversy first hit headlines in the Republic when Independent TD Mick Wallace stood up in the Dáil and told TDs that a property portfolio was sold for €1.5 billion to US private equity firm Cerberus, despite having been worth €4.5 billion.
Last month, TDs Clare Daly and Mick Wallace launched a new whistleblower website called Namaleaks, seeking to uncover poor practice within the financial institution.
Anxious
The UK's National Crime Agency are already investigating the sale, and several arrests have already been made.
Fianna Fáil have called on the Government to publish the report as soon as possible.
"Minister Noonan said on Wednesday that he has been in possession of the report since mid-August," Fianna Fáil finance spokesman Michael McGrath told TheJournal.ie.
We aren't aware of any legal constraints that could stop or delay its publication. We are anxious for it to be published as soon as possible.
Fianna Fáil also released a separate statement last night, in which it reiterated its call for a meeting of party leaders to discuss last week's BBC Spotlight revelations.
"This has been made all the more important following today's reporting of extracts from the C&AG report," it said.
We would hope this meeting can take place quickly and an agreed way forward found. This issue will also be closely examined by the PAC.
In response to queries from TheJournal.ie as to when the report will be published, the Department of Finance said Minister Michael Noonan will brief his Cabinet colleagues at an "upcoming Government meeting".
The report will be published thereafter. No further comment will be made until after publication.

Insider
Last night Sinn Féin's Gerry Adams said recent revelations by the BBC's Spotlight team have shown there is an "insider" working against the interests of the State within Nama, and called on all Nama transactions to be suspended.
"The Government must publish the report as a matter of urgency and establish a commission of investigation. There is also a need for all transactions involving NAMA to be suspended pending an inquiry.
Last week's BBC Spotlight programme showed that there is an insider within NAMA working against the interests of the state.
"Therefore the State needs to protect its assets urgently."