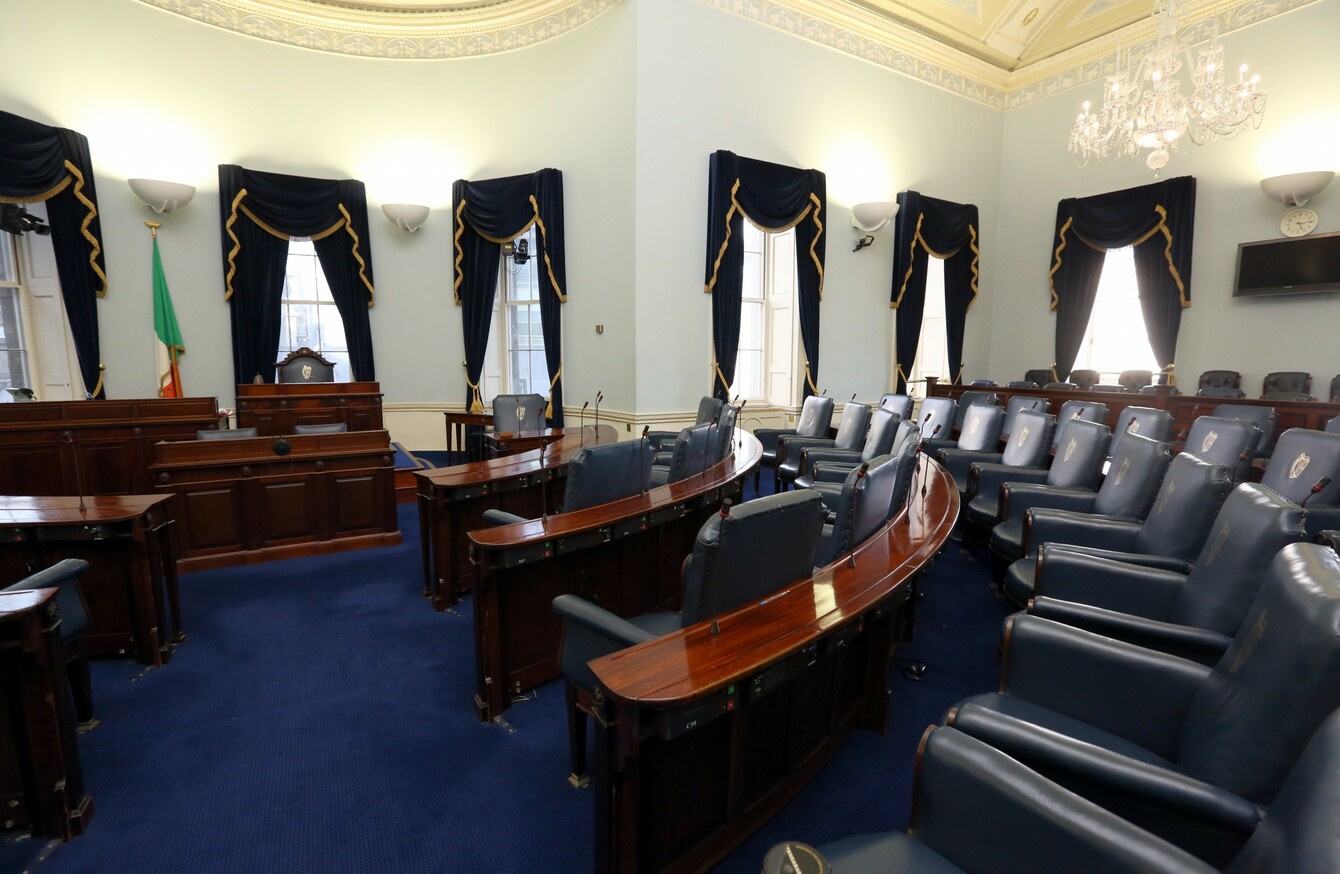 Updated at 2pm
THE SEANAD GALLERY is expected to be packed for a debate on lowering the voting age to 16, while Fianna Fáil are being accused of doing a u-turn on the bill through supporting the government's amendment to freeze the bill for nine-months.
The current voting age is 18.
Legislation is being proposed by Sinn Féin Senator Fintan Warfield and if passed through both houses of the Oireachtas, would reduce the voting age at local government and European Parliament elections.
Independent Senator Lynn Ruane, who is seconding the motion, said that she'd been inundated with requests from schools and students to attend the debate, and would ensure that as many people as possible would be seated.
She said that it was important to lower the voting age so that young people would have a say in how politics affects them, so that students could engage with politics, and – in the case of the European Parliament elections – broaden their horizons.
"Eighteen is such an arbitrary number," Ruane told TheJournal.ie. When it was suggested that 18 was chosen as it's considered the age children become adults, Ruane said that other rules told a different story.
The age where you can give sexual consent is 17, while a 16-year-old can give consent to medical treatment. "There's very little difference in maturity levels between 16 and 18," Ruane says.
The National Youth Council of Ireland say that the same arguments being used on why women shouldn't vote are now being used against young people.
The view that 16- and 17-year-olds are not sufficiently informed, have no interest in voting or will be easily manipulated are as daft now as when they were when made in the early-20th century against giving the vote to women.
"This legislation not only will extend the franchise to 126,000 young people but will renew and refresh our democracy as previous reforms have done.".
(More information on minimum age requirements here.)
She added:
I ran a survey in five DEIS schools on this subject of lowering the voting age. And the students showed a real interest in topics like Trump, like Repeal the Eighth, like the homeless crisis. One guy even spoke about the rise of right-wing politics.
But the interesting thing was that despite all this interest, students didn't think they had the knowledge to vote: the confidence isn't there.
Presidential age
That's not all too surprising.
In 2015 the public voted to reject lowering the minimum age to run as a presidential candidate from 35 to 21 – with 1,412,602 votes against the change.
When asked whether this indicates the public's lack of interest in involving young people in politics, Ruane said that there were a number of factors at play that caused the public to reject lowering the presidential age.
There was a negative narrative around the presidential referendum. Not enough time or effort went into discussing the issue, and there were fears around having a person lacking experience as the head of the country.
This time people have nothing to fear, she says – this time it's about making politics and democracy available to more people.
The National Youth Council of Ireland welcomed the bill. Their deputy director James Doorley said: "NYCI welcomes and supports the Voting at 16 Bill. We have been campaigning for voting rights to be granted to 16 and 17-year-olds since we launched our 'New Age in Voting' campaign in 2009, and today's Bill is a positive step in the right direction.
The Bill, if passed would allow up to 126,000 young people aged 16 and 17 to vote in the 2019 Local and European Elections.
The Labour party said it would be "delighted to support this legislation" as its manifesto includes a commitment to allow 16-year-olds to vote in local and European elections.
Fine Gael, however are proposing that conclusion of second stage of this Bill be deferred to December this year.
"This would allow for further consideration to be given to the issue of reducing the voting age to 16. Support of this Bill would be premature at the present time," a party spokesperson said.
For example, it would create a divide between those who can vote at local and European elections and those eligible to vote at local, general and presidential elections. There is also ambiguity around the constitutionality of amending the voting age.
A Fianna Fáil spokesperson said:
"Fianna Fáil believes in the principle of votes at 16, and included a commitment in our 2016 General Election manifesto to reduce the voting age from 18 to 16 for the 2019 Local Elections on a trial basis.
We welcome the Sinn Féin bill in the Seanad. In order to investigate the implications of such a change, we will support the government's amendment to freeze the bill for nine months.
Sinn Féin Senator Trevor Ó Clochartaigh said that the Fianna Fáil position amounted to a u-turn:
"Before the General Election Fianna Fáil pledged to reduce the voting age from 18 to 16 for the 2019 Local Elections on a trial basis, however we are being told that they now intend to support a government amendment to our bill which will kick to touch on this commitment.
This all points to the fact that you cannot trust Fianna Fáil to deliver on promises, or bring in real reform to systems which block young people from participating in the democratic process that they helped put in place.