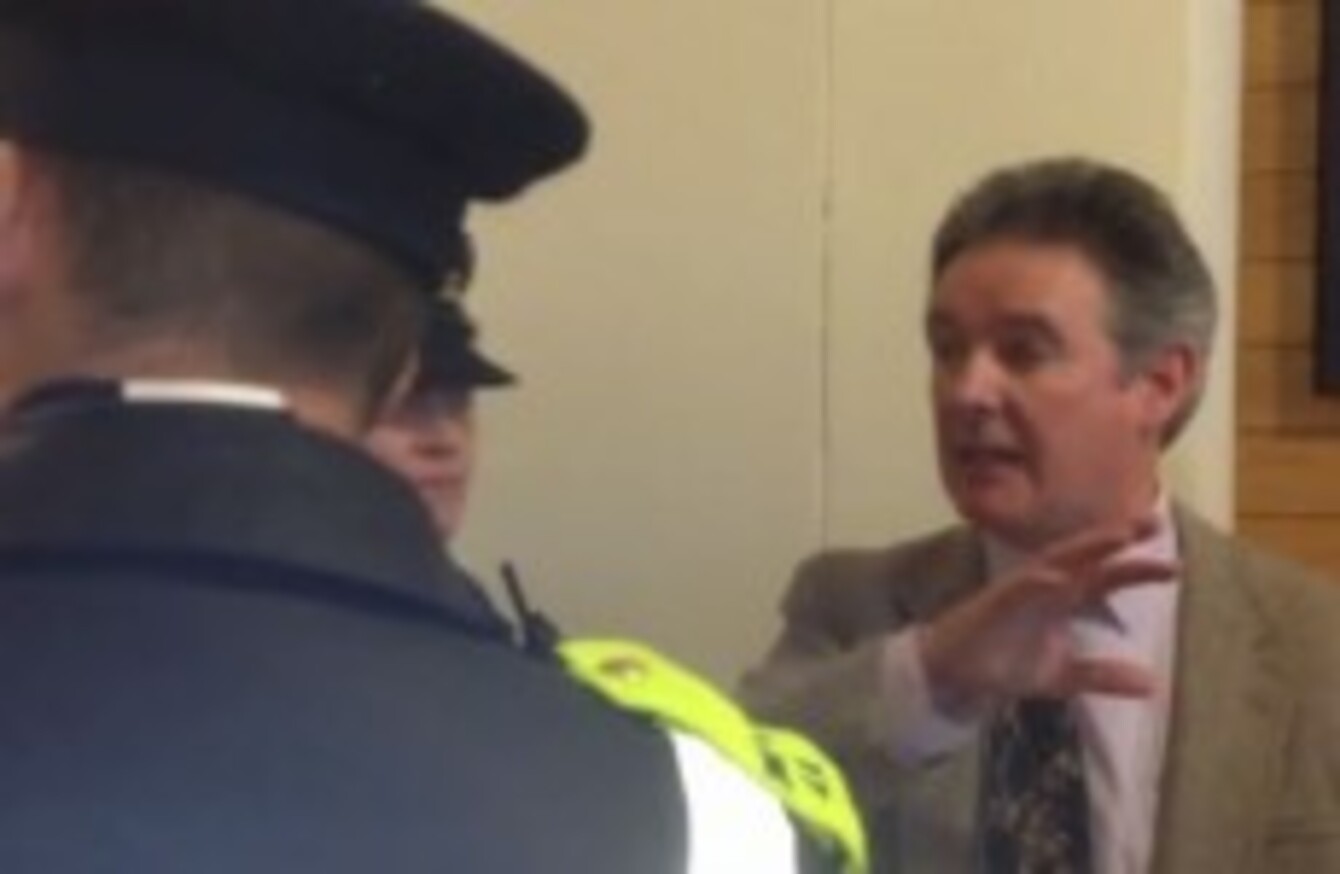 A demonstrator asks gardaí for entry to the in-camera proceedings.
Image: Reality Ireland/Youtube
A demonstrator asks gardaí for entry to the in-camera proceedings.
Image: Reality Ireland/Youtube
COURT PROCEEDINGS IN the Taoiseach's home town were twice shut down today, as activists from the National Land League of Ireland and Integrity Ireland staged courtroom protests.
The NLLI said earlier it planned to stage the protest at Castlebar Courthouse after being made aware of over 150 applications for repossession of homes. The group – which offers support to families facing eviction – said its aim was to point out that the court proceedings were "not only morally wrong but also lawfully wrong".
Speaking to TheJournal.ie by phone this evening, the NLLI's Gerry O'Boyle – who ran under a land league banner in last October's Roscommon-South Leitrim by-election – again insisted what was happening was "totally illegal".
Registrar Fintan Murphy called proceedings to a halt this morning after a group of protesters staged an action in the courtroom itself.
O'Boyle said court business was then moved to a different room, where proceedings were held 'in camera'. He said demonstrators had been calling for a "blanket adjournment".
More cases were heard after lunch – but again protesters disrupted proceedings, and two men were removed from the premises by gardaí. O'Boyle said they were let off with a warning.
Independent TD for Tipperary South Mattie McGrath said in a statement he believed the decision to ban members of the public from the re-arranged court session was "an affront to the basic and fundamental right of access to the courts".
"This is a continuation of the policy that I highlighted last October where people enduring the trauma of repossessions and evictions were denied the free and unhindered assistance of people who turn up to support them in their fight to retain the family home.
"Last year the Minister for Justice told me that where there were 'credible threats to the organisation of courts' and 'major security threats' in the administration of justice, such actions were permitted.
"Now I ask you, does the saying of the Rosary and peaceful objections to the legality of the proceedings constitute this kind of threat?" McGrath said.
"I am calling on the Taoiseach, not only as the head of Government, but also as the TD for that area to immediately assure us that when it comes to these kinds of sittings, access to the Courts will not become the exclusive preserve of the banks legal teams."
Additional reporting, Michelle Hennessy.