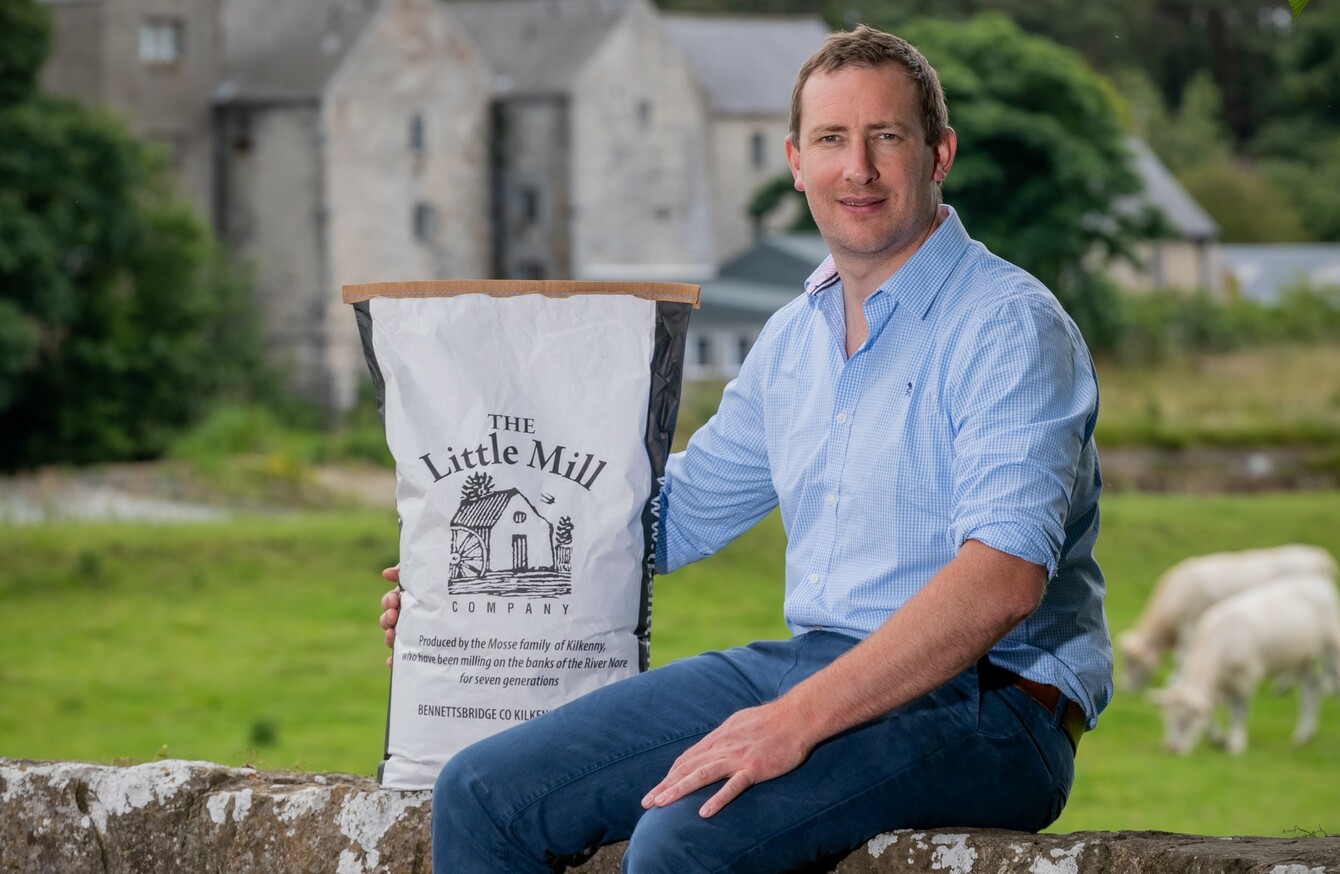 Robert Mosse in Bennetsbridge, Co Kilkenny.
Image: SuperValu Food Academy
Robert Mosse in Bennetsbridge, Co Kilkenny.
Image: SuperValu Food Academy
"SCHOOLS CLOSED AND suddenly everyone started baking."
It's a busy time to be a flour miller, as Robert Mosse of The Little Mill in Bennetsbridge, Co Kilkenny will tell you. When Ireland went into lockdown mode in mid-March, flour went from kitchen staple to hot commodity.
As home bakers started honing their banana bread and sourdough skills, Robert's team saw demand for their products skyrocket. 
With a team of 34 at the mill and a usual output of around five tonnes of flour a day ("in milling terms that's tiny," says Robert), the company typically delivers its products directly, with one Little Mill van driving from bakery to bakery and store to store:
"We're stocked in 70 SuperValu stores, and before lockdown we would have been delivering new stock to each location every three or four weeks."
Keeping shelves stocked
Over the last few months though, The Little Mill changed approach, working with SuperValu in a new way to help the retailer meet unprecedented demand for flour more quickly. "SuperValu began driving to us instead of the other way around, picking up the flour and bringing it to their central warehouse," says Robert.
It has meant a temporary change in pace with long days and a lot of work, but changing and adapting is nothing new for The Little Mill. "I'm the seventh generation of Mosses here in Bennetsbridge. The business has transformed in different ways down the years but we've always been here."
Things can get a bit confusing looking back over the family tree, he says. "All the men in my family are called William so it can be tough to know if we're talking about my father or my grandfather sometimes." (His own first name is William too, but going by Robert makes life simpler.)
Bill Mosse, Robert's father, began trading in the 1970s, using skills he had learned from his own father, and his father before him. Back then, the company's main market was bakeries around Kilkenny.
New era
Robert joined the ranks in 2003, and with his father just recently retired, he is now the managing director of the company. Around five years ago, the pair made the decision to expand beyond bakeries and catering, and move into the world of retail and home baking.
With centuries of experience making flour and bread mixes, and a strong network of local grain suppliers within 20km of their mill, Robert knew the company had a stand-out product on their hands. The challenge was figuring out how to get it onto supermarket shelves, and into shoppers' homes.
"We had a couple of chats with SuperValu and they guided us in the direction of the Food Academy programme. We soon realised how much work we had to do. We came from a world where you sit down with your customer, have a long conversation about what they want, then they place a regular order and that's that.
"We assumed that would be the case with SuperValu too – we'd give them the flour and they'd look after the rest. But there's so much more to it."
During their Food Academy training, Robert and his team looked at every single aspect of their business in detail: from the best way to market it to the smartest way to pack and distribute it.
Standing out
"SuperValu help you to realise that, no matter how great your product is, you have to stand out. They've helped us to turn our brand into something special. Ultimately it's a lonely business world out there, so when you're offered help you take it."
After launching in just 12 local SuperValu stores to begin with, The Little Mill can now be found all over Munster and Leinster. Along with wholemeal flour, the range includes spelt flour, soda bread mix, brownie mix, scone mix and more.
"People come back to our products because they see the taste and quality they get when they bake with them. We're a small producer but that means we can keep things local and be very involved."
With so much change over the last five years, does Robert have future plans for the business?
"More of the same really. We'd love to grow The Little Mill's product range, and see even more customers using our flours and mixes."
But now that daily life at the mill is slowly returning to normal post-lockdown, Robert says there's one very important task on the list before the company starts thinking ahead to the next five years: "We're definitely all due a few days off."
At SuperValu, we believe in local. Through our Food Academy programme, we've nurtured hundreds of small Irish food producers, from start-up to seeing their products on our shelves. Look out for the Food Academy section in your local SuperValu.