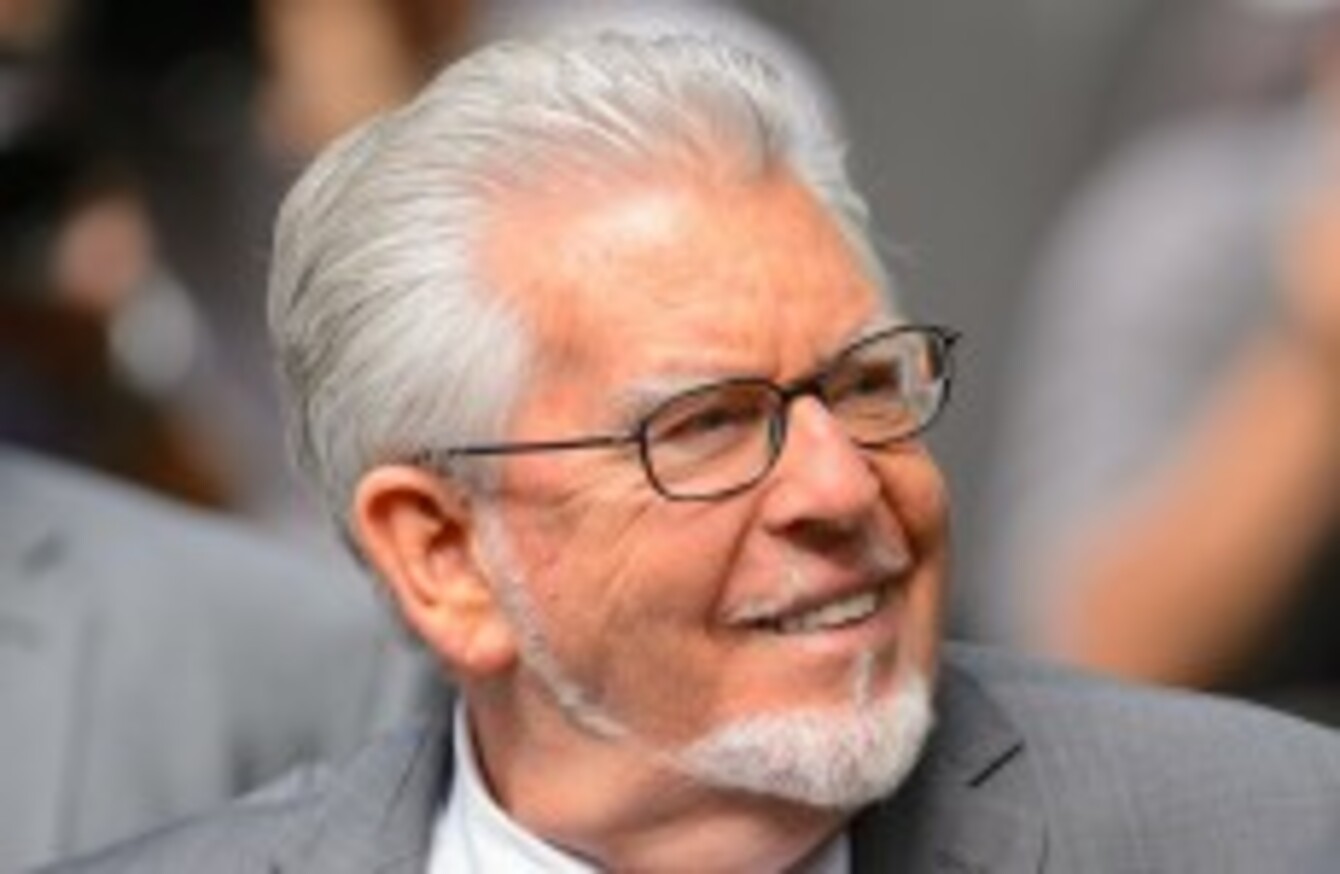 Image: Dominic Lipinski/PA Wire/Press Association Images
Image: Dominic Lipinski/PA Wire/Press Association Images
ROLF HARRIS HAS been sentenced to five years and nine months in prison for 12 counts of indecent assault.
The TV star was found guilty on Monday of the offences which occurred between 1968 and 1986 against four girls.
The youngest victim was aged seven or eight and the other four teenagers were between 14 and 19 at the time of the abuse.
The 84-year-old will serve about half of that time in jail and will be released on licence within three years.
Harris, who arrived at the court today with a striped suitcase, has been taken to Wandsworth jail.
During sentencing, the judge told him that his reputation was in ruins but that he had nobody to blame but himself.
Victim impact statements were read to the court today. BBC News reports how one said the abuse had a "catastrophic effect" on her, destroying her "childhood innocence".
Harris's lawyers argued today that because of his age (he is 84 years old), each day in prison will shorten his life.
Barrister Sonia Woodley said he was "already on borrowed time". She also claimed that he had been punished by being publicly shamed and stripped of his various honours.
However, in his sentencing the judge was quite harsh on Harris, telling him that he caused one of his victims severe psychological harm and that he took advantage of his celebrity status.
He also noted that he showed no remorse towards his victims.
Images
Prosecutors revealed today they would not pursue allegations that Harris downloaded sexual images of children, saying it was "no longer in the public interest".
During court arguments that can only now be reported, his lawyers had contested the age of models found in pornographic images found on his computer.
'Grubby and disgusting'
Before the final sentencing, London's Southwark Crown Court from another victim, one  of his daughter Bindi's childhood friends.
The abuse against her began when she was 13 and on holiday with the Harris family, and continued for a period of 16 years, prosecutors said.
"The attacks that happened have made me feel dirty, grubby and disgusting. The whole sordid saga has traumatised me," the woman said in a statement read out by a lawyer.
Harris admitted having a sexual relationship with the woman, who cannot be named for legal reasons, but said it only began when she was an adult.
In mitigation, Woodley said that, with the exception of his daughter's friend, all the assaults involved brief encounters and were "opportunistic rather than predatory".
"There are two sides to him and it's a fact that he has a good side to him," she said.
Harris's stature was once so great that he was made a CBE (Commander of the Most Excellent Order of the British Empire) in 2006 – one of the highest honours Queen Elizabeth II can bestow – and even painted the monarch's portrait on her 80th birthday.
There was also revulsion at his spectacular fall from grace in Australia, the home country that he left at the age of 22 but which treated him as a national hero.
After the guilty verdict on Monday, Australian Prime Minister Tony Abbott said he was "gutted and dismayed".
'Dark side'
During the trial, Harris made the most of the charm that once enraptured viewers, singing his hit "Jake the Peg" and describing how he invented the "wobble board", an instrument he used in his song "Tie Me Kangaroo Down, Sport".
But proceedings darkened when witnesses now in their 40s and 50s took the stand to describe how Harris assaulted them when they were children or teenagers.
Harris told the court he was good at disguising his "dark side" while prosecutors said he was a "Jekyll and Hyde" character.
Reports suggest the entertainer, known for hit songs such as "Two Little Boys", could now be stripped of his CBE, while there is also the prospect of further charges.
Since Harris's conviction, a dozen more women from Britain, Australia and New Zealand have made fresh allegations against him.
Additional reporting by AFP