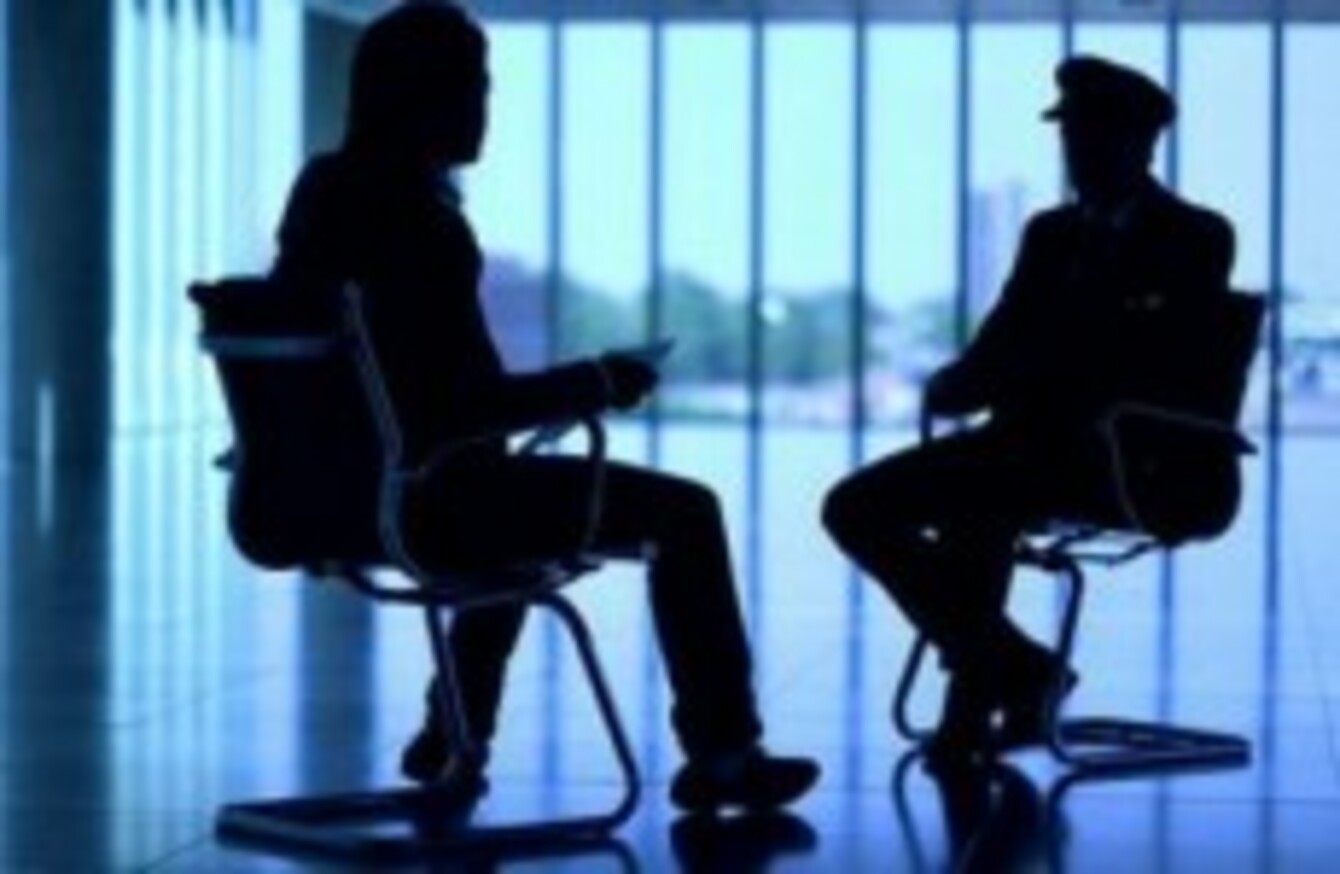 Image: Image: Channel 4 Dispatches
Image: Image: Channel 4 Dispatches
RYANAIR HAVE LAUNCHED an aggressive defence of their safety record in the wake of last night's Dispatches documentary on Channel 4, with CEO Michael O'Leary taking to the radio airwaves this morning to rubbish the claims made.
The programme focused on a survey conducted among a thousand pilots at the airline, which found that more than eight out of ten questioned believe the airline does not have an "open and transparent safety culture". The survey was commissioned by the Ryanair Pilot Group, which is not recognised by management, but claims to represent more than half of all captains and first officers.
In a number of statements reacting to the programme, Ryanair have highlighted the airline's "outstanding 29 year safety record", and this afternoon the Irish Aviation Authority rowed in with its support, saying the programme-makers had carried out a "misguided attack" on the low-cost carrier.
Ryanair have released full details of their correspondence with Blakeway Producations, which made the Dispatches programme. And as you might expect from a company that has regularly hit the headlines as a result of its forthright communications policy, no punches are pulled in its dealing with the producers…
26 July 2013
Blakeway Productions begins its engagement with Ryanair, with a letter informing management that Channel 4 plans to broadcast a documentary outlining pilots' concerns about safety on 12 August. The three page letter details concerns raised by pilots over working conditions and the amount of fuel they have to carry, amongst other issues.
The response from Ryanair's Head of Communications Robin Kiely is swift (it's dated the following Monday), and contains this less-than-conciliatory opening:
Your letter of July 26th was emailed at 17.24hrs on a Friday evening – i.e. after office hours…
Before addressing the core claims contained in the production company's letter, it's second paragraph makes counter-claims about Channel 4′s record in the area;
Having previously made false and unsubstantiated allegations against Ryanair (using actors to 'simulate' cabin crew) it's surprising that Dispatches are again inventing false and unsubstantiated claims – presumably again using 'actors' – to make what are manifestly false claims.
Kiely then goes on to address 12 individual points raised by the programme-makers. This includes the following passages:
Airline safety is a matter of fact and evidence, it is not something that can be traduced to a subjective "survey" organised by an Aer Lingus pilot union which has repeatedly lied about Ryanair's safety

These so-called "pilots" you have interviewed have misled you. Ryanair's fuel policy clearly establishes that the final decretion on fuel lies with each captain.
The five page letter is CC-ed to the Chairman of Channel 4 and OFCOM, amongst others.  Four appendixes include a statement from the Department of Transport backing the airline's safety record and and IAA report on an incident where three flights to Madrid were diverted.
31 July 2013
Blakeway Productions' respond by saying the company will address the 12 detailed points, but opens by addressing Ryanair's claims about the previous Dispatches documentary:
I am informed by Channel 4 that despite your allegations about that programme none of your claims were ever the subject of litigation or complaint to the broadcasting regulator Ofcom [...] no actors were used in the broadcast programme.
The letter then goes on to address Ryanair's offer of an interview with CEO Michael O'Leary, which the airline had said could be whatever length producers wanted, as long as it was unedited:
…as you know it is not an acceptable condition that any interview not be edited. We would have to ensure that any of the interview used in the programme was relevant and was used in accordance with the Ofcom Broadcasting Code which would of course mean, for example, that the content of the interview was fair to third parties.
1 August 2013
No opening paragraph in Kiely's response this time, just down to business…
1. It is extraordinary that despite the claimed urgency of your 26th July letter, you have failed to address any of the false claims detailed in points 1 – 12 of our 29th July reply, or the absence of any evidence whatsoever to substantiate your heresay and baseless claims. Please now do so by return.
The two-page letter concludes:
Please now provide us by return, with whatever evidence – as opposed to anonymous hearsay – you have to support the 12 claims you made in your July 26th letter which have been comprehensively disproven by the facts set out in our reply of July 29th. Please also confirm if you wish to take up our offer to interview Michael O'Leary who we repeat is perfectly willing to address address any of these false and hearsay claims as long as his answers are not edited by our Channel 4 Dispatches programme which is clearly attempting to yet again smear Ryanair's 29 year safety record which the IAA has recently confirmed is "on a par with the SAFEST airlines in Europe".



2 August 2013
Producer/Director Claire Burnett writes:
…I will respond using your numbering :




1. We have noted all that you have said regarding points 1-12 of your letter of 29th July 2013. Your position will be fairly reflected in the programme when it is broadcast.
Point 2 of Burnett's letter again refers to alleged use of actors on a previous Dispatches documentary (which the producer again rejects), before point 3 again addresses the question of an interview with O'Leary:
We of course would not edit any interview to "suit" a "baseless and inaccurate agenda" as to do so would be in breach of our regulatory Code. However we would retain the right to edit any such interview fairly and accurately. Does Mr O'Leary agree to give an interview on that basis?
Ryanair also sent a letter to the production company on the same date, addressing specific questions relating to the use of Cockpit Voice Recorders.
6 August 2013
In a three-page letter that makes ample use of italics, Kiely's response to Burnett's 2 August letter begins in a by-now familiar tone:
It is grossly unfair and of grave concern to us that you have failed to address our specific and categoric responses to each of your "12 points".
The issue of the O'Leary interview also comes up again, with the airline again insisting it be included unedited:
We cannot rely on assurances of "fairness" or "accuracy" from a TV programme what has produced no evidence whatsoever to back up its false allegations, which are based on anonymous hearsay claims from individuals who despite legal protection refuse to make these unfounded claims on the record.
The letter concludes with the following:
…we continue to reserve all our rights, and put you on notice that the irresponsible broadcast of these allegations could have extremely serious financial and other ramifications for our company, for which we shall be holding you fully accountable.
8 August 213
Burnett's response contains seven short paragraphs, including the following:
We have offered Mr O'Leary an interview on the same terms offered for example to leading businessmen, politicians and generals on previous Dispatches programmes. We note his unwillingness to be interviewed on these terms.
Your accusations regarding our standards of journalism are rejected in their entirety.
9 August 2013
The producers make the first mention here that the programme will focus on a survey of pilot attitudes, conducted among 1,000 captains and first officers.
We have now had sight of that survey and will be reporting the following within the programme:

More than 8 out of 10 pilots said Ryanair did not have an open and transparent safety culture.

Two thirds of pilots who responded said they did not feel comfortable raising safety related issues through Ryanair's own internal systems.
Later, the letter states:
We will also report that:

"Ryanair told us their operations were fully compliant with EU requirements; "Airline safety is a matter of fact and evidence, it is not something which can be traduced to a subjective survey.

Pilots should raise concerns through Ryanair's confidential safety reporting system."
12 August 2013 (yesterday, the day of the broadcast)
I refer to your letter dated 9th August, which was received by email at 20.34hrs on Friday evening, long after close of business one working day before your planned broadcast.

It is clear that your programme, having failed to produce one shred of evidence to dispute the IAA's confirmation that "Ryanair's safety is on a par with the safest airlines in Europe" is now flailing around trying to concoct spurious claims to support your baseless slur…
The letter goes on to say that the survey results are bogus, and can't be objective as the body that compiled it doesn't have access to Ryanair's 3,000 pilots, and goes on to state:
Your claim that you will "report" that "Ryanair told us their operations were fully compliant with EU requirements" is another example of your inadequate, misleading and biased reporting. It is not Ryanair that have "told you", but rather the independent EU designated safety regulatory authority for Irish aviation, namely the Irish Aviation Authority, which has publicly confirmed that "Ryanair's safety is on a par with the safest airlines in Europe". Your programme MUST report this fact.
The Dispatches programme "Ryanair: Secrets from the Cockpit" was aired on Channel 4 last night, and is still available to view on 4oD.
Ryanair released the following comment as part of a lengthy statement in the wake of its broadcast:
Ryanair has instructed its lawyers to issue legal proceedings against Channel 4 Dispatches for defamation and Ryanair looks forward to this matter being resolved in the Courts and the safety of Ryanair's operations being thoroughly vindicated since the IAA has independently confirmed "Ryanair is on a par with the safest airlines in Europe" and the C4 Dispatches programme has produced no shred of evidence to undermine this independent verification of Ryanair's outstanding safety.
[All images: Screengrabs via Channel 4 Dispatches]