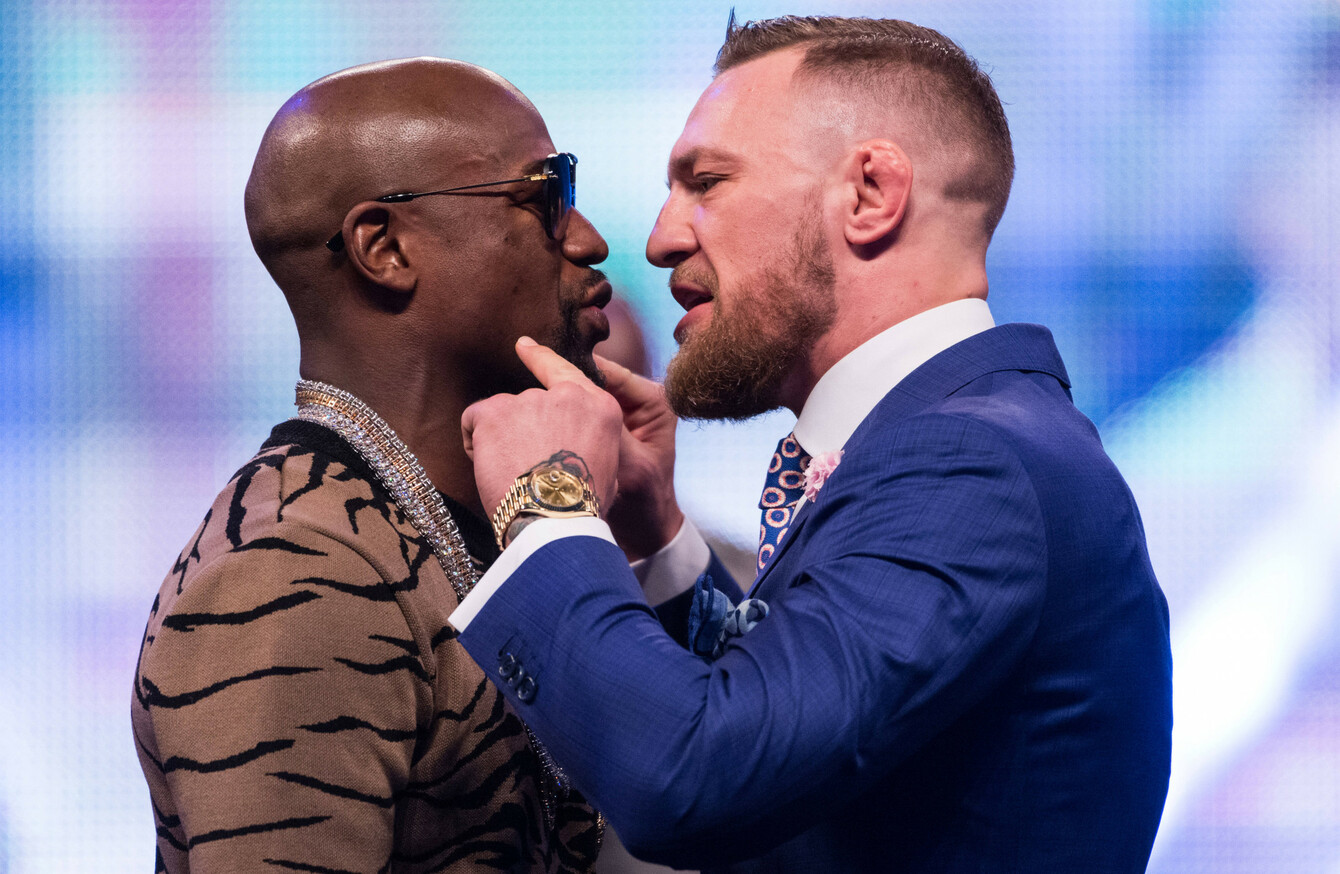 Mayweather and McGregor World Tour in London in July.
Image: Ray Tang/Press Association
Mayweather and McGregor World Tour in London in July.
Image: Ray Tang/Press Association
SPORTS MINISTER SHANE Ross has said he will most likely not be watching the Conor McGregor versus Floyd Mayweather fight taking place next week.
While McGregor is trying his hand in the boxing ring, Ross has been critical of Mixed Martial Arts (MMA) in the past, and has vowed to regulate the sport in Ireland.
Labelling elements of MMA as "disturbing", the minister previously expressed his concerns and called for further measures to be taken to guarantee more safety.
Despite its growing popularity through Conor McGregor in particular, MMA is still not recognised as a legitimate sport in Ireland.
When asked by TheJournal.ie recently if he will be watching the boxing match on 26 August, which is taking place in Las Vegas, the minister said:
I probably won't. I don't know. I will be at all the women's rugby games and all the football games coming up, and the World Cup qualifier Serbia game coming up in September. I just might miss out on the McGregor one, I am not a fan.
The minister stood by his previous comments about regulation, stating that while MMA is a high-profile case, rules should be in place to remove violence from all sport.
Ross also said he is concerned about dangerous behaviour taking place in sports, such as rugby, stating that sport has become more "physical".
"I hope it doesn't take some awful accident for us to wake up to the fact the sport is getting rougher," he said.
Ireland and the Olympics 
However, he said that Ireland is becoming a global player in the area of sport, adding that the country needs to set its sights high with what it wants to achieve.
Last month, the minister made headlines when he said Ireland should think about hosting the Olympics one day.
Appearing before the Oireachtas Joint Committee on Transport, Tourism, and Sport, Ross said if Ireland's 2023 Rugby World Cup bid was successful, then "the sky is the limit" to what Ireland could do.
When asked about the comments, he told TheJournal.ie that he was criticised for making such a statement.
"I got a lot of flak for that," he said, adding:
If we go on and win the Rugby World Cup bid, which is a big if, for 2023, then we should continue. The Olympics comment was a bit of a flyer and I just threw it out there, and I got flak for it, but we should think in terms of ourselves as an international player in these games, and we are.
We are very, very good at sport now. We are good at golf, we have the Agha Khan Cup, we have a great record with rugby, cricket, you name a sport… so we shouldn't laugh at people that put us in the global leagues.
The Olympics is a kind of economic nightmare, that is absolutely true, but who knows, in 2050 or 2060 we could be in the running for anything.
However, the tournament that is his number one priority now is the Women's Rugby World Cup (which is being hosted in Ireland) for which he is attending every Irish fixture.
It is fantastically good for morale, but if we get through to the next round now, which is likely, people will get engaged, and get very proud of the Irish team.