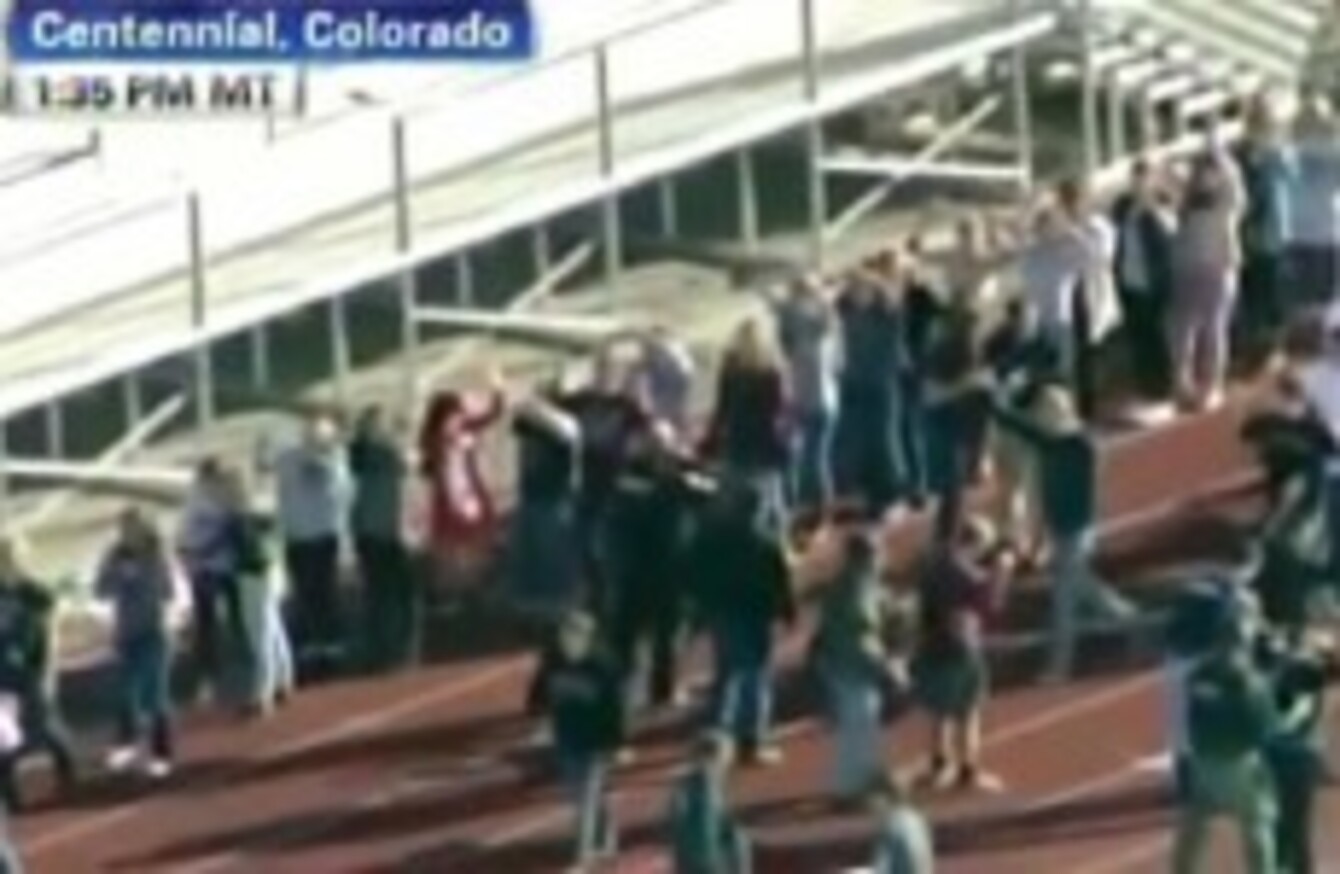 Students were searched by the authorities as they assembled outside the school
Image: Screengrab/Fox News
Students were searched by the authorities as they assembled outside the school
Image: Screengrab/Fox News
Updated at 10.31pm
TWO STUDENTS WERE injured, one seriously, in a US school shooting today, before the suspected gunman killed himself, on the eve of the anniversary of the Newtown massacre.
Police said the suspect was also a student at Arapahoe High School in Centennial, Colorado, just a few miles from the sites of last year's Aurora movie theater shooting and the 1999 Columbine massacre.
America's perennial debate about gun control is back in the headlines ahead of the anniversary tomorrow of last year's Newtown, Connecticut shooting in which 26 people, including 20 young children, were killed.
In today's incident, students locked themselves in classrooms after shots rang out, triggering an all-too-familiar massive police operation to find the active shooter.
Hands above heads
Live television pictures showed orderly groups of students filing out with hands above their heads, gathering on an athletics track on the edge of a snow-covered field next to the school.
Eventually the local sheriff confirmed that two students had been injured, while the suspected gunman was dead. One victim was taken to hospital in serious condition and underwent surgery, while the other had minor injuries, he said.
"The suspect has been found inside the school and he is deceased as a result of what appears to be a self-inflicted gunshot wound," Arapahoe County Sheriff Grayson Robinson told reporters.
He said the student had apparently targeted a teacher at the school.
"The student identified a specific teacher at the high school that he was interested in confronting, and that teacher was informed of the situation and exited the school quickly," he said.
"It was clear that he was armed with a shotgun. He made no effort to hide it or conceal it."
Locked in
One student described how he and his 25 or so classmates locked themselves in when the incident started at around 12:30 pm, when they were in an English class.
"We didn't really know if it was a gunshot," Colton Powers told local KDVR television. "We turned off the lights and locked the door, so he couldn't go in."
"A couple of people were crying," he said, adding that they did not come out until a police SWAT team arrived. He said students believed the gunman's target was a school librarian.
His mother fought back tears as she described frantically trying to get in contact with her son.
"It's hard to see this happening again. You don't want this on the national news again," she said. "It's the last thing you want to go through, especially here."
The school has over 2,200 students and 70 classrooms. It is part of the Littleton school district, to which Columbine High School — scene of the 1999 shooting by two students in which 13 were killed — also belongs.
The incident comes a day ahead of the first anniversary of the Newtown shooting in which Adam Lanza gunned down 20 young children and six adults at Sandy Hook elementary school.
Sandy Hook
A group representing parents of the Sandy Hook victims voiced shock at the new school shooting.
"We were horrified to hear today of a school shooting at Arapahoe High School in Colorado, just one day before the one year mark of the Sandy Hook shootings," said Tim Makris, executive director of Sandy Hook Promise.
The Newtown shooting briefly reignited America's perennial debate over gun control, which is triggered every time there is a major shooting, but attempts to pass tougher laws have made little headway in Congress.
"Tragically, this shooting marks the 25th school shooting in the one year since December 14. Our hearts are with all the families of Arapahoe High School today," said Makris.
Originally posted at 8.30pm