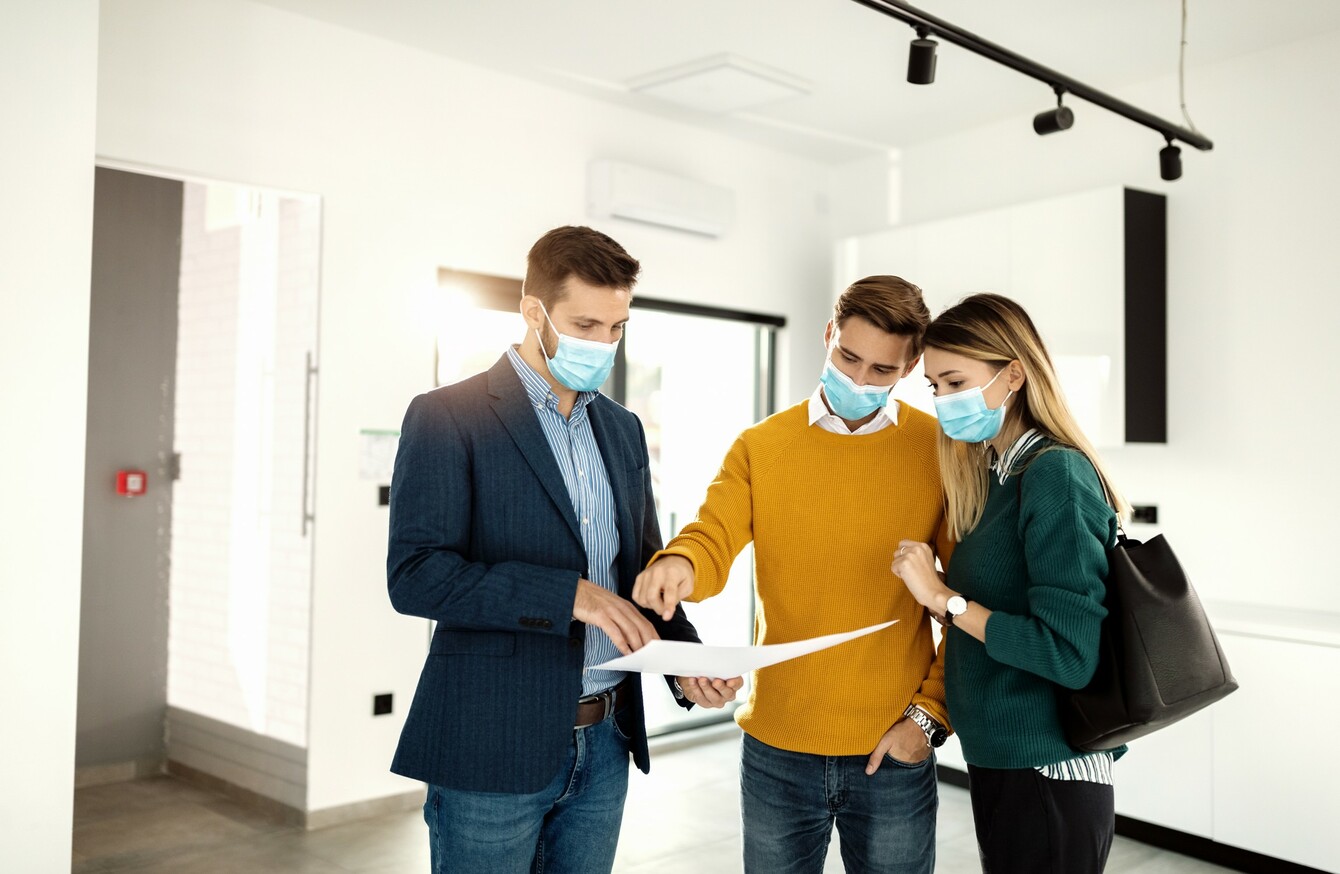 Image: Shutterstock
Image: Shutterstock
THE EXPERIENCE OF viewing a new home – whether you're buying off plan or from a completed development – can be very different from viewing in the second-hand market.
Instead of detecting damp, you're thinking about orientation. Instead of inspecting the plumbing, you're scoping shared green space.
"When buyers are looking at new homes, there's a lot of homework that has to go into to the whole process, rather than just going and seeing the house," says Noel Duffy, Associate Director at Sherry FitzGerald. 
For Josh Maguire, Director of The House Architects, the benefits of buying a new build are plentiful. "The main benefit of buying a new build is that it will be built to modern construction standards and building regulations," he says.
"That means superior insulation standards, superior air tightness, low cost sustainable heating systems such as solar powered condensing boilers and air to water heat pumps. Modern regulations also require new homes to have accessible thresholds and dedicated storage and utilities spaces, plus larger and more usable bedrooms compared to houses that are built in previous decades."
We spoke to Noel and Josh to get their tips on getting the most from a showhome viewing, plus the things that first-time buyers can miss when you're swept up in the excitement. 
Come prepared
Before you even step foot into a showhome, Noel says it's important to do your research and come prepared with questions. 
"There are a lot more questions to ask when you're looking at a new home rather than second hand," he says. "The second hand home is kind of there in front of you, whereas a show house is in one part of the complex but your home might be in a completely different area within the scheme. 
"Before you go to a viewing, put together a kind of a checklist. I know from doing viewings myself, the people who come in with a notepad and have questions for you, they're always the more serious buyer.
Take notes, take photographs when you're doing your viewing. The agent has no problem with you taking photographs and notes of what house you're in.
Get to know the area
An important part of the research before going to a viewing, says Noel, is taking the time to get to know the local area. 
"Before we even get into a showhouse we would advise the purchaser to have documented knowledge of the area. I often find going to a viewing is one thing, but actually taking your time and maybe spending a half an hour driving around the area beforehand is another thing. A lot of our buyers at the moment, especially in the first-time buyer market, are buying in areas that they may not have known that well. 
"You have to understand what amenities you've got close by. Are there schools going to be built? Are there schools already there? What's the enrolment policies for those schools? Are there shops and restaurants nearby? What's within in walking distance? What about local transport, buses, trains and whatever that may be?"
Like Noel, Eamon Gavigan from Glenveagh Homes – who offer new developments in Dublin, Meath, Kildare, Wicklow and Cork – stresses the importance of "doing your homework" before viewing a showhome. 
"I'd recommend viewing the property online first," he says. "See what's selling, see what the product type is like. This way you'll have an expectation when you go to the showhome."
"I'd also say to check the mortgage calculator and do your homework on the financial front so you have an understanding of what you can budget in terms of monthly repayments. It's a good idea to check the AA Routeplanner and see how long different journeys from the development will take."
Think in the long-term 
When it comes to actually viewing a showhome, Josh says it's important to look beyond what your needs are now.  
"It's important to always look at a house in terms of how it might work now, but also how it might work in the future. Extendability to the rear or to the side is really important, even conversion of garages is important.
I would always advise people to try and think in ten year stages.
"Even in the context of a family, the first 10 years is one type of thing. You're dealing with primary school and younger children. The next 10 years is much more about connectivity. You have teenagers who are going out to school, they have to get to the buses, they need a communal place to hang out. How easy is it for them to get to that? 
"The sort of things that you think about for the first 10 years might be quite different things to think about for the second. And the basics have to be right in terms of the bedrooms, for example. They need to be suitable size that you can actually have a desk to work on, a wardrobe that's going to be suitable for every member of the family long term."
Know your preferred orientation and layout
Whether you're hoping to catch the evening sun in a south-facing garden or your priority lies with a large open plan living space – or perhaps you'd like both – knowing exactly what you're looking for in terms of layout and orientation is key, says Josh.
"Open plan living is a particular feature to look out for in new builds, and the option to close off a separate living room is desirable. The size and orientation of the garden is also important. It's worth considering what time of day the sunlight in the garden is most important to you. It depends on when you'll use it. If you have young children, you may want it in the morning. If there's no children, you may prefer it in the evening.
A well-designed home is a house which has been designed with a layout that responds well to how it will actually be used by its occupants. 
"It's important that there's some flexibility in how rooms and spaces can be used. Viewing a showhome can really help buyers to visualise real furniture and how it could fit in the space, and it also offers the opportunity to consider alternative furniture layouts to reflect how you might use it. It's important to take a view on whether the size and the type of furniture used in the show home reflects the type of furniture that you might prefer."
Don't forget about parking
Where you can park your car at the end of the day is a feature that many buyers often forget to consider, says Noel.
"Not every home comes with a driveway nowadays. In the past, every home had a two-car parking space or whatever that may be, but now homes are coming with with on street parking, so you have to bear that in mind when looking at a new home. Do I have parking when I come home in the evening? Can I drive into my driveway, or do I have to park on the street and hope somebody else hasn't parked there?"
 Consider every detail when buying off plans
Buying a property off plans can be daunting, but knowing exactly what to look out for can help, says Josh. "Buying off plans is obviously a good way of locking in a price, but it requires some interpretation of drawings. The best way to judge floor plans is to take note of the actual room dimensions on the drawing and compare these with houses that you know, whether it's your own house or a family member's house.
"Another important point that may not be obvious when buying from plans is the ceiling height. You've got a standard of 2.4 meters, but some new builds now have higher than average ceiling heights, which greatly adds to the feeling of space, so look out for that in the drawings."
Buying off plans is also a good opportunity to choose exactly where you'll live in a new development, says Josh. "Because the location of the house within the development is important, you frequently have first dibs on that when you're buying off plans. Modern residential developments have a really well integrated sense of urban design. It's important when looking at the house that you might select off the plans to note the orientation of the house relevant to the garden, but also the aspect from the front. Is it facing an open space? Is it looking onto a main road, or connected to cycleways and pathways or pedestrian links to schools and shops?"
Considering the total number of homes in the development is an important factor, too, says Noel. "Ask the agent how many homes are planned for the whole scheme. Is it going to be 200, is it going to be 600? If it is 600, is there going to be a creche facility? Are there going to be shops or a small local shop?"
 Create a good relationship with your agent 

Whatever questions you may have about the house or the development, it's likely the estate agent will be able to give you the answer. "Having that communication with the agent is very important," says Noel. "Always get their contact details. Ask him or her for a card. When you go home, you're going to think of 20 questions to ask. Write them down and send them to the agent." 
"This is a huge, huge purchase in your life. To be going in blind is not advisable at all."
At Glenveagh Homes, our vision is that everyone should have the opportunity to access great-value, high-quality homes in flourishing communities across Ireland. We understand that buying a home is possibly the biggest decision you will ever make in your life – but we want to make it your easiest. Click here to find out more about Glenveagh developments.