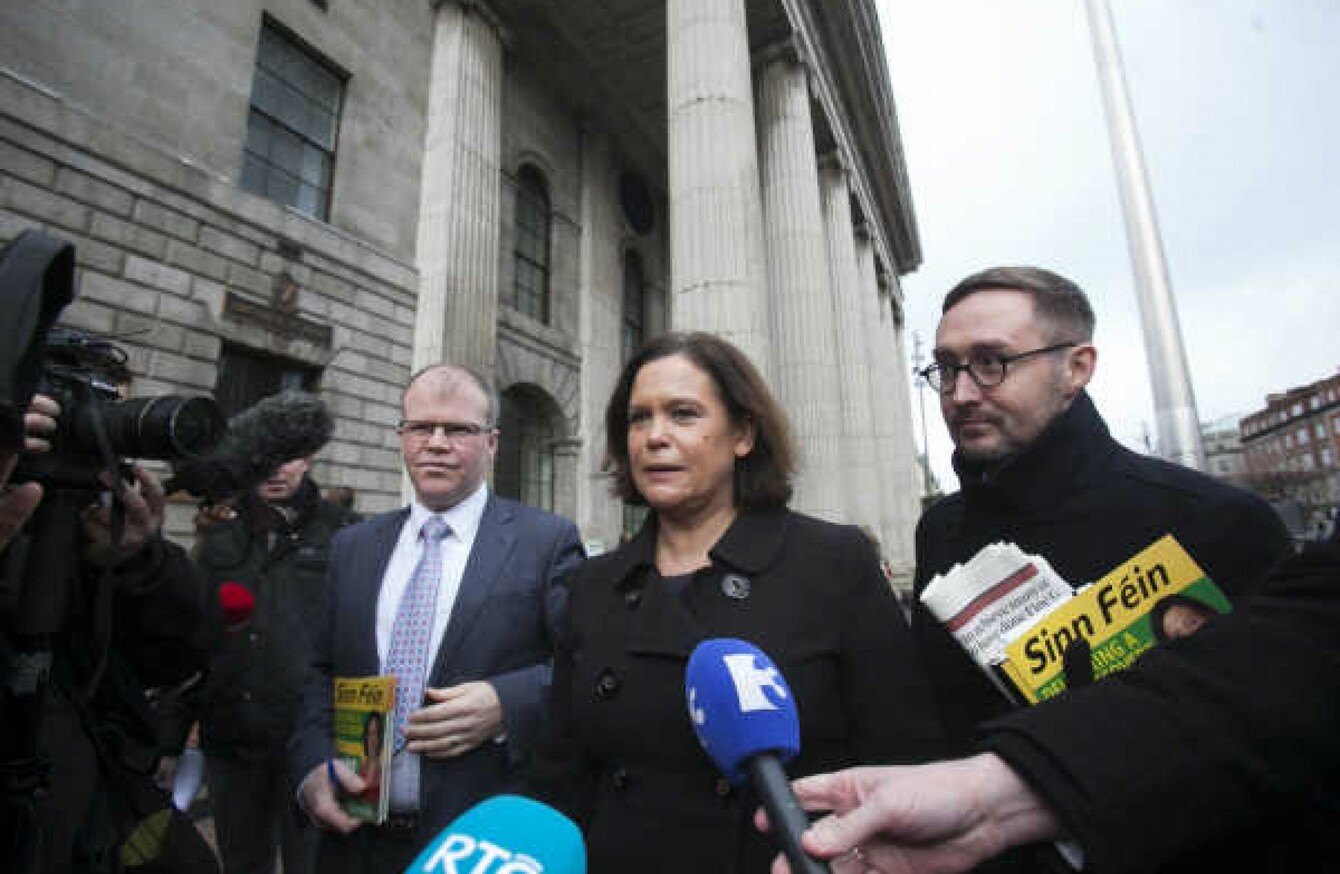 Peadar Toiban, Mary Lou McDonald and Eoin O Broin pictured before the election
Peadar Toiban, Mary Lou McDonald and Eoin O Broin pictured before the election
SINN FÉIN HAS laid out its position on the contentious issue of water charge refunds.
There has been much speculation since it became clear that parties opposing the charges are likely to play a part in whatever formation the government eventually takes.
There are big questions about what will happen to those who have already forked out for their bills, with Fianna Fáil saying that it expects people to keep on paying for the meantime, but would suspend the charge for five years if they were leading a government. 
What are Sinn Féin's plans? 
Speaking today, the party's Eoin Ó Broin – elected in the Dublin Mid-West constituency for the first time in this general election – said that the party will not be refunding those who have already paid out.
"Our view is there is an overwhelming majority of voters who said that Irish Water needs to be scrapped and that Irish Water needs to be wound down," he said.
On the potential for refunds, he said:
We made it very clear from the start that we wouldn't, because we don't believe the money is there, to be paying people back who had paid up to the abolition of the charges.
This policy is in line keeping with what the party have been saying since before the election.
However, there was one thing to note.
Those who have already signed up and paid some part of their water charges will not be pursued for money in arrears.
Anything else?  
Speaking also, David Cullinane, a new TD for the party in Waterford, said that his party would not be aiming to form a government as "the numbers are not there for us to work with left independents and smaller left parties".
We will not make promises we cannot keep, and the promises we make we will keep.
On the potential formation of the government, Cullinane made reference to Sinn Féin's use of the D'Hondt method at local authority level, but said that such a set-up would not be appropriate for the Dáil.