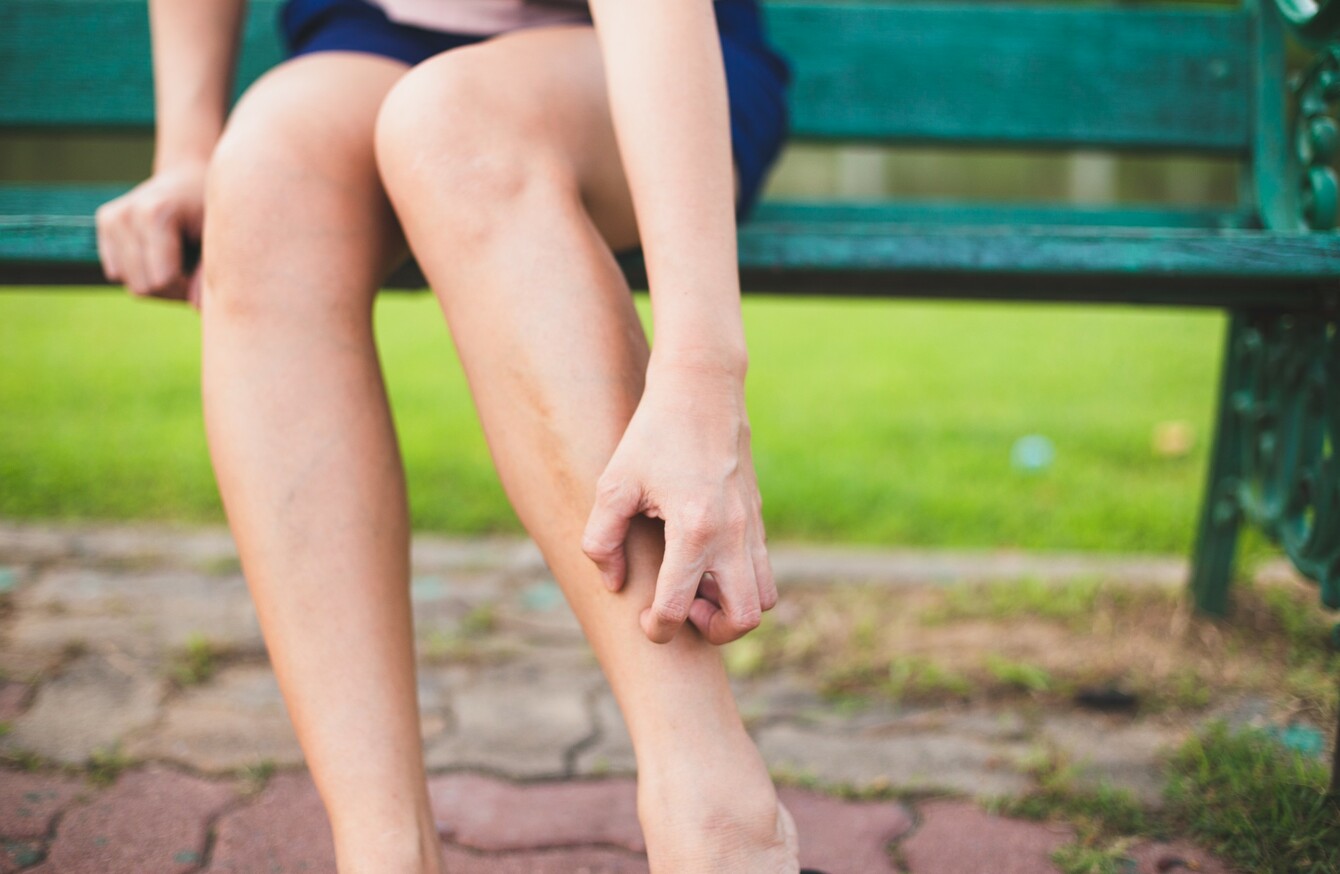 Image: Shutterstock/namtipStudio
Image: Shutterstock/namtipStudio
EVER HAD WHAT feels like an impossible-to-relieve itch on your arm, only to look down and realise that your skin actually looks pretty inflamed? Skin conditions such as eczema can affect 1 in 12 Irish adults, and a fifth of Irish children. For psoriasis, it's about 2-3% of the population.
While we should all try to be careful with what we expose our skin to, people with skin conditions such as eczema, psoriasis and acne need to be even more vigilant if they want to avoid flare ups.
Here, consultant dermatologist Dr Nicola Ralph shares what to look out for.
1. You find you often have red, itchy patches near your joints
One of the tell-tale signs of eczema? The level of itch, says Dr Ralph. "It's characterised by red, inflamed patches of skin which are itchy, scaly and commonly occur in the creases". This means you'll tend to experience it around the wrists, crook of the arms and behind the knees. In babies however, it often affects their faces, especially the cheeks.
2. There are thick or pink patches on your scalp 
Another common skin condition includes psoriasis, an inflammatory skin condition which Dr Ralph says affects 2-3% of the Irish population. This is characterised by "pink patches of skin with a thickened silvery white scale on top". It typically appears on elbows, knees, your scalp, your nails or behind your ears but it may affect your whole body. Though it tends to be itchy, it's "not classically as severe as eczema". 
3. You get flare ups after being too warm or eating spicy food
If on the other hand, you tend to find a lot of redness or broken capillaries in the middle of your face (on your nose, cheeks, chin or forehead), along with red spots or whiteheads, it may be caused by rosacea. Flare ups of this "can be caused by UV exposure, spicy food, stress and even a warm environment, such as a hot room", explains Dr Ralph.
4. Your skin gets really, really itchy if it's next to a label or tag
Ever find that anywhere your skin meets a label, it causes you to start scratching? Dr Ralph advises to wear layers of clothing that may be removed as needed and ideally stick to cotton clothes with the tags removed if you can. When tags or labels are left on clothing, they can lead to irritation which unfortunately tends to lead to further scratching.
5. Soaps and fabric softeners are causing irritations
If you are trying to keep your skin irritations at bay, regardless of the specific issue, it's worth looking at the products that you're using on it. Dr Ralph explains: "With eczema, you should avoid any fragrances products, fabric softeners, detergents, soaps and bubbles."
Along with this, it's worth popping into your local pharmacy to ask for advice on shower and bath products which are soap-free. For example, La Roche-Posay have a suitable range of products available in pharmacies nationwide which have been created specifically to soothe eczema-prone skin.
6. You're finding it hard to sleep because of itching
One thing that not a lot of people realise about eczema? "The significant impact that it or any other skin disease may have on the patient's quality of life, and also on their family's." Sleeping in a cool room is also recommended for those who may be suffering from eczema, says Dr Ralph, who explains:
If someone has a severe itch, it affects sleep which then has a negative impact on productivity at work and at school. Many patients have to take time off due to severe flares of their chronic skin condition.
If your skin is bothering you to this point, it's worth booking an appointment with your doctor who can refer you to a dermatologist if necessary. They can advise you on how to minimise your flare ups, and the emollients that are safe enough to use as treatment.
So, what should I do?
If you want advice on a possible skin condition, Dr Ralph says that it's worth a visit your local pharmacy. A pharmacist can advise on suitable over the counter treatment for relief in the short-term and advise you on whether to see a GP.
While you should always be assessed by a doctor to see if you do have eczema, Dr Ralph recommends a lukewarm bath for 5-7 minutes a day with a soap-free emollient (moisturiser) added, patting the skin dry and then applying prescribed creams or ointments to the red patches. Let these dry for ten minutes and then apply a generous amount of fragrance- and soap-free emollient to the entire body.
"For eczema, a pharmacist can advise on a suitable emollient to apply to your skin 2-3 times a day". This can create a skin barrier that prevents drying of the skin known as TEWL – transepidermal water loss, which causes skin dehydration.
In relation to treatment for psoriasis, Dr Ralph recommends topical tar mixtures, topical steroids (depending on where it flares up on your body), phototherapy (UV treatment) or immunosuppressants. Your GP or dermatologist will be able to advice which is best for your specific situation.
Think your skin could do with some TLC? La Roche-Posay Lipikar Baume AP+ is a gentle, soothing and moisturising balm for adults, children and babies with dry or very dry skin. Its hypo-allergenic formula can even be used on newborn babies. Best of all, it is suitable for use on eczema-prone skin. Take a look at the full range here.