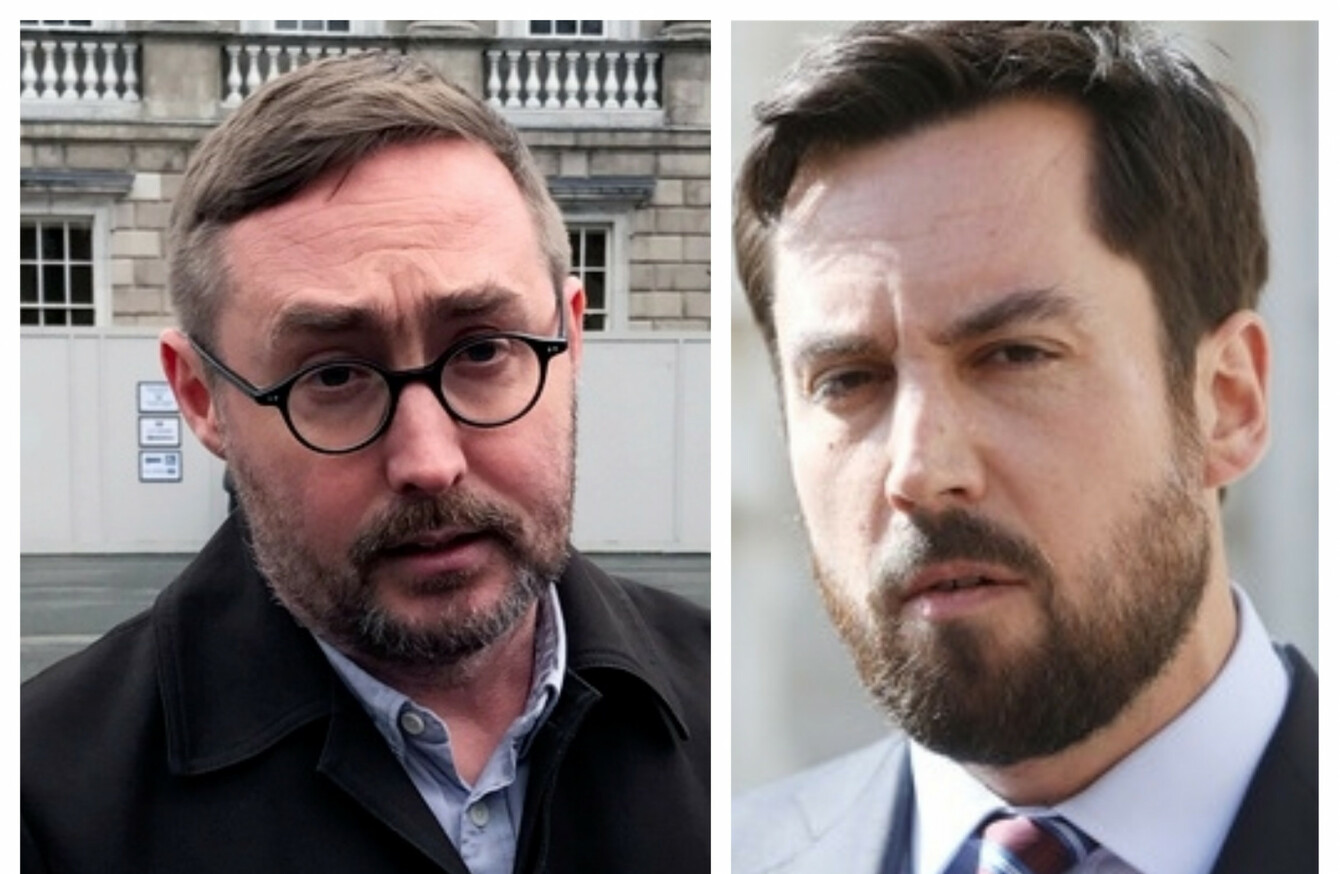 Image: RollingNews.ie
Image: RollingNews.ie
HOUSING MINISTER EOGHAN Murphy and Sinn Féin housing spokesperson Eoin Ó Broin had a heated debate this morning over newly published social housing targets and figures.
Speaking on RTÉ's Today With Sean O'Rourke, the two men heatedly debated issues around government social housing policy, with each of them interrupting and speaking over the other a number of times.
"Eoin, look you're just going all over the place now with these allegations," Housing minister Murphy said at one point, in response to Ó Broin's criticism.
The two faced off following on from this morning's publication of the Q4 2017 social housing construction reports and the  social housing delivery targets for local authorities 2018-2021.
The government commits to providing an additional 50,000 social housing homes by the end of 2021.
These would be delivered through a combination of new builds (33,500), acquisitions of houses (6,500) and long-term leasing programmes from private landlords (10,000).
"We've had to ramp up from almost nothing our social housing building – in 2017 we built three times what we built in 2016 and this year we'll again pretty much double that figure – so there's a huge amount happening," Murphy said today.
He said that a lot of work was being done to ramp up construction and committed to the 50,000 figure by 2021.
Eoin Ó Broin claimed that the way the figures were delivered was "very confusing" and said that he was "very, very depressed" by them.
He pointed out the fact that 78% of the social housing for 2018 would come in some capacity from the private rental sector. This would either be through the Housing Assistance Payment (HAP) or Retnal Accommodation Scheme (RAS).
As well as this, 2,000 of the social homes to be delivered this year will be through long-term leasing (20-30 years) from private landlords.
Ó Broin claimed that this would be bad practice, as it would not leave families in need with a permanent home.
"Absolutely failing"
"The minister is absolutely failing to introduce the right kinds of housing policies to tackle the social housing need," he said.
Murphy took issue with this and with Ó Broin's interpretation of the figures.
"It's only confusing because Sinn Féin want to make it confusing so Eoin will talk about real build and what that actually means and that's a total misdirection," he said, indicating that last year the Department had begun to focus a lot more on actually building houses.
But if you're a person on the social housing list you want a home. You in yourself won't actually care if it was built by the local authority, was it acquired and brought into the stock, or is it a long term lease of 15 to 30 years.
He conceded that the government had to rely on the private sector for the time being, but that actual social housing was being delivered, the building of which would ramp up significantly over the next four years.
Ó Broin said that long-term leases would leave families unsure in the future, which was followed by Murphy accusing him of "scaremongering".
"What's with the scaremongering here, Eoin – hold on a second – this is 25-year lease… you're telling people moving into these homes today that ther tenancy is insecure because it's 25 years?" He said.
I'm interrupting you because you're misrepresenting and you're fear-mongering.
The pair also disagreed over whether long-term leasing was more or less expensive than building new homes.
Housing Committee
The two then began to trade barbs over the Oireachtas Housing Committee, which Ó Broin accused Murphy of avoiding.
"You won't even come to the committee to be scrutinised this month. You're scared of a committee you're meant to be held account by," Ó Broin said.
Murphy replied that he had gone before the committee four times in the last quarter, including the week before the Dáil broke for an extended Eater break.
Ó Broin said he was due before the Committee, but Murphy said a date was now set for May.
Murphy said that he answered questions "practically every day" in the Dáil, on tv and radio, in front of the Housing Committee.
"That is absolute nonsense and if that's the only thing that you can bring to this debate… from your Twitter account or whatever else you do it's an absolute waste of your time," Murphy said.
Accusations
The debate continued apace with both men attacking the record of the other.
"You will continue to subsidise private developers and in particular large hedge funds in leased properties rather than building real social houses and real communities," Ó Broin said.
Murphy laid out what the government was doing to tackle homelessness, highlighting the exits it had achieved last year.
"Under your term of office, adult and child homelessness is increase 50%. Under Fine Gael's term of office, 200% in child homelessness – that's your record," Ó Broin replied.
Sinn Féin didn't want to go into government Eoin," Muprhy countered.
If you had the solutions in 2016 why didn't you lobby your political idol Gerry Adams to go into government.
Latest figures for February show that there are currently 1,739 families with 3,755 children homeless and living in emergency accommodation in Ireland – an unprecedented number.
The latest count for rough sleepers is due to come tomorrow, and is expected to show a significant drop the number of people sleeping rough in Dublin.