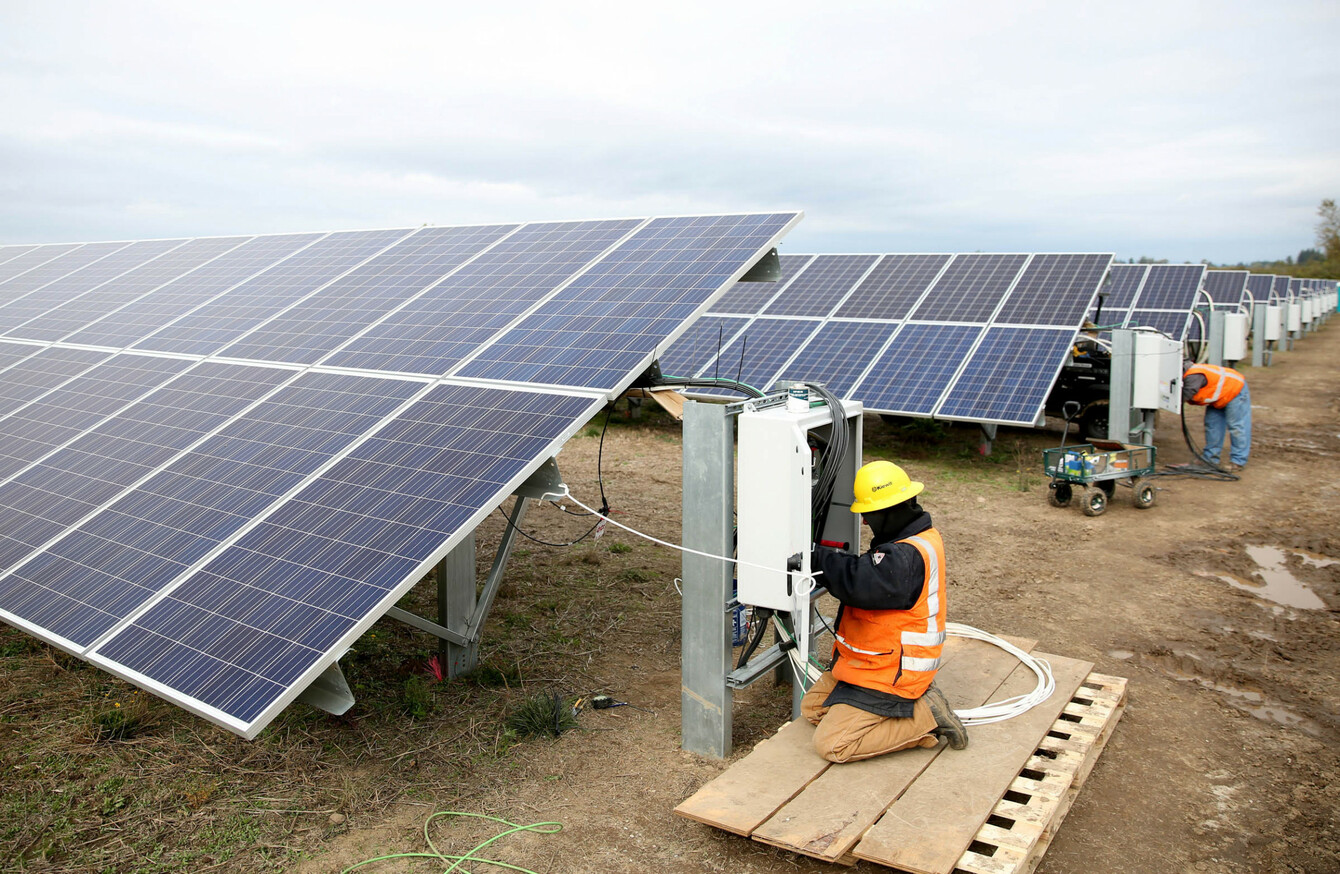 Image: SIPA USA/PA Images
Image: SIPA USA/PA Images
PLANS TO BUILD one of Ireland's biggest solar farms face fierce resistance from local residents – who claim the project should be scrapped.
Lightsource Renewable Energy has applied for planning permission to build a solar farm on a site in Laois that spans 142 hectares – around the same size as nearly 200 soccer pitches.
The Belfast-based developer, one of the largest solar energy firms in Europe, is currently trying to construct dozens of solar farms across Ireland.
The Laois solar farm would be built on lands near Timahoe and Stradbally. It would be a 76 megawatt project that would be able to meet the annual electricity needs of an estimated 22,000 homes.
Last year Meath County Council granted permission for Highfield Solar to build a 150-hectare development, however that decision has been appealed to An Bord Pleanála.
If the Laois project was cleared and the one in Meath refused, the Laois development would likely be the biggest approved solar farm in Ireland.
For context, many of the solar farms developers are applying to build in Ireland are between 5MW and 15MW. A typical 5MW solar farm would be able to power just over 1,000 homes. So far, Ireland has no commercial solar industry of scale.
Several residents in the area, whose land Lightsource would be building on, have signed letters supporting the project.
Objections
However, more than a dozen locals have filed objections with most citing the size of the proposed solar farm as the main point of contention.
One resident said that the project would have a "devastating effect" on the local countryside.
"A solar farm of this scale … would completely industrialise our rural countryside which is relatively agricultural," he said.
Another said that the solar farm would be "larger than any project to date in the region" and added: "We are greatly troubled about the implications for the well-being of our families, and the generations of people to come in this community.
"We are especially worried about potential dangers to our water supply due to the proximity of our local water aquifer to the proposed development."
Lightsource said that it has engaged with local residents and actually scaled the project down somewhat since its inception.
It also said that much of the identified 141.5 hectare site will be left open, as "wide field margins are left around each field boundary to avoid the panels being shaded by hedgerows and trees".
"This means that a significantly large proportion of the area occupied by a solar farm is open grassland," a spokesman said.
"Lightsource has engaged directly with the local community, both through one to one meetings with many local people and also at a number of information events held prior to finalising our planning application."
Lack of planning guidelines
One complainant said that the project is premature given the lack of planning guidelines for solar developments.
This is an issue that has been previously highlighted by Fora. As there is no fixed way to assess solar farms – for example, stating that a project must be under a certain size – developments are all examined on an ad-hoc basis.
This creates issues for both developers, who could have two identical projects assessed differently by two local authorities, and locals, who do not know what rules apply.
Laois County Council was due to make a final decision on the Lightsource solar farm by the end of November, however it has now asked for further information in relation to the project.
Sign up to our newsletter to receive a regular digest of Fora's top articles delivered to your inbox.
Written by Paul O'Donoghue and posted on Fora.ie