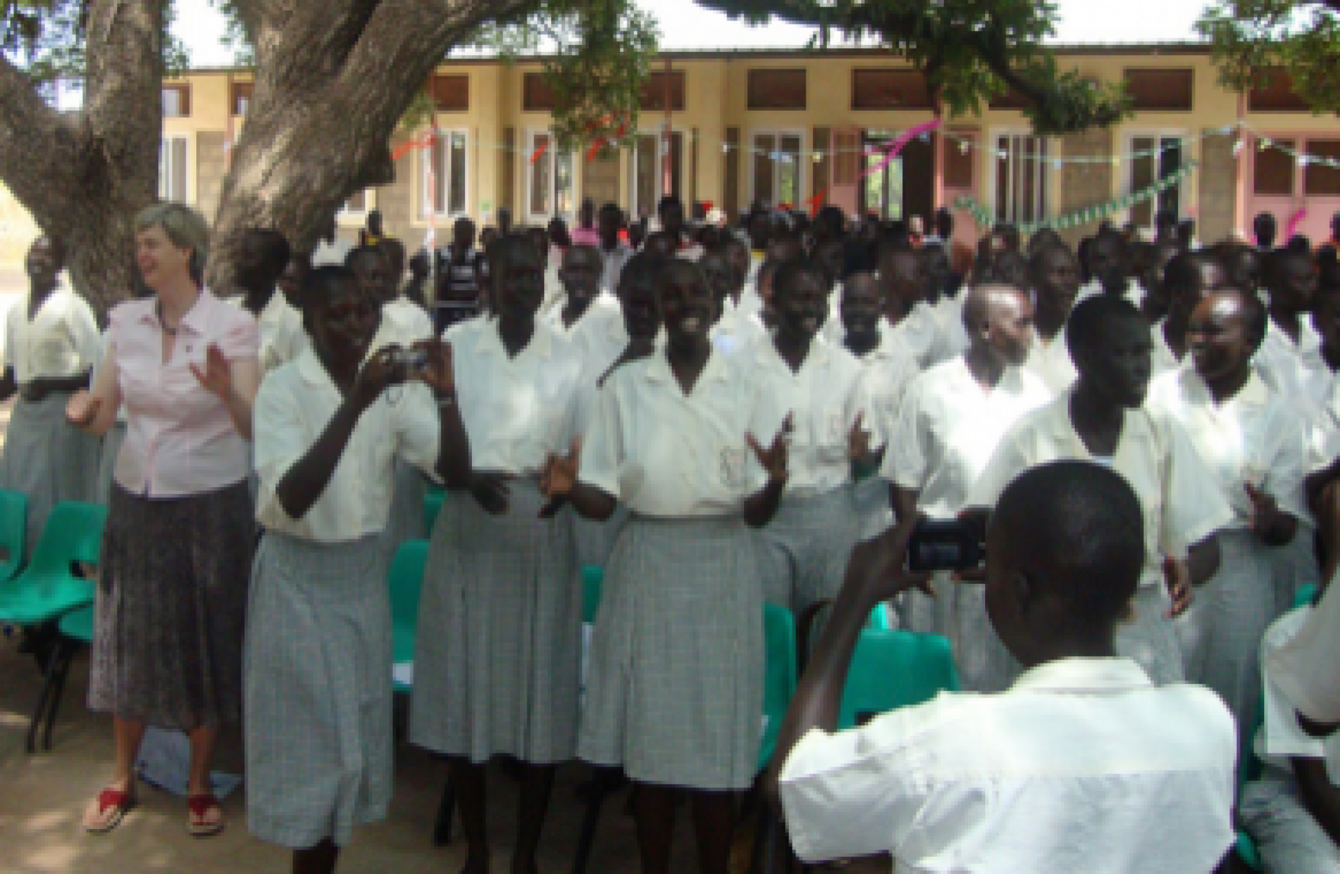 Sister Orla Treacy (far left), principal of the school, with some of her pupils in Rumbek, South Sudan.
Image: Loreto order
Sister Orla Treacy (far left), principal of the school, with some of her pupils in Rumbek, South Sudan.
Image: Loreto order
TWO IRISH NUNS working in South Sudan have said they will not be leaving the 700 schoolgirls in their care despite the recent violence that erupted in the region.
There has been heavy fighting between rebels and government soldiers in the capital Juba in recent days and thousands of people have fled the violence.
Sister Ita Moynihan, the Loreto's Irish Provincial, told TheJournal.ie that the order has been in touch with Sisters Maria Suelta and Colette Deasy and they are both well.
There is no fighting in Rumbeck, where they have a primary and secondary school providing education to some 700 schoolgirls, but the situation is volatile and could change at any time.
"They're doing okay, but it's an anxious time."
Food shortages
The principal of the school, Sister Orla Treacy, is currently in Ireland, but she will be flying to Nairobi tomorrow to see if she can get back to Rumbek, where she has been working for the last ten years.
"She's one of the most positive people you'd ever meet, she wants to be back there because of all the people they're responsible for and in case things get worse, to make sure they can get people reconnected with their families," Sister Moynihan said.
We also have teachers out there from Kenya and those kind of people would have to be cared for – they would do that before they think of looking after themselves.
Hunger is a big concern for the nuns at the school – there was already very little food in the area before the latest outbreak of violence.
"There was a complete economic breakdown anyway," Moynihan said. "People in any civil service job haven't been paid for months, they're just not able to buy things so they're in a bad way."
'Selfless'
Moynihan said the sisters are totally committed to their work, describing them as "entirely selfless". Their story is an example of the vital missionary work that Irish orders have been doing for decades, she said.
The whole reason we set up over there is because of a request ten years ago for some order or some people to go and do education for girls, secondary education. They are just completely neglected, boys might have some chance, but girls at 14 or 15, they just get them married off. You could get so many cows if you marry off daughters, it's just a different kind of culture.
"The local chief in Rumbek has been all the time supportive of what is being done there, he's very forward looking and actually really wants people to be educated."
"If the place is peaceful, there's an awful lot of good we can do," she added.
h/t The Irish Catholic