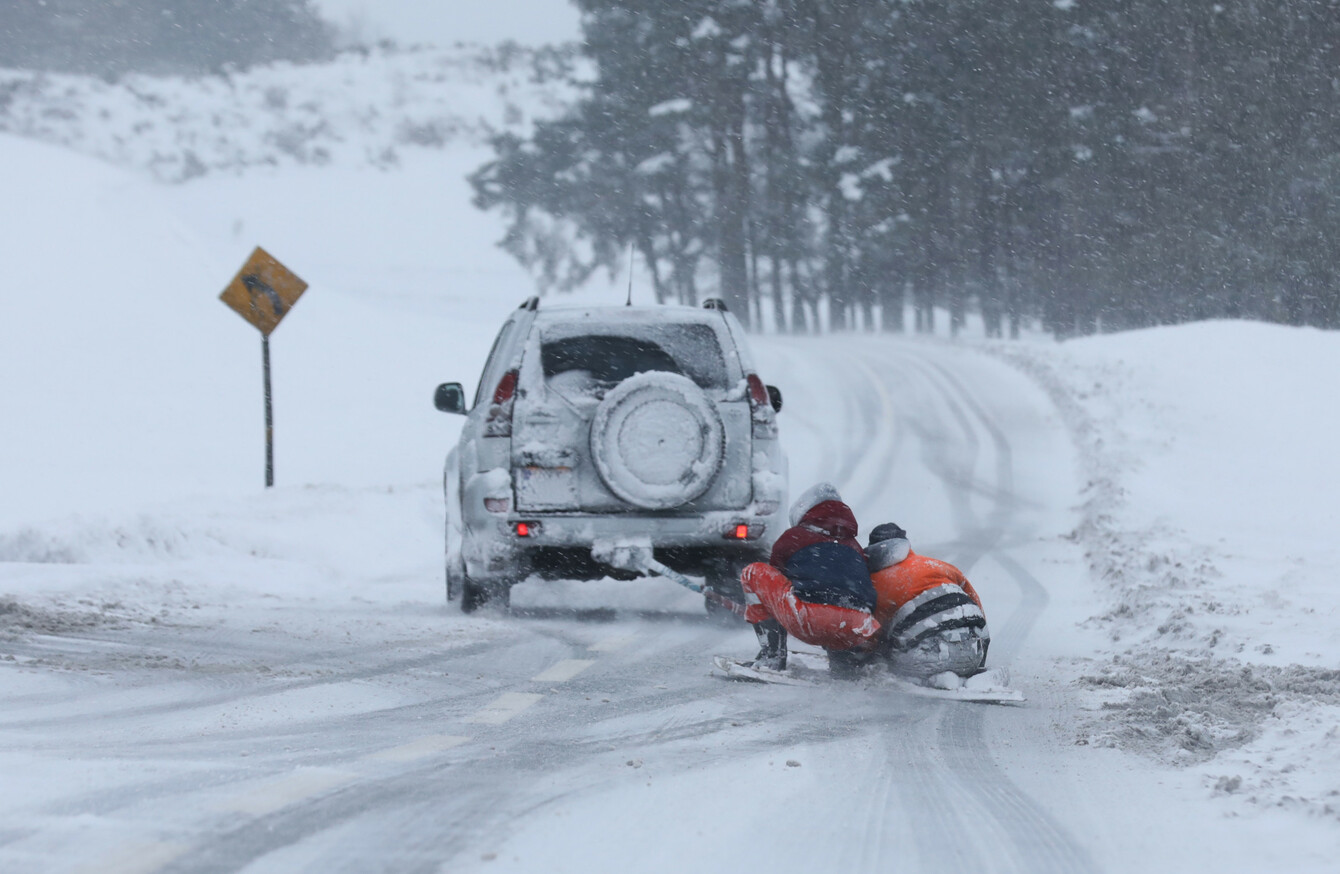 Two people on a makeshift snowboard were towed behind a jeep on the R413 road through the Curragh in County Kildare, over one hour after yesterday's 4pm curfew
Image: Eamonn Farrell/RollingNews.ie
Two people on a makeshift snowboard were towed behind a jeep on the R413 road through the Curragh in County Kildare, over one hour after yesterday's 4pm curfew
Image: Eamonn Farrell/RollingNews.ie
MANY PARTS OF Ireland have again woken up to heavy snowfall.
A status red snow-ice warning will remain in place for Munster, Leinster and Galway until 6pm. A status orange snow-ice warning will be in place for Cavan, Monaghan, Donegal, Leitrim, Mayo, Roscommon and Sligo until 6pm.
In a statement issued this morning, the National Emergency Coordination Group (NECG) withdrew the public safety advice to shelter indoors, saying: "The blizzard conditions have passed." People had been advised to stay indoors since 4pm yesterday, where possible.
However, the group noted: "Conditions are and will remain very difficult and the public are advised continue to exercise high levels of caution for their own safety in the extreme cold, accumulated snow and icy conditions underfoot."
The NECG said the impact of the storm varied across the country, noting: "People need to take account of circumstances locally before deciding to venture outdoors or undertake journeys.
"In particular, it will take some time to get roads open again and people should listen for local updates on road conditions."
Several people to be rescued from their cars after becoming trapped last night. People who are stuck in their vehicles have been advised to keep the engine running until help arrives.
Forecast
Snowfall will continue across Munster, Leinster and parts of Connacht today with strong easterly winds, and scattered snow showers are expected in the northwest. Met Éireann has said.
It will remain cold, with highest temperatures of -1 to 2 degrees Celsius.
The snow will continue overnight but it will become lighter and the northeasterly winds will ease. Lowest temperatures will range from zero to -3 degrees with sharp frost in many places.
Snow showers will gradually turn back to rain or sleet tomorrow as temperatures improve slightly, with highs of 2 to 5 degrees. Easterly winds will continue to decrease but will remain gusty.
The cold weather is expected to continue on Sunday, with highest temperatures ranging from 2 to 4 degrees.
Met Éireann says: "There will be a good deal of dry weather across the south of the country but wintry showers or some showery rain will affect more northern counties." Widespread frost is also expected overnight.
Transport and shops
There will be no Irish Rail services today, with services expected to resume tomorrow morning, "subject to storm impact".
All Bus Éireann services have also been cancelled, with the company set to "review this situation later this morning and provide further information around midday".
Dublin Bus and Luas services have also been cancelled today. They are expected to resume tomorrow, depending on road and weather conditions.
Dublin Airport, Cork Airport, Shannon Airport and Ireland West (Knock) Airport have suspended all flights until tomorrow morning, and advised passengers to check the status of their flight with the relevant airline.
Several people are stranded at airports due to the bad weather. Here are your rights if you flight is delayed or cancelled.
A number of shops, post offices and banks are also closed due to the bad weather.
Schools and hospitals
Earlier in the week, the Department of Education announced that all schools, third level institutions, colleges and centres of further education in red alert areas would remain closed today.
Patients who have medical appointments or procedures scheduled for today are being advised to contact their hospitals, GPs or health centres to clarify whether they will be going ahead. The latest HSE updates can be read here.
Minister for Health Simon Harris yesterday confirmed that health service staff won't have to work back the time they may need to take time off due to the weather.
Homelessness
A total of 115 people were allocated beds in accommodation in Dublin's south inner city overnight, the Peter McVerry Trust said.
The charity was engaging with rough sleepers until 5.30am today. It identified 21 people who needed shelter, six of whom were persuaded to access extreme cold weather shelter and one person who was accommodated in a garda station; 14 people refused access to shelter.
Here's what you should do if you see a homeless person sleeping rough over the coming days.