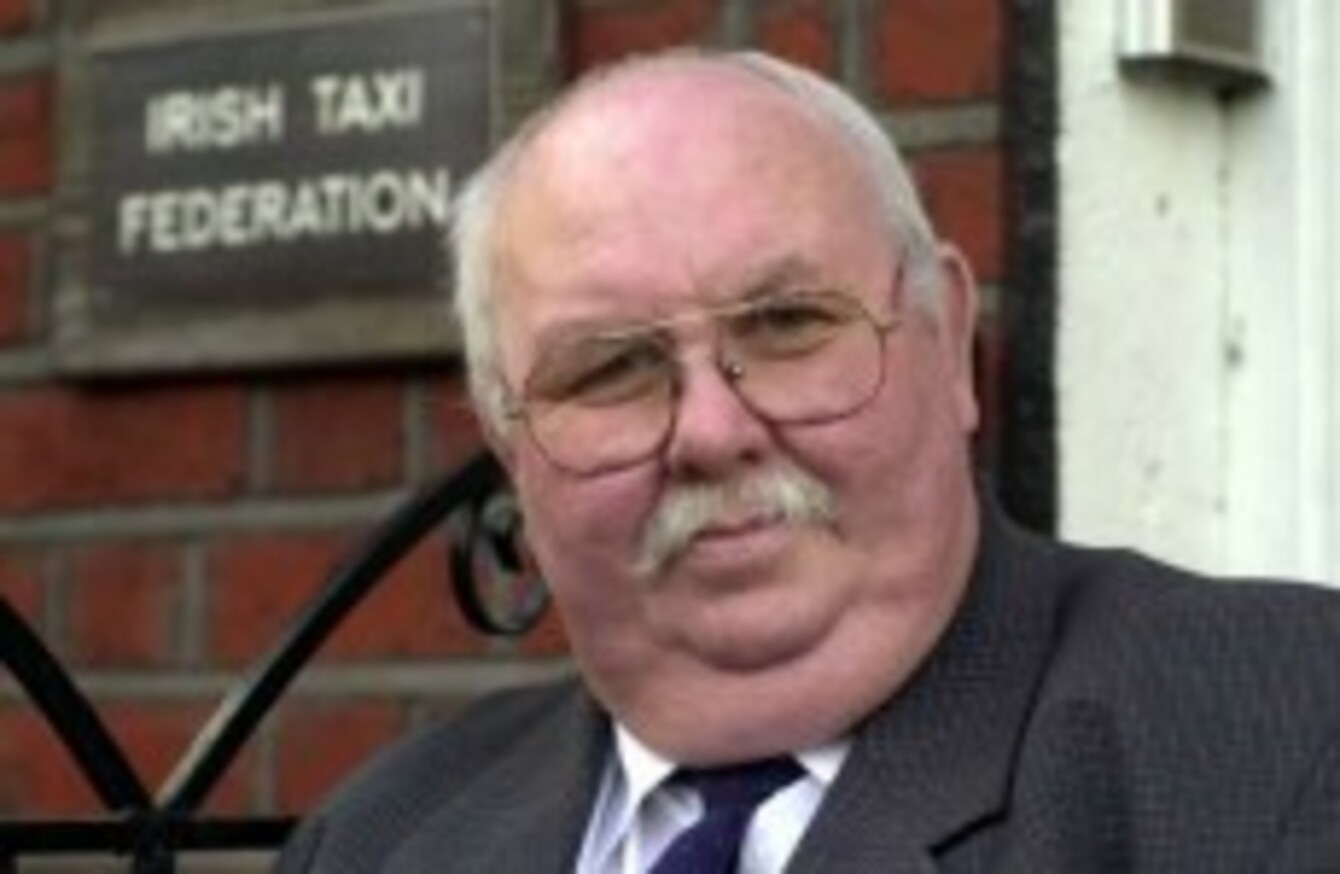 John Ussher of the Irish Taxi Federation
Image: Graham Hughes/Photocall Ireland via Photocall Ireland
John Ussher of the Irish Taxi Federation
Image: Graham Hughes/Photocall Ireland via Photocall Ireland
IRELAND'S TAXI REGULATOR  said today that taxi drivers who illegally hold multiple taxi licences or breach any other regulations will be prosecuted.
Taxi Regulator Kathleen Doyle told RTE's Morning Ireland radio programme that 290 drivers have been prosecuted since 2007 for various offences.
Her comments came in the wake of last night's RTE show Prime Time Investigates, which looked at the taxi industry in Ireland.
Using undercover footage, the programme showed taxi drivers double-jobbing, fighting at ranks, driving unsafe cars, and carrying too many passengers in unlicensed vehicles.
It also showed cars passing the NCT test after their owners paid bribes.
John Ussher of the Taxi Driver's Federation told Morning Ireland that to see cars pass the NCT even though they are not roadworthy is "frightening".
He added that there are rules and laws in place "but you can't legislate for the back door of the NCT".
He said that back door has to be closed and that as a representative body the federation  "will look for meetings to prevent this sort of thing happening again".
Ussher added that "there's not enough enforcement officers, there's not enough enforcement" and that this has to be improved.
Taxi Regulator Kathleen Doyle told Morning Ireland that certain behaviour will lead to prosecutions, but that the majority of taxi drivers "provide [a] high-quality professional service to consumers" and adhere to regulations.
She said that regulator has nine compliance officers in Ireland but that they do not check the safety of vehicles as this is the responsibility of the gardaí and the NCT.
She said that the gardaí are "very proactive on the roadside".
Regarding double-jobbing, she commented on the individual who was featured on Prime Time as working 17 hours a day on average for three days, both as a bus driver and taxi driver:
That particular situation is totally unacceptable and we wouldn't support a situation where a driver endangers any member of the public. It is the driver's responsibility to ensure their position as a self-employed taxi driver is safe.
She added that taxi drivers cannot drive for more than 11 hours a day on any three consecutive days but that the regulator "can't monitor what someone is doing in a full time job as we may not be aware of it".
With regard to multiple licence holders, she said that the regulator is inviting all multiple licence holders to send in their records and that they will investigate the particular multi-licence holder featured on Prime Time.
She also encouraged parents and schools to ensure any taxis their children or pupils use are insured and hold a taxi licence. A woman on Prime Time was shown carrying up to 13 schoolchildren in a vehicle cleared to hold five people.
The National Transport Authority said that the matters and allegations raised on the Primetime programme "are of serious concern"  and that "there is no room for any deviation from the regulations, standards and codes of practice introduced for the taxi industry".
Where the programme has identified practices that allegedly do not comply with taxi regulations or generally with the law, then the specific details of these allegations and those involved should be provided to the relevant authorities including the Gardaí, the Road Safety Authority and the National Transport Authority.  Any allegations under the remit of the National Transport Authority will be investigated.
It said that anyone detected driving a taxi without a vehicle and driver licence faces prosecution and any operator who has a third party operating a vehicle without a license also faces prosecution.
Its compliance team "carries out unannounced inspections of taxi operations in its own right as well as taking part in joint operations with the Gardai, Revenue Commissioners, Department of Social Protection and other agencies".
It concluded:
The Authority is acting on the issues raised by the Primetime programme and will work together with other relevant agencies, including the Gardaí , to ensure that the existing framework of regulation and enforcement continues to operate effectively and that this will be further strengthened wherever necessary.
If you have concerns, comments or complaints about taxi or hackney services, contact the National Transport Authority on 1890 60 60 90 or visit http://taxiregulation.nationaltransport.ie/