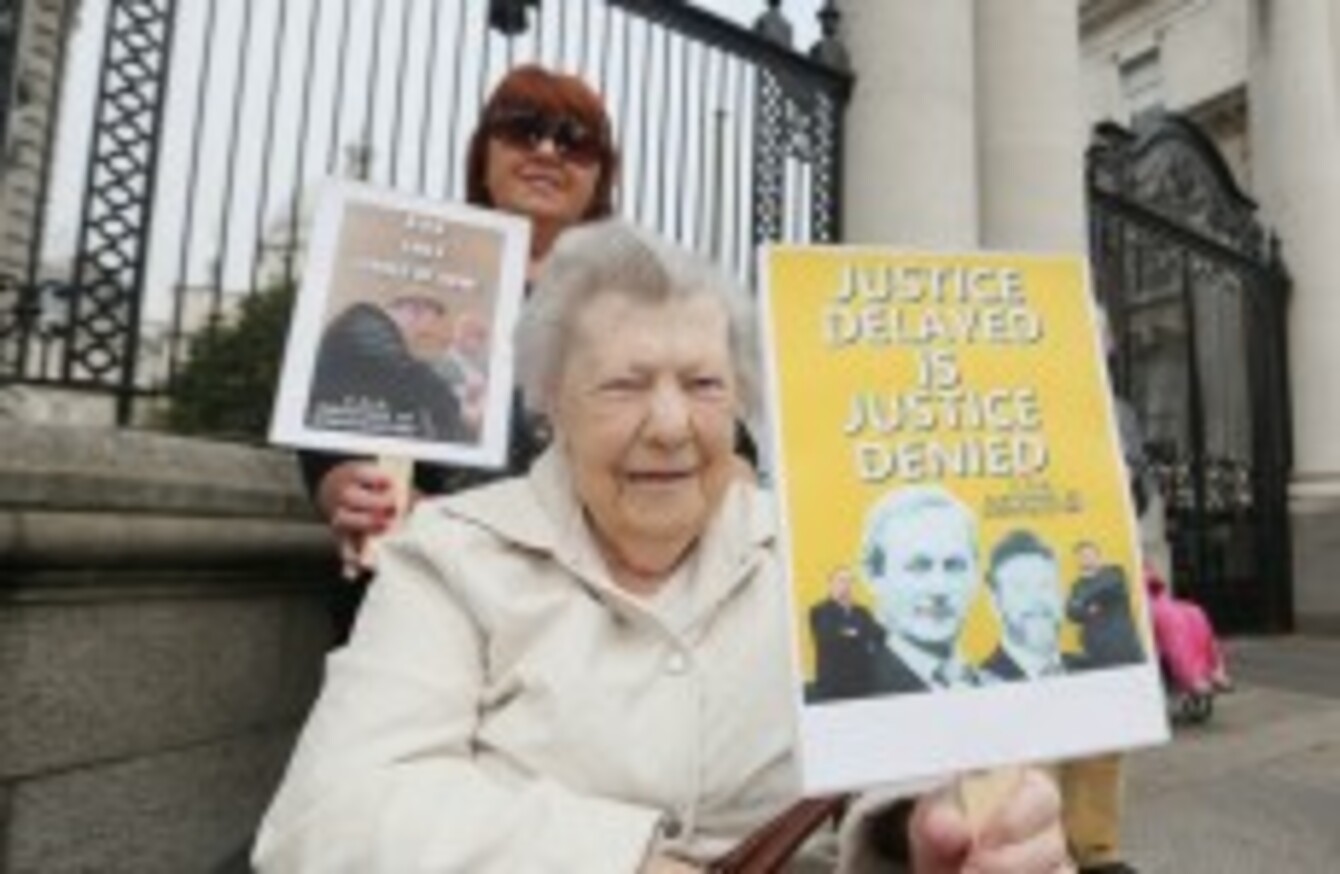 Nora O Brian from Inchicore protests at Government Buildings in September.
Image: Sam Boal
Nora O Brian from Inchicore protests at Government Buildings in September.
Image: Sam Boal
MEMBERS OF CAMPAIGN group Survivors of Symphysiotomy, which represents women who underwent the outdated operation, have voted to reject a Government redress scheme, which they say is flawed and "oppressive".
Details of the scheme were published by the Government earlier this month.
Women who were subjected to the the procedure can receive awards at three levels – €50,000, €100,000 and €150,000. However, the terms of the scheme stipulate that the State does not have to admit liability for wrongdoing.
More than 150 symphysiotomy cases are before the courts currently. But if the women involved pursue the cases, they won't be entitled to the compensation from the Government fund.
In the wake of the publication of the terms, SOS said that it was the "second-worst scheme for victims of abuse in Ireland ever".
And at meetings in Cork and Dublin this weekend, 83 per cent of its 345 members voted to reject the terms.
"The National Executive made no recommendation to members," SOS chairperson Marie O'Connor said.
Terms
Members of the group, which is the largest of the three symphysiotomy campaign organisations, also criticised the time limits laid out by Government.
Its terms state participants must join the scheme within 20 days, starting from last Monday.
"Other schemes for victims of abuse that were left open-ended, with no expiry date include the redress scheme for the Magdalene women, victims of abuse in residential institutions and those infected with Hepatitis C and HIV by the State's contaminated blood," O'Connor said.
A symphysiotomy was a procedure carried out on women before, during or after they gave birth in the place of a Caesarean Section.
It involved breaking the patient's pelvis and leaving it permanently enlarged.
The women, the majority of whom were in their early 20s and having their first child, have suffered chronic pain, incontinence, walking difficulties, sexual problems and other issues for their entire lives as a result of the procedure.
Some survivors have said they were effectively "butchered" by the operation.