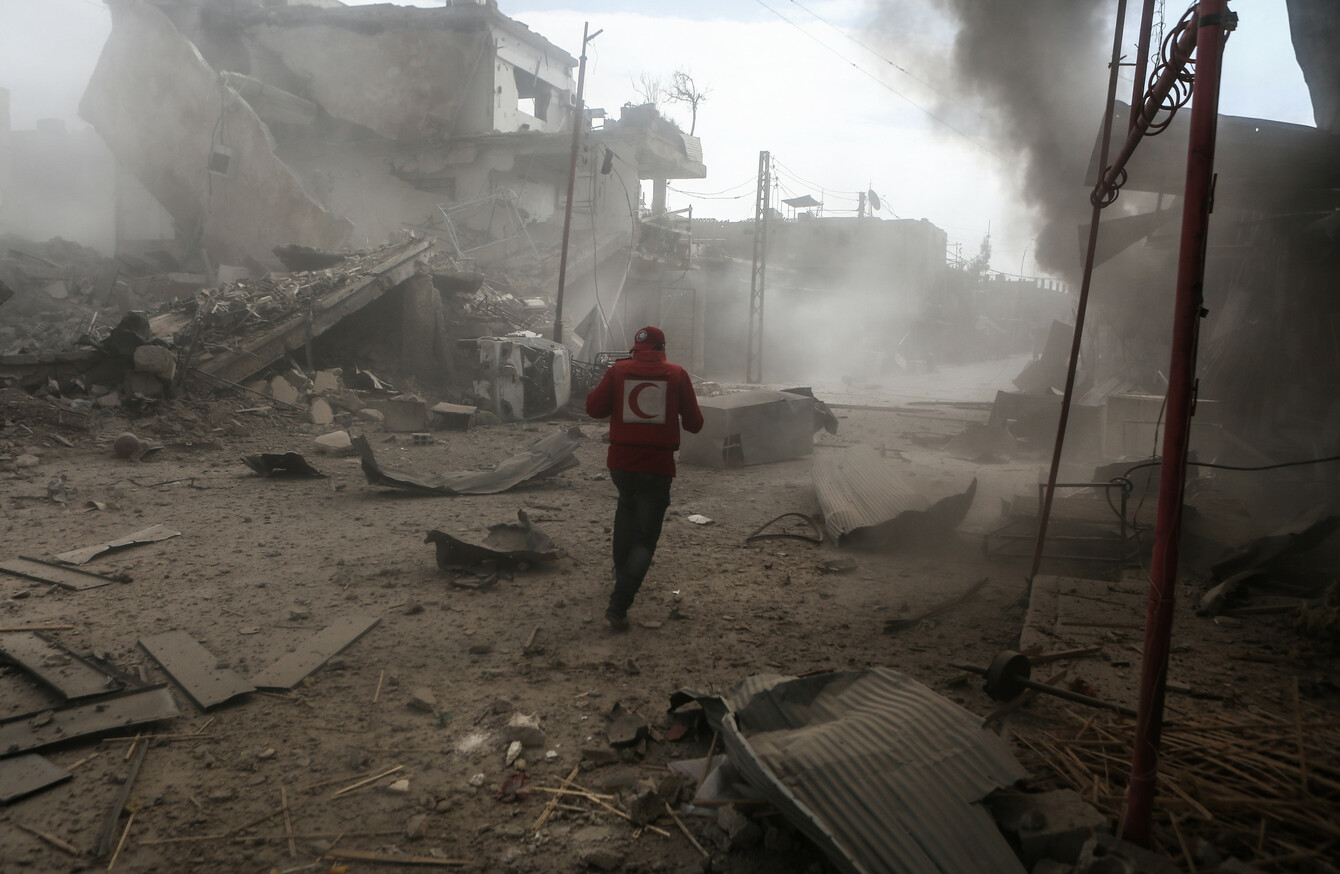 Image: DPA/PA Images
Image: DPA/PA Images
Updated 10.35pm
THE RED CROSS has demanded access to a rebel-held enclave near Damascus where Syrian jets have been raining bombs in a four-day blitz that has killed more than 300 civilians.
The United Nations chief Antonio Guterres described the death and devastation that has engulfed Eastern Ghouta since Sunday as "hell on earth" while France called for an immediate truce.
Fresh air raids on several parts of the enclave killed at least 40 civilians and wounded 350.
Many of the region's hospitals have also been targeted, leaving many out of service.
The International Committee of the Red Cross said the situation was so dire that its teams should be allowed access to Eastern Ghouta to help overwhelmed doctors and nurses.
"The fighting appears likely to cause much more suffering in the days and weeks ahead, and our teams need to be allowed to enter Eastern Ghouta to aid the wounded," said Marianne Gasser, ICRC's head of delegation in Syria.
Syrian warplanes have this month intensified their strikes on the area, which lies just east of Damascus and is home to around 400,000 civilians.
UN vote
The UN Security Council is expected to vote, probably tomorrow, on a draft resolution demanding a 30-day ceasefire in Syria to allow deliveries of humanitarian aid and medical evacuations.
Sweden and Kuwait, which drafted the measure, requested the vote "as soon as possible," the Swedish mission said, adding that it will likely be scheduled for tomorrow.
It remained unclear whether Russia would resort to its veto to block the draft resolution.
Overwhelmed medics
According to the Syrian Observatory for Human Rights, around 1,500 people have been wounded since Sunday in the one of the bloodiest episodes of Syria's seven-year-old war.
Many of today's victims were killed when barrel bombs – crude, improvised munitions that usually cause indiscriminate damage – were dropped on the town of Kfar Batna.
The hospital in Douma, the largest town in Eastern Ghouta, is still functioning but the influx of wounded is such that doctors and nurses cannot save everyone.
The UN and an NGO said at least seven hospitals were bombed on Monday and yesterday.
"The regime claims that it's targeting armed groups and terrorists, but the truth is that it only targets civilians," said Doctor Ahmad Abdulghani, at he Dar al-Shifa hospital in Hammuriyeh, heavily damaged by a strike.
This is a hospital that treats the sick and civilians, why target it?
Observatory head Rami Abdel Rahman said at least 72 children were among the 312 people killed in strikes since Sunday.
Syrian state news agency SANA said 18 people were wounded in Damascus by rebel shelling.
'Pretext'
Guterres told the UN Security Council he was "deeply saddened by the terrible suffering" of civilians in Eastern Ghouta where he said people "live in hell on Earth".
He called for an immediate humanitarian truce, as did French President Emmanuel Macron who accused Syrian President Bashar al-Assad's regime of using terrorism as a "pretext" to attack civilians.
Russia, which is Assad's main backer but denies direct involvement in the Ghouta strikes, called for a Security Council meeting on the issue.
Anti-regime groups, mostly Islamist factions as well as Al-Qaeda's former Syrian affiliate, have controlled the area since 2012.
With the Islamic State group's once sprawling "caliphate" now wiped of the map, the regime looks bent on completing its reconquest.
Ghouta, on the outskirts of the capital, is a key target.