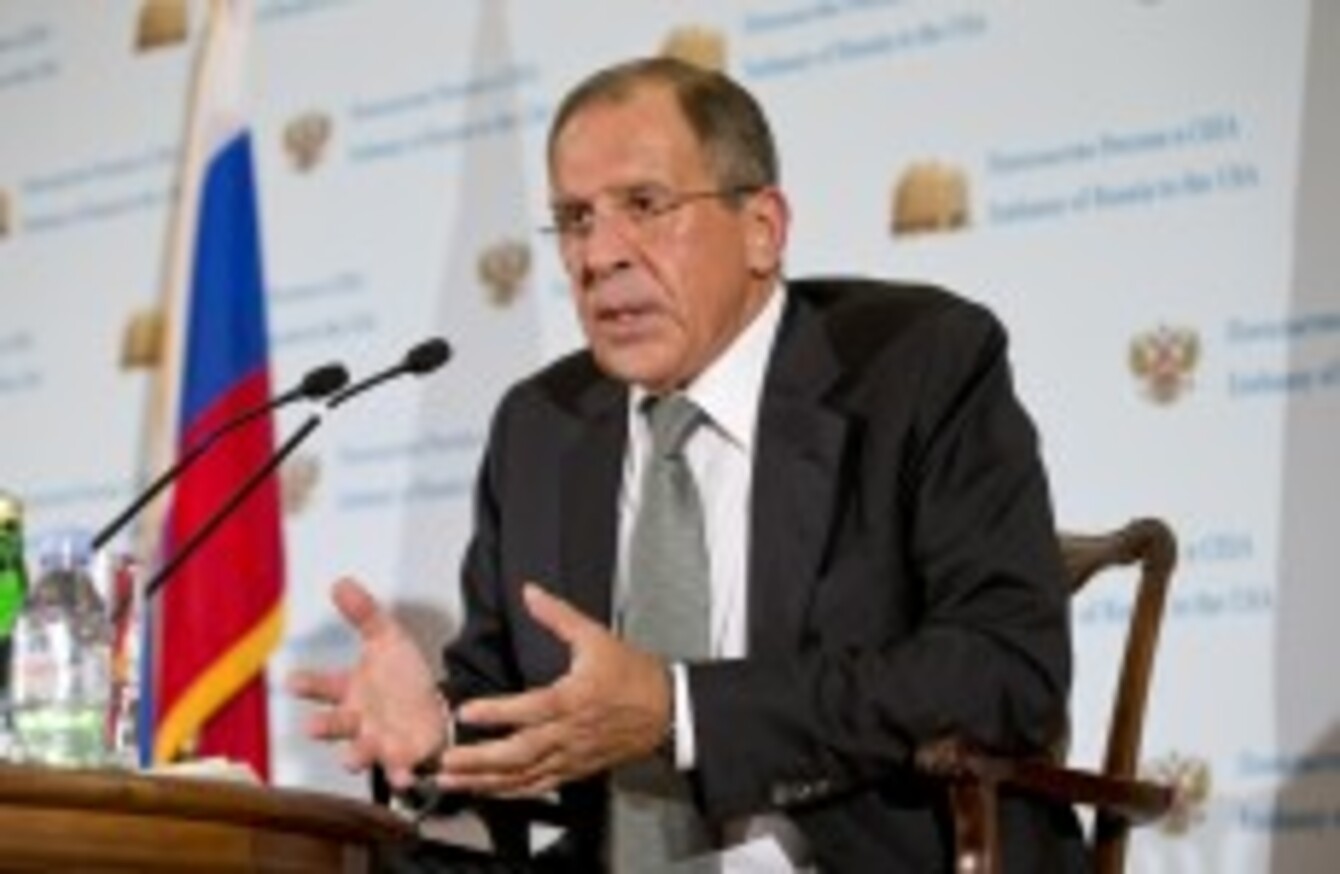 Russian Foreign Minister Sergei Lavrov
Image: File Pic - J. Scott Applewhite/AP/Press Association Images
Russian Foreign Minister Sergei Lavrov
Image: File Pic - J. Scott Applewhite/AP/Press Association Images
RUSSIA HAS SEIZED the diplomatic initiative this evening with a plan for Syria to surrender its chemical weapons to international control, an idea greeted with caution in Washington.
President Barack Obama's administration did not dismiss the Kremlin's suggestion, but pressed ahead with moves to win backing for US strikes against Bashar al-Assad's regime.
The White House said it would take a "hard look" at the plan but warned it would oppose any move led by Moscow that would "take the pressure off" Russia's Syrian ally.
Washington's European allies gave a similarly cautious welcome to the plan, and UN Secretary General Ban Ki-moon issued his own plea for a mission to secure and dispose of the weapons.
Russian Foreign Minister Sergei Lavrov met his Syrian counterpart and urged Damascus to "place chemical weapons under international control and then to have them destroyed."
Tony Blinken, deputy US national security advisor, said Washington would consult Russia over the initiative but expressed doubt about the trustworthiness of Syria's leadership.
"We would welcome a decision and action by Syria to give up its chemical weapons," he said, but adding that Syria's "track record to date, doesn't give you a lot of confidence."
The day began with confusion, when US Secretary of State John Kerry appeared to suggest that Assad could avoid a military strike by agreeing to give up chemical arms.
This led to speculation after that Washington and Lavrov had discussed the plan beforehand, but Kerry's aides denied this, insisting he had no forewarning of the Russian offer.
Nevertheless, Kerry's predecessor Hillary Clinton, speaking after meeting Obama at the White House, linked the two statements.
"If the regime immediately surrendered its stockpiles to international control, as was suggested by Secretary Kerry and the Russians, that would be an important step," she said.
US Secretary of State John Kerry during a joint press conference in London with Foreign Secretary William Hague (David Bebber/The Times/PA Wire/Press Association Images)
Speaking in Moscow, Syria's Foreign Minster Walid al-Muallem welcomed the Russian move, though it was not immediately clear if a still defiant Assad would give his assent.
"I note that Syria welcomes the Russian initiative based on the Syrian leadership's concern about the lives of our nationals and the security of our country," Muallem told the Russian state news agency ITAR-TASS.
The rebels battling Assad, who saw hope in the United States' threat to bomb the regime, denounced the idea as a plot by Russia's President Vladimir Putin to protect Assad.
European reaction
Britain's Prime Minister David Cameron also expressed concern that the plan might be "a distraction tactic" but broadly welcomed it.
German Chancellor Angela Merkel described the Kremlin's proposal as "interesting" but added that she hoped it would be put into place quickly and not simply be used to "buy time."
And France, the only Western ally to have offered to take part in a US-led strike, said Assad must commit "without delay" to the elimination of his chemical arsenal.
UN zones
UN leader Ban, meanwhile, called for the creation of UN supervised zones in Syria where the country's chemical weapons can be destroyed.
He told reporters he may propose the zones to the Security Council if UN inspectors confirm banned weapons were used and to overcome the council's "embarrassing paralysis" over Syria.
For his part, Assad warned in an interview with US television that the United States will "pay the price" if it attacks Syria.
Obama was due to give no less than six US television interviews to defend his strike plan to the American public and lawmakers, before giving a major national address Tuesday.
In the meantime, US cruise missile destroyers are idling in the Eastern Mediterranean, preparing for what American officials described as an extremely limited, precise punitive strike.