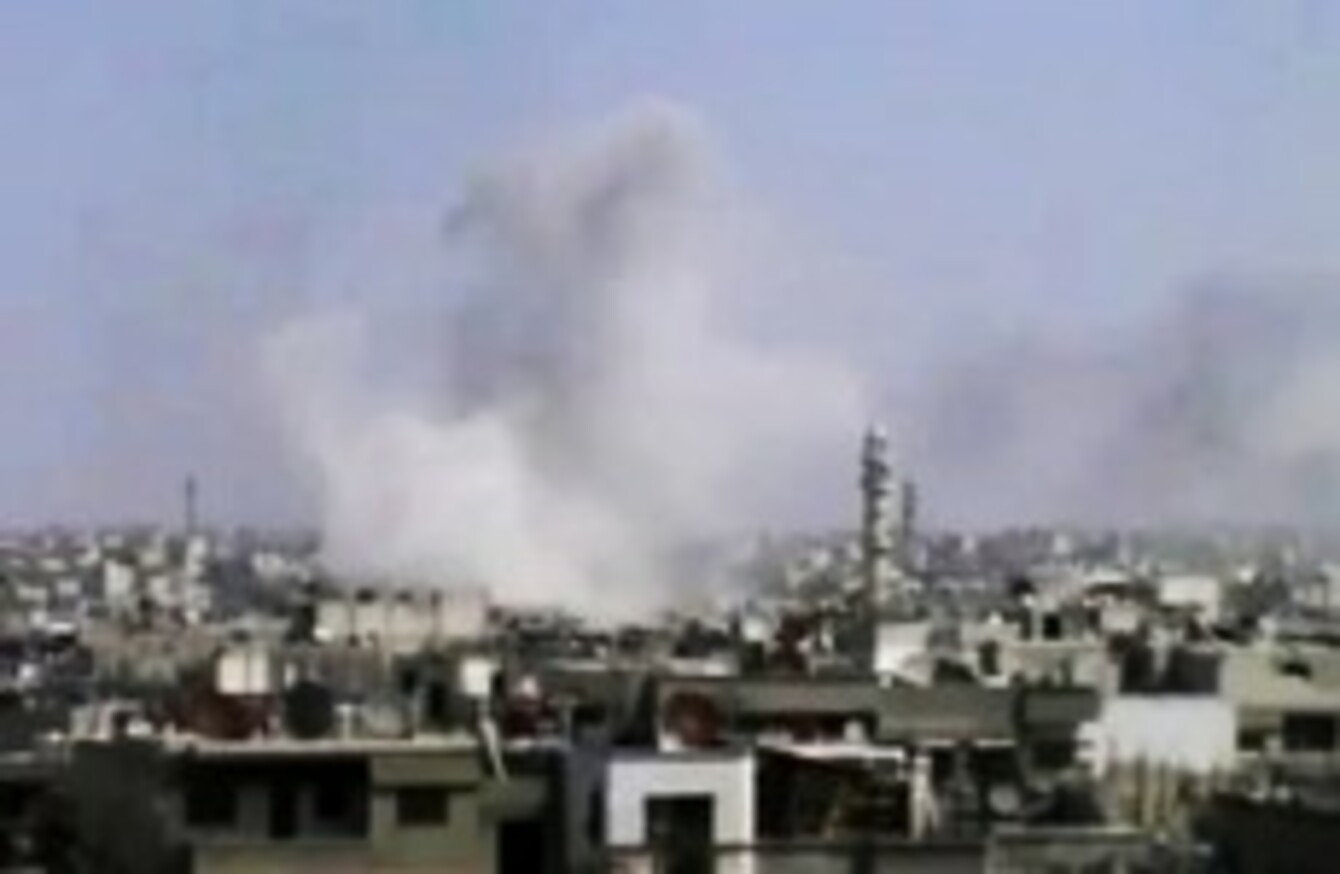 Smoke rises from Homs after what activists said was heavy shelling yesterday
Image: AP Photo/Syrian Media Council via AP video
Smoke rises from Homs after what activists said was heavy shelling yesterday
Image: AP Photo/Syrian Media Council via AP video
SYRIAN REGIME FORCES are continuing to defy a UN-brokered ceasefire plan, launching fresh attacks on rebellious areas as a deadline for withdrawal passed apparently without action.
However, UN special envoy Kofi Annan said there was still time to salvage a truce that he described as the only chance for peace.
Yesterday he appealed to Iran – Syria's key ally in the region – to put pressure on President Bashar al-Assad.
More than a year into the Syrian uprising, the international community has nearly run out of options for halting the slide toward civil war. Annan has insisted his peace initiative remains "very much alive" — in part because there is no viable alternative.
The UN has ruled out any military intervention of the type that helped bring down Libya's Muammar Gaddafi, and several rounds of sanctions and other attempts to isolate President Bashar Assad have done little to stop the bloodshed.
"If you want to take (the plan) off the table, what will you replace it with?" Annan told reporters in Hatay, Turkey, where he toured a camp sheltering Syrian refugees.
Facing yesterday's deadline to pull back its tanks and troops, the Syrian government had said it was withdrawing from certain areas, including the rebellious central province of Homs. But France called the claims a "flagrant and unacceptable lie," and activists said there was no sign of a withdrawal.
Residents of Homs reported some of the heaviest shelling in months.
"Hundreds of mortar rounds and shells were falling around all day," resident Tarek Badrakhan told The Associated Press. He said a makeshift hospital housing wounded people and dozens of corpses was destroyed in the shelling.
"It's now on the ground," he said.
Speaking in Tehran yesterday after meetings with Iranian foreign minister Ali Akbar Salehi, Annan said he and his host agreed on the need to "find a peaceful solution to the crisis" and he voiced optimism that the situation on the ground would improve by Thursday morning.
Salehi insisted that "change in Syria" should come under the leadership of Syrian President Bashar Assad.