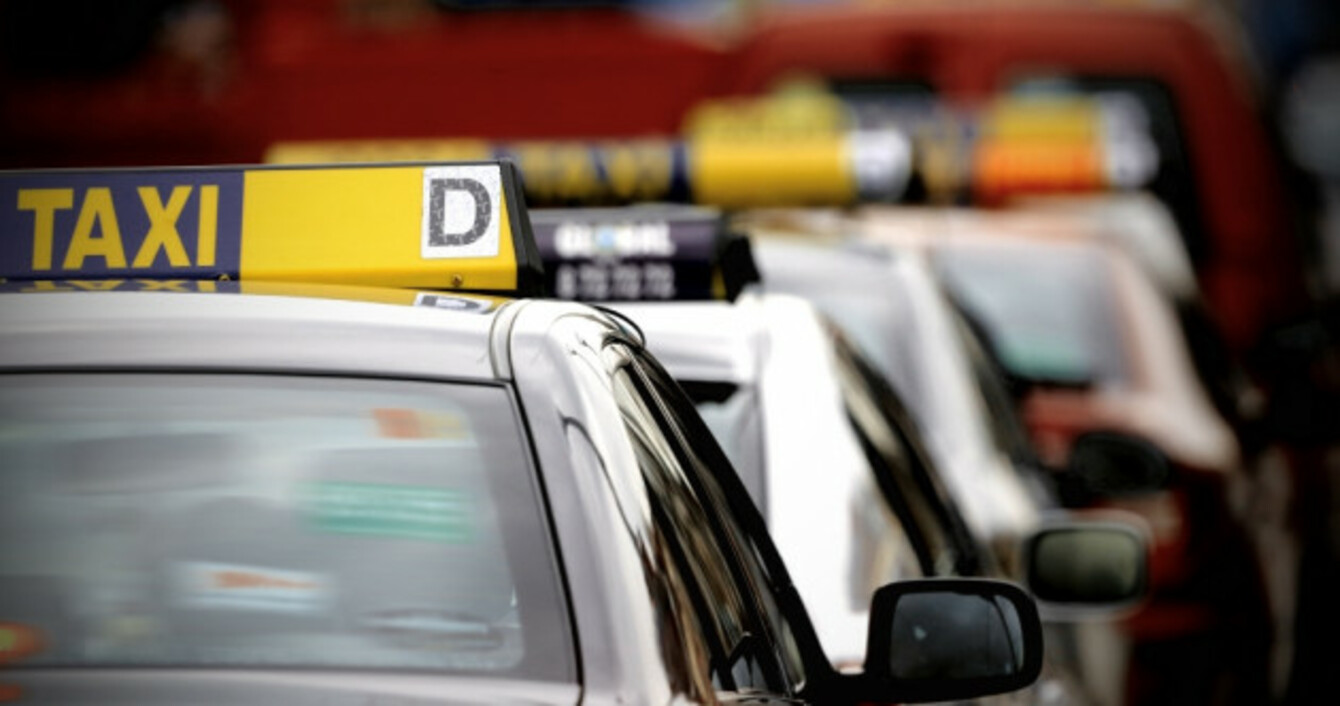 Image: Wanderley Massafelli/Photocall Ireland
Image: Wanderley Massafelli/Photocall Ireland
AT A TAXI rank off Dublin's O'Connell Street, on a recent Saturday, a group of drivers are standing chatting, while their cars are lined up.
Waiting patiently and with several other drivers ahead of them in the queue for fares, the cabbies agreed to fill me in on the essential dos and don'ts of customer etiquette.
Perhaps surprisingly, they don't get wound up by people asking the same questions they have heard a hundred times – like 'are you busy tonight?' But there are some things that passengers do in the car, which tend to raise driver's eyebrows.
So, buckle your seatbelt, as Dublin's taxi men reveal the good, the bad and the car-crash customers that make their lives interesting.
'Eating their breakfast rolls'
"Clipping their nails in the back of the car," says Gerry McGrail when asked about the worst customer behaviour he has witnessed. "Eating their breakfast rolls, and sauce dripping down onto the seats," he says.
Some customers are very negative, he adds, and complain a lot – whether it is about traffic or the price of hotels. Some people are getting very irate about Brexit recently. "It's the never-ending story – it's like the end of the world," he says with a grin, shaking his head.
McGrail himself tends not to get wound up about such things. "The backstop? They should just block off Northern Ireland and get Donald Trump to build a wall around it," he says laughing now and definitely joking.
But there are some things that do annoy even McGrail. His personal peeve is customers asking him to drive faster when he's already doing the speed limit or going as fast as the traffic conditions allow. "I say to them, would you ask the pilot if he can fly any quicker?"
He worked weekend nights for 30 years in Dublin city but he gave up the nights a few years back since he's getting older.
"They are lovely when they are all dressed up and going out at eight but when they are coming home drunk they often get aggressive. They're like werewolves coming out of Copper Face Jacks," says McGrail laughing hard. "You'd want an AK47 with silver bullets in it."
That said a lot of customers are also in good humour and can be fun after a few drinks and at the end of the day. "The good ones make up for the bad ones," he says.
His fellow cabbie, Larry Egan points to another driver, who is getting into his car as he's approaching the top of the rank. "There is Martin," he says. "Now he had a customer who soiled herself in the car and refused to pay the soilage charge – so he had to take her to the guards."
Martin's car was off the road for hours as a result, which meant he was losing a lot of money, says Egan. "The seats and all were destroyed," he says. The guards managed to get the customer to pay the fee so Martin got the money in the end, but it is that type of incident that really annoys drivers, says Egan.
Another driver Eamonn, who declines to give his surname, says his personal bugbear is "customers who leave wet umbrellas on the car seats – it stains the seats."
Are you busy tonight?
McGrail is happy to talk to customers about anything normal and doesn't mind being asked the same question repeatedly about whether he is busy. "That is no problem," he says.
A good customer "is a customer that tips" he says laughing. "Ah no just pleasant and normal stuff, football is always a good conversation," he suggests.
"A good customer is a quiet customer," chips in Larry Egan laughing. He doesn't mind people asking 'are you busy tonight?' as this falls under normal chat. "That is just really to start up a conversation," he says.
Most people talk about the news of the day, "whatever is in the papers and on the radio" and that is fine. Current affairs, crime, politics, sports or the weather, these are all acceptable topics, he says.
Only Eamon, says he is sometimes wary of some people asking 'Are you busy?' "It would really depend on the person," he says.
People often ask are you busy and what time you are out since, he says, but sometimes he doesn't want to tell them. "If you say you are busy and that you have been out all day, you are saying that you have money on you," he says. "The world has changed, you have to be careful."
Time for a snooze?
Egan says he likes his regulars, the people who come back to him each time they are in town. He gets a lot of them too. "It's a good rank, so people come back to us," he says.
"The majority of people, 90% of them are great," he says. "It's just the oddballs. You get some weird stuff as well, but that is all part of life, you know."
Egan used to work nights too – but he packed that in six years ago, as it was "more of Jekyll and Hyde kind of thing, you don't know who is getting into the car," he says.
"Most people just want to get home to bed after a few drinks," he says. "But then there
are others and they will just be aggressive to you constantly until you get them home."
Quite regularly customers fall asleep after a night out especially if it's a long journey and it can be really difficult to wake a drunk person, he says.
He would try holding their nose to wake them up, but if that failed, or if he was afraid to try to wake them he would drive them to a Garda station, he says. The gardaí would wake them up and make sure they paid the fare but the delays and hassle cost the driver, he says.
Egan doesn't miss the nights for a myriad of reasons. He was tired of never making it to family parties or seeing the kids, he says.
But at the end of the day, he loves being a taxi driver. "I wouldn't do any other job, I love it," says Egan smiling, "it's never boring."
The people that you meet make it worth it in the end. "When you are dealing with the public you will always get different characters. Some people are great, some people are crazy and some are just as normal as can be," he says.