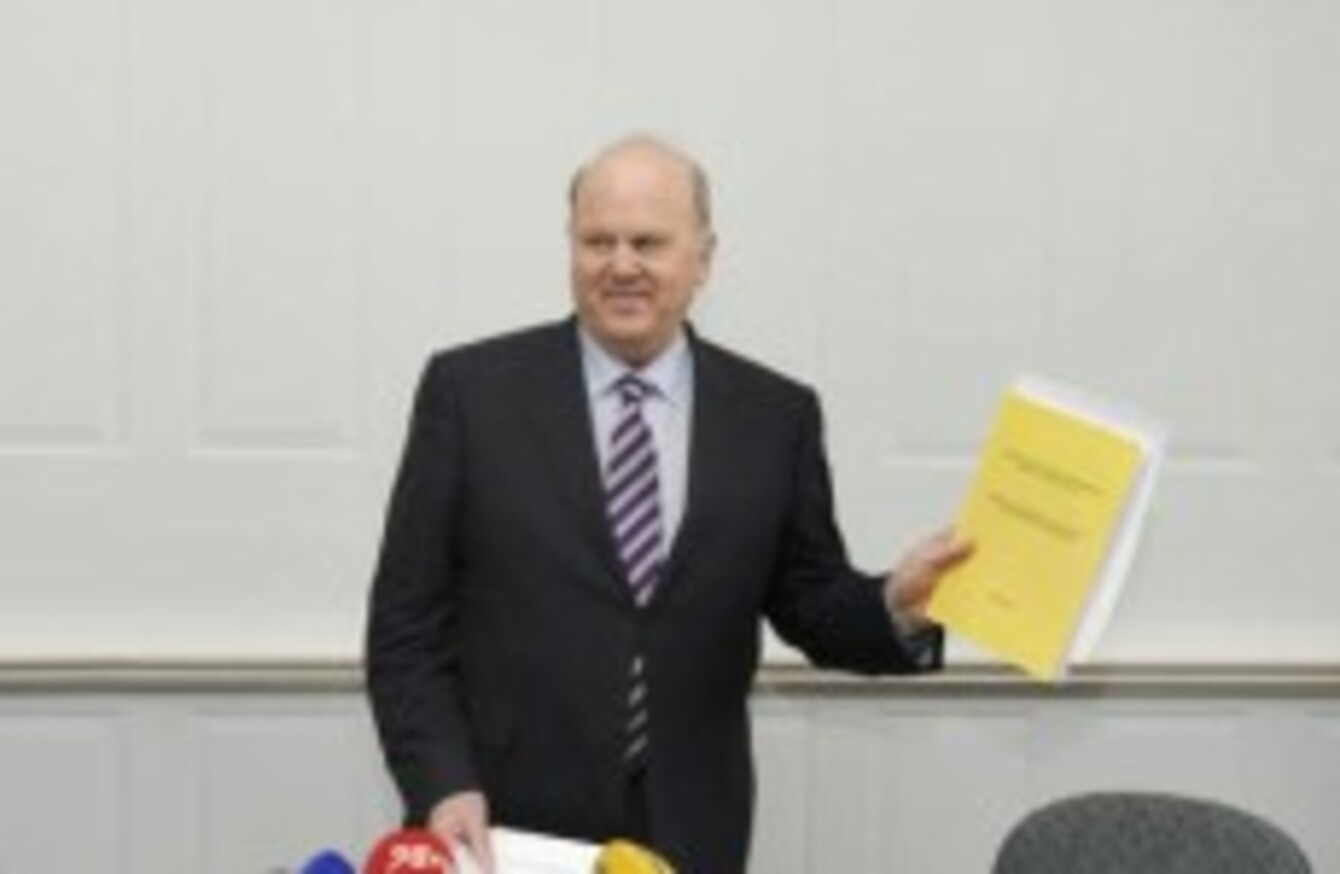 Minister Michael Noonan, bearing a copy of the Nyberg Report yesterday.
Image: Sasko Lazarov/Photocall Ireland
Minister Michael Noonan, bearing a copy of the Nyberg Report yesterday.
Image: Sasko Lazarov/Photocall Ireland
INDEPENDENT TD SHANE ROSS and Richard Boyd-Barrett TD, People Before Profit, heavily criticised the Nyberg Report's findings in the Dáil this afternoon, saying it had failed to name who was specifically to blame for the banking crisis.
Ross said the report had produced nothing new and "spreads the blame in a very even-handed way".
"We do not come out of this report better informed about what happened," Ross said, while Boyd Barrett said the report blames everyone and no one at the same time.
Ross claimed the report is ineffective because it has refused to name names, despite painting the picture of a "sinister" relationship between the auditors, financial regulator, Department of Finance and the bank boards. Ross asked what the minister intends to do to reform the banks and their boards, saying the government's response on that so far "been pathetic".
Sinn Féin TD Pearse Doherty said that the question everyone had asked, "why did nobody say stop?", was made all the more stark through the report's inclusion of graphs depicting the banks' positions before, during and after the housing bubble.
Doherty said his "one serious gripe" was that the report unfairly included all of the people in Ireland when it said people were willing to let the good times roll. He said there were many people struggling to rent properly and on social housing lists who were not part of "this speculative frenzy".
Actions of an "inept government"
Minister for Finance Michael Noonan had opened today's Dáil statements on the report. He said that the Nyberg Report addressed the actions of a "seriously inept government who fuelled rather than restrained" the banks when a crisis began to emerge.
Speaking in the Dáil, Noonan said the report should be carefully considered by the House because "we have to learn the lessons from these events about how we got there, and how we managed during the period, and how we dealt with the crisis that is developing".
He said the Nyberg Report showed that bank management had forgotten the nature of credit and what lending was about. National authorities had failed to read the warning signals which could have indicated a pattern of risky lending, Noonan said, adding that Irish decisions had caused Ireland's problems:
The speed and severity of the crisis was made worse by worldwide  economic events, but notwithstanding these external factors, the problems causing the crisis as well as  the scale of it were the result of Irish decisions and actions.