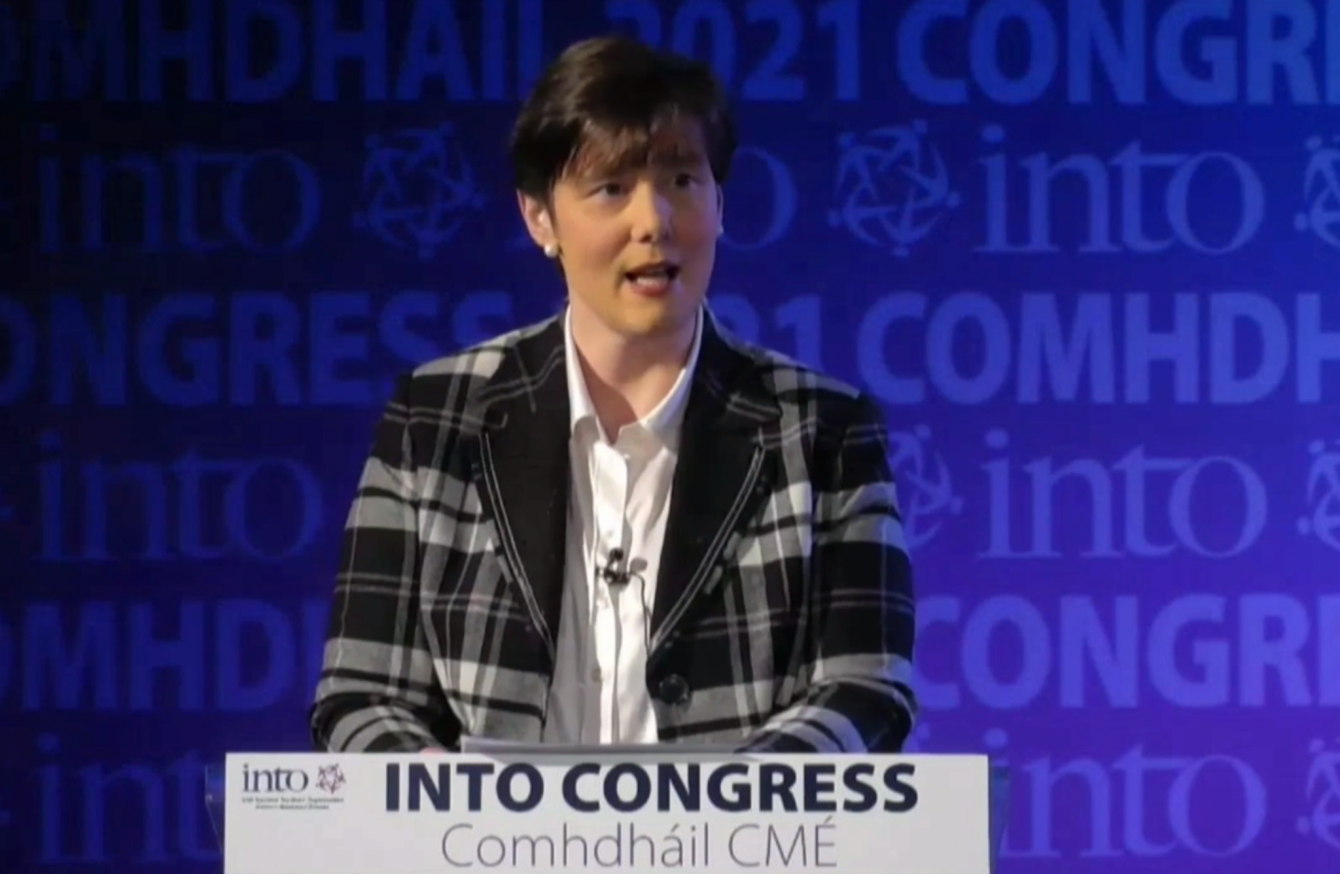 Updated Apr 6th 2021, 3:00 PM
EDUCATION MINISTER NORMA Foley has said the decision to shift to an age-based vaccine roll-out is not "a value judgement" on any profession, as teachers' unions continue to call for their members to be prioritised.
The three teachers' unions have agreed a joint motion on vaccine prioritisation to debate at their annual conferences this week.
The government has said the change to an age-based model will mean vaccines can be delivered faster over the next few months. However, the change essentially removes a 'key workers' cohort that had planned to vaccinate some people based on their occupation.
The Irish National Teachers' Organisation (INTO), Association of Secondary Teachers Ireland (ASTI) and Teachers' Union of Ireland (TUI) congresses have been taking place today. Minister Foley, addressing the INTO conference this afternoon, defended the government's decision on the vaccine roll-out.
The minister said she can understand the sense of disappointment felt by many in the education sector and other sectors. However she said health officials had presented the government with medical evidence underpinning the recent change.
"Fundamentally this recommendation has been driven by the fact that national and international evidence now confirm that age is the strongest predictor of whether a person who contracts Covid-19 will be admitted to hospital or ICU or die as a result of their infection.
To put this in context., Professor Karina Butler of NIAC (National Immunisation Advisory Committee) has confirmed that if we were to compare a person aged between 30 and 35 with a person aged between 60 and 65, the person aged between 60 and 65 years old, is 70 times more likely to die as a result of Covid-19 than a younger person.
Foley said the decision is "not a value judgement on any given profession, it is simply science".
Earlier, the three unions said they had agreed a joint motion on the issue. In a statement, they said:
"The three teacher unions have agreed to table a joint motion to their respective congresses over the course of the next two days.
"The motion will seek to commit the unions to work together to demand vaccine prioritisation for teachers. Should that fail, the motion will mandate the unions to explore any and all options, up to and including industrial action."
 INTO general secretary John Boyle, in his own address to the conference and the minister, said the government decision on vaccine sequencing had left teachers "crestfallen and very cross". 
"This decision shows blatant disregard for our members' safety. Teachers must be re-instated as a high-priority group to be vaccinated early to ensure that schools can remain open safely," he said.
Reports last week seemed to suggest that your government is not concerned about teachers who may contract this deadly virus or those who suffer the excruciating and debilitating impacts of long Covid. But rather, concern appears only to be with decreasing hospitalisations and taking the easy rather than the fair approach to vaccination.
 It's simply not good enough Minister.
Boyle said when teachers returned to schools in February and March the government "promised in writing that they would be in the first one third of the population vaccinated".
"Your government broke that promise," he told he minister. 
"The new group nine on the revised list gives priority to those who work in crowded settings. Surely spending nearly six hours a day in a small room with children from 25 or more families is a crowded setting?"
'Flexibility and dedication'
Earlier TUI President Martin Marjoram said members will consider an emergency motion for industrial action on the vaccine roll tomorrow morning.
Marjoram told Newstalk's Breakfast Briefing that teachers are not looking to get ahead of anyone else on the vaccination priority list, saying "we took the plan as it originally was".
"We genuinely think that there's every possibility of running the age-based system in parallel with something that is specifically directed towards particular professions", he said.
Addressing the TUI congress this afternoon, Minister for Higher Education Simon Harris thanked members for their "flexibility, dedication and agility" during the Covid-19 pandemic.
"Thank you for literally putting emergency measures in place over a matter of days to keep the show on the road," he said.
"Thank you for adapting and learning new ways of working to make sure learners didn't lose out. Thank you for working with my department and I to highlight things we needed to put in place like a free laptop scheme or extra funding for mental health services.
"And most importantly of all, thank you for putting the learner – the student – at the fore of all our engagement and I mean this sincerely."
'A kick in the teeth'
ASTI vice president Ann Piggott this afternoon said the change to the vaccine prioritisation list was "a brutal and sudden kick to the teeth" for teachers and other public sector workers. 
"Total disregard has been shown for the frontline workers in this country who come
face to face with hundreds of people in the course of essential work where exposure to
illness is unavoidable," she said.
#Open journalism No news is bad news Support The Journal

Your contributions will help us continue to deliver the stories that are important to you

Support us now
She pointed to a number of countries such as France, Italy, Canada, Turkey and Vietnam that had vaccinated or are about to vaccinate their teachers.
"They value education and the health of the more exposed workers in society," she said. "They have protected essential staff. This will ensure schools stay open, that staff will not have to self-isolate or be confronted by illness."
The recommendation from the National Immunisation Advisory Committee (NIAC) is based on evidence that age is the biggest factor that determines your risk of severe illness from Covid-19.
An age-based model rather than one based on profession could also contribute to a quicker rollout. Once everyone aged over 70, those with underlying health conditions and vulnerable groups are vaccinated, people will begin to receive vaccines on the basis of age.
However, unions representing frontline workers and teachers say their members should get priority access due to the high risk of both catching the virus and passing it on to others due to the nature of their work.
Struggling students 
Also on the agenda for today's congresses are classroom sizes, curricular reform, as well as the terms and conditions of teachers' employment.
A recent survey of TUI members found that teachers believe additional supports will be needed next year to assist students who may have struggled with the move to emergency remote teaching.  
"Of great concern to teachers is that 93% noticed disengagement by some of their students as a result of the move to emergency remote teaching and learning," said TUI President Martin Marjoram.
76% believe that emergency remote learning had a disproportionately negative effect on students from disadvantaged backgrounds, while 86% believe that additional supports are needed for 2021/22 to assist those students who may have lost out most as a result of the move to emergency remote teaching and learning. 
The survey also notes that 73% of members believe that some students were unable to engage with emergency remote teaching and learning as a result of not having access to appropriate electronic devices.
- With reporting by Michelle Hennessy.