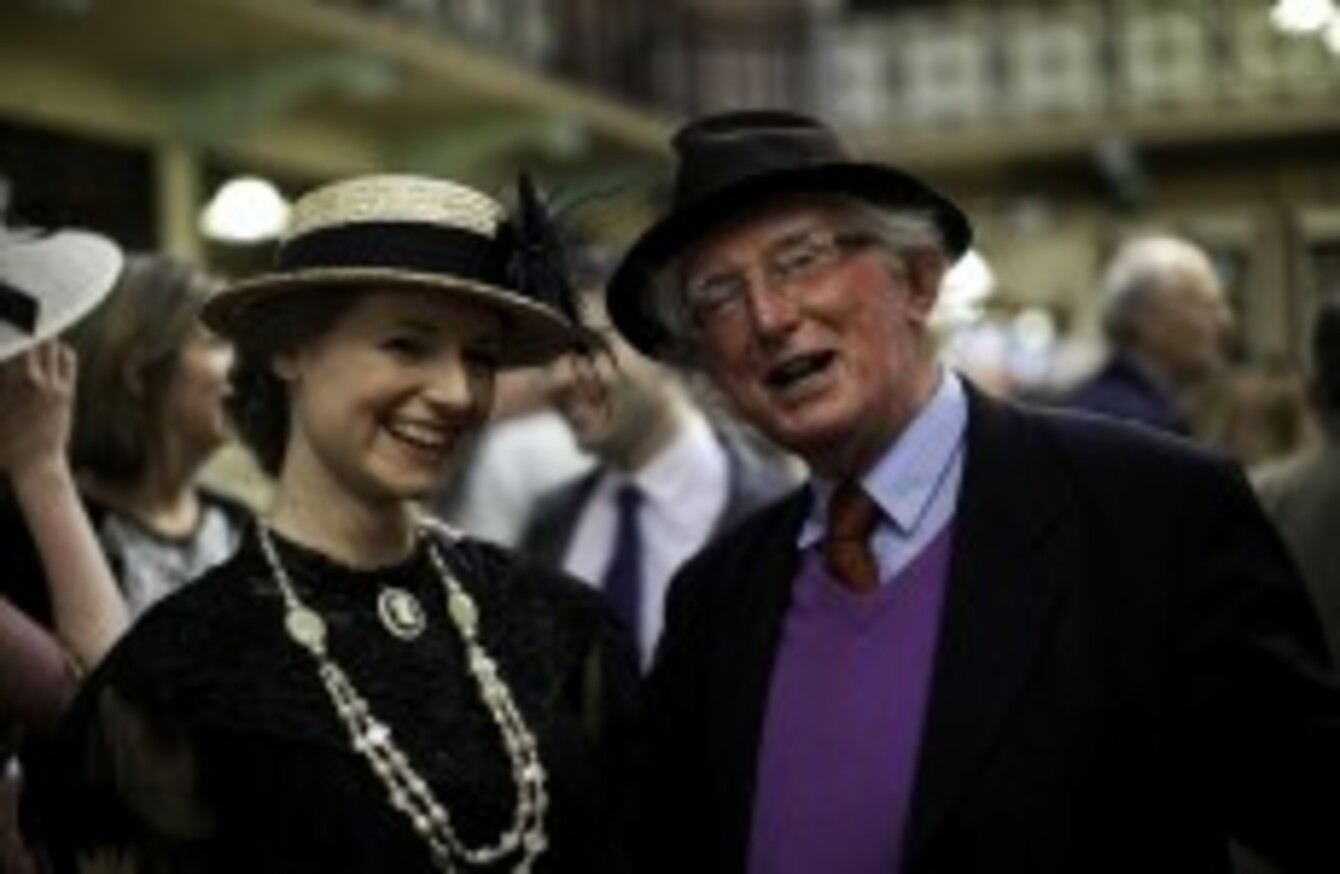 People get into the spirit at the launch of the Royal Irish Academy's 'Dublin 1911' book today.
People get into the spirit at the launch of the Royal Irish Academy's 'Dublin 1911' book today.
EVERY EVENING, TheJournal.ie brings you a roundup of the day's main news – plus any bits and pieces you may have missed.
It's polling day in the Race for the Áras, as over three million people go to the polls to choose Ireland's next president. Voting has also been taking place in two constitutional referendums – on judges' pay and on Oireachtas inquiries – and in Dublin West, where there's a Dáil by-election taking place.
Despite the low-profile nature of the position, the election had picked up quite a bit of international attention – with the world's press seeing the election as pitting a "former guerrilla commander" against a "reality TV star" and a "politician turned poet".
As is customary, we've put together a gallery of the candidates – and the rest of the public – going to the polls. Across the country, turnout is reported to be down on the general election.
Èuropean stock markets reacted positively to last night's Eurozone debt deal, which hopes to draw a line under the Greek debt problems. Michael Noonan has hailed the deal as a landmark, but the opposition parties are less enthusiastic.
The Greek deal sees the country default on 50 per cent of its loans, begging the question: when we're committed to repaying our debts in full, has Greece gotten off lightly?
We've been having a look at the aftermath of Monday night's disastrous flooding, and asking: just what did cause the floods? Hint: it wasn't just water.
Gardaí have renewed their appeal for information on Ciarán Noonan, who was abducted in Crumlin a week ago today.
Bertie Ahern's on TV this evening, for his Big Interview with Mike Murphy. An advance clip shows Ahern saying he could have played a "key role" in the economic downturn – and would have preferred taking part to 'twiddling his thumbs'.
It's been a good day on the jobs front: 130 new jobs have been created as some major IT companies announce their expansion into Ireland. Pivot Acquisition wil create 100 jobs in Galway, while three other US tech companies are coming to Dublin.
All of that good work could be undone, however, by the entry into receivership of the Mr Binman group. The Munster-based waste collection chain employs 331 people – with another 270 jobs indirectly reliant on its service.
The death toll from Turkey's weekend earthquake has now risen to 534.
A priest from St Paul's Cathedral in London has quit over plans to evict the 'Occupy London' protesters currently on site.
A man's body has been discovered at a house in Drogheda. His body was discovered by a passer-by at 4:30am.
Four people have been killed in Syria as part of a crackdown against opponents of president Bashar Assad.
Halloween has begun early at Dublin Zoo – here's our gallery of chimps, elephants and tigers getting into the spirit.
Technology fans hoping to get up early for an iPhone 4S, when they go on sale tomorrow, might be interested in our quick pricing guide. Those less bothered might be interested in Nokia's new smartphone, which hopes to take on the iPhone and the Android.
The speakers at the Dublin Web Summit probably already have their new iPhones. Some of the tech world's big cheeses are in town for the event – and they've been tweeting.
Britney Spears has extended her sympathies to the family of Siobhán Healy, the 31-year-old woman who died after falling from a fairground ride outside the singer's O2 gig on Monday night.
Cheeky. A Colorado man's girlfriend came home early, while his mistress was still there – so he reported his new squeeze as a burglar.
If you found his story entertaining, spare a thought for the Chinese – whose government is limiting entertainment TV shows, as part of a drive to regain control over cultural industries.
Ryan Tubridy's tenure at RTE is under fresh pressure this evening – as the latest radio listenership figures showed his audience continuing to plummet on 2fm. He's lost 27,000 listeners in the last six months, and his audience is now less than half of the one he had on Radio 1.
In other media news, The Irish Times has been the big winner at the National Newspaper of Ireland's first Journalism Awards, taking four gongs.
Finally tonight – if you think the Rubik's Cube is a challenge, try solving it in one hand… in 45 seconds… while juggling two more of them.