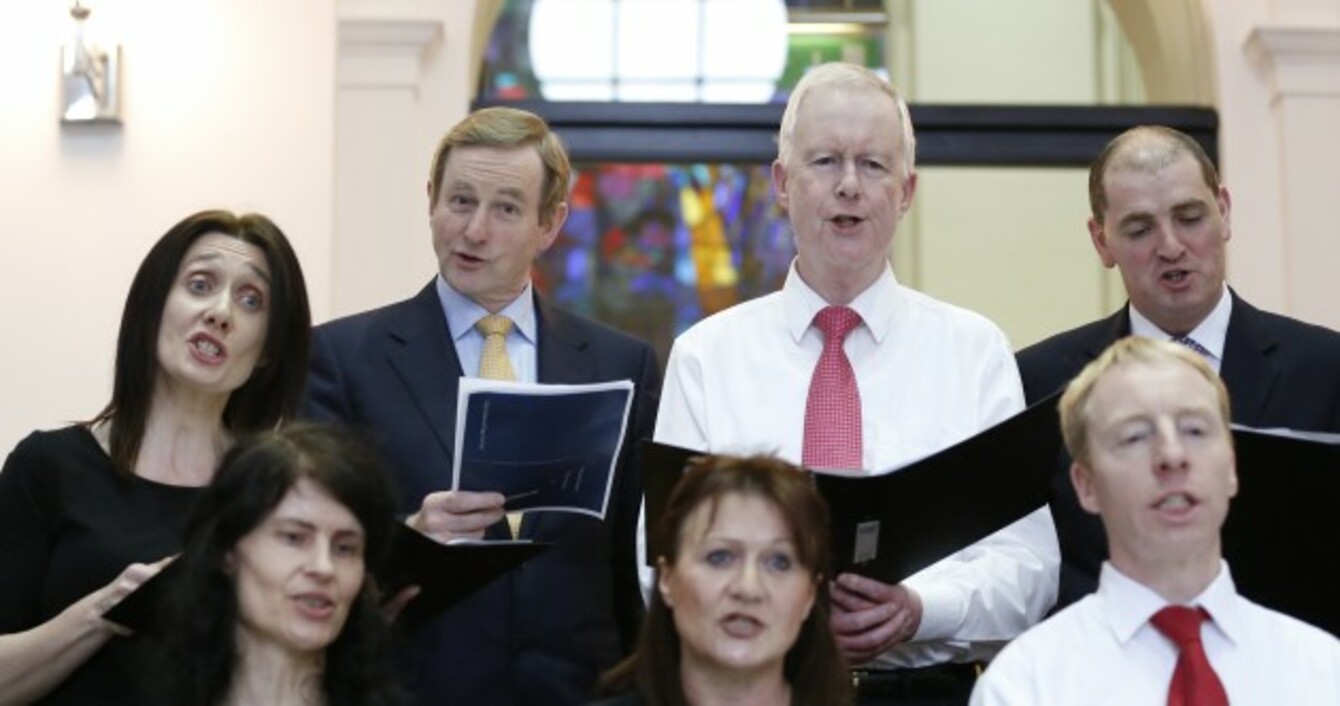 Enda Kenny and others singing Christmas carols at Government Buildings this week
Image: Sasko Lazarov/Photocall Ireland
Enda Kenny and others singing Christmas carols at Government Buildings this week
Image: Sasko Lazarov/Photocall Ireland
EVERY WEEK, TheJournal.ie casts its eye over events inside and outside Leinster House that have got people talking.
As the saying goes: 'You win some, you lose some.'
So here are our political winners and losers from the past seven days:
The 5 winners of the week are…
1. Dermot Looney
The Mayor of South Dublin has set a positive example of how politicians can be a force for good by donating a portion of his salary to a fund to benefit community groups in his local area. Looney told us this week about the high demand for funding and how he's not sure if his successor will follow his lead, but we sure hope they do.
2. Noel Rock
On the subject of politicians' pay and expenses, this Fine Gael candidate in north Dublin has declared he will not take any expenses if elected to the city council next year. Rock got himself into hot water with others in the party over his questionable numbers on how much this would save, but aside from that it's the principled stand that he is taking which has to be admired.
3. Luke 'Ming' Flanagan

As much as it might have annoyed the Ceann Comhairle, the independent deputy's publicity stunt in the Dáil on Thursday morning was one way of raising the issue of contaminated water in parts of Ireland.
It's a big problem and hasn't been addressed, yet people are expected to start paying for their water from late next year. The government has pressed ahead with water charges using guillotine and all on the legislation, but don't expect politicians, including many on the coalition backbenches, to stay quiet about this issue in the months ahead.
4. Senators
There's been much debate about the usefulness of the Seanad this year having been threatened with abolition but for the verdict of the people. In raising fresh allegations about the goings-on at NAMA, Darragh O'Brien and Lorraine Higgins proved how it can be a useful forum for the divulging of information that might get them into trouble if they said it outside the chamber.
Credit also to Senator John Crown who used parliamentary privilege to raise fresh questions about St Vincent's Hospital and the alleged practice of charging health insurers for cancer drugs which it had received for free.
5. Joan Burton
The Social Protection Minister might well be the hero of the week having ensured a €1 million donation to charity on behalf of the government through savings in her department. Meanwhile, further savings to the tune of €47 million due to a fall in unemployment have been allocated to health. When you add to all that the fact she is one of the most popular ministers in the country, it's been a good for the Labour TD.
… and the 5 losers of the week are…
1. Seanad reformers
Campaigners for reform of the upper house have been pushing for universal suffrage but the Taoiseach appears to have firmly ruled it out this week, a blow to the likes of Feargal Quinn and Katherine Zappone whose reform bill – "that could be law by Christmas" – now appears dead in the water.
2. The government
The medium-term economic strategy was heavy on the green and heavy on the spin but in terms of detail about just how the coalition (and its successor) will reach a balanced budget and nearly full employment is far from clear and much will depend on external factors such as growth in the eurozone and investor confidence in Ireland.
Added to that, the comments from Jose Manuel Barroso this week do little to aid the government's long battle to get retrospective recapitalisation of its banks.
3. Referenda(ums)
What good is it asking the people for their verdict on the Constitution if most of them don't bother and those that do are left utterly confused? The need to reform the way we do referenda or referendums – and it can be either – was made clear this week when it emerged that 55 per cent of those who voted were unclear about the ballot papers and what they meant in the most revent votes on the Seanad and Court of Appeal.
4. Bill Tormey
The north Dublin-based councillor may have had a point about the accuracy of party colleague Noel Rock's figures but there was really no need to engage in the name-calling and petty insults. It will be interesting to see what the voters make of this little spat in the Ballymun-Finglas area.
5. Dublin City Council
In a story that we're sure to hear more about in the New Year, the city council says it risks losing billions as a result of its handover of assets to Irish Water. This is all due to happen on the 1 January with the council claiming it faces €330 million in pension liabilities. The councillors want to meet with Environment Minister Phil Hogan. Will he oblige? One to watch in 2014.
Pics: Dave Nowak, Twitter and Photocall Ireland
P.S. That's all your weekly winners and losers for this year. Watch out for our bumper winners and losers of 2013 on 30 December.