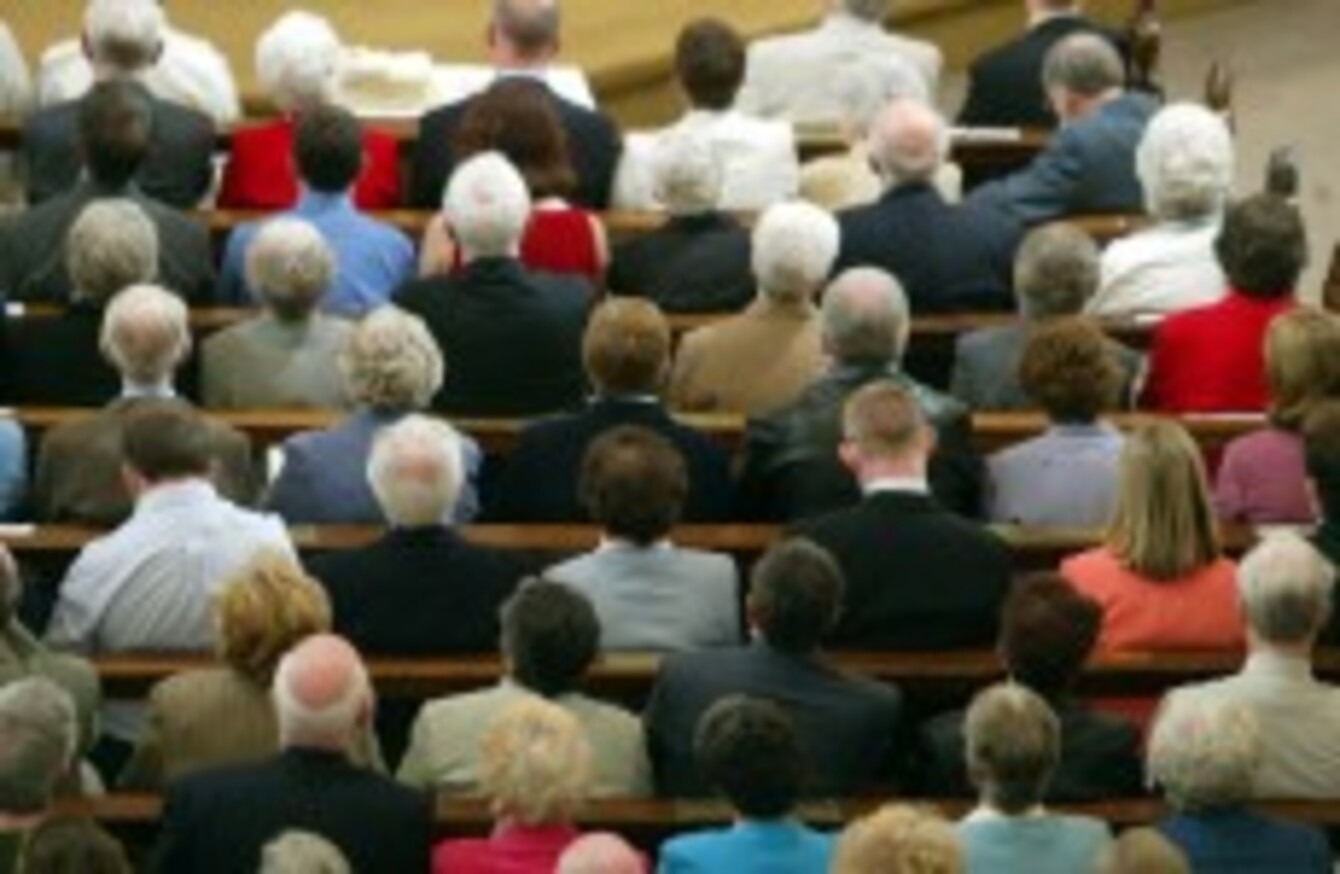 People attending a mass at the Church of Saint Andrew on Westland Row in Dublin (File photo)
Image: Gareth Chaney/Photocall Ireland
People attending a mass at the Church of Saint Andrew on Westland Row in Dublin (File photo)
Image: Gareth Chaney/Photocall Ireland
THREE QUARTERS OF Irish Catholics say the Catholic Church's teachings on sexuality are irrelevant to their lives, a new survey has found.
87 per cent of Catholics surveyed by Amárach Research said priests should be allowed marry while 77 per cent said they were in favour of women being ordained as priests. The survey, conducted on behalf of the Association of Catholic Priests, found more than six out of ten people disagreed with the Catholic Church's stance against homosexual sex.
The survey of one thousand Catholics found a significant disconnect between official Catholic Church teaching and what Catholics actually believe.
Some of the main findings include:
72 per cent of respondents said mature married men should be allowed to be ordained.
Half of Catholics who have heard the new updated version of the liturgy prefer the previous version.
Just over one third (35 per cent) of Catholics attend mass at least one a week. Just over half attend at least once a month while 21 per cent say they attend only for special occasions.
80 per cent say the Church should speak out on social issues, compared to 63 per cent who say it should speak out on the current economic climate and 54 per cent on climate change.
Respondents were evenly split as to whether the leaders of the Catholic Church understand the challenges faced by Irish Catholics: 46 per cent said the leaders understood challenges very well or a little, with 45 per cent saying they didn't understand much or at all.
Almost half of respondents said laypeople weren't being listened to by the Church on issues of priesthood and morality.
Fr Bobby Gilmore of the Association of Catholic Priests said the survey was a roadmap for where the Church should look at going in the future based on practices and attitudes of Catholics:
On the basis of this survey, what Irish Catholics wants is compassion and tolerance rather than the defence of absolute positions, local input rather than central control, a people's Church rather than a clerical Church.
Fr Sean McDonagh of the ACP said that the survey found that Ireland has a higher mass attendance among Catholics than most European countries.
Recent remarks by Archbishop Diarmuid Martin on CBS '60 Minutes' that only 2 per cent attend Mass in some parishes, if taken out of context, might lead people to believe that Mass attendance in Ireland has completely collapsed. The survey shows that this is not the case.
One thousand Catholics took part in the survey which was conducted mainly online, along with face to face interviews for people aged 55 to 64. The margin of error in responses is 3.1 per cent.
Father Brendan Hoban and Father PJ Madden from the Association of Catholic Priests at the launch of the survey earlier today. Photo: Niall Carson/PA Wire