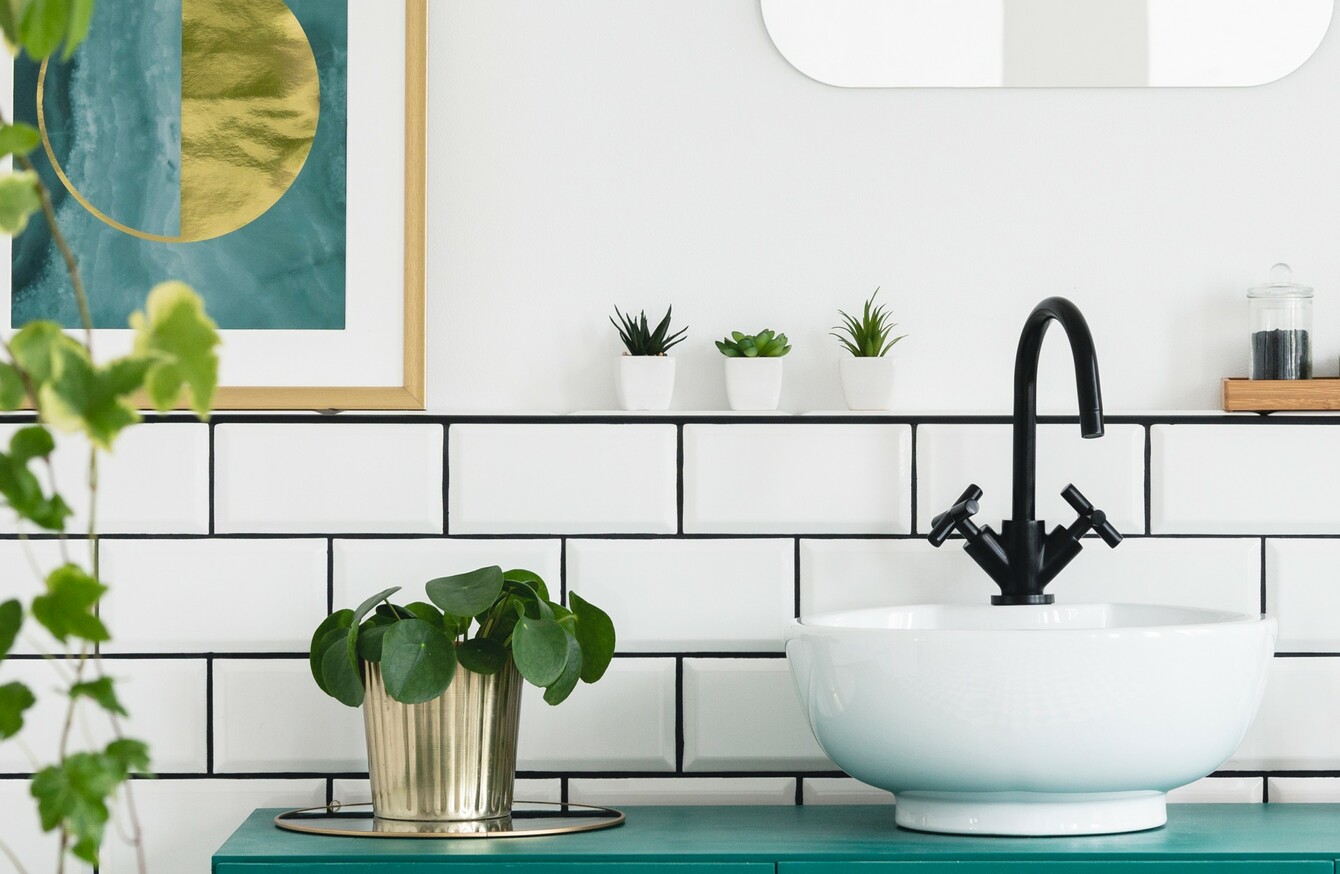 Image: Shutterstock/Photographee.eu
Image: Shutterstock/Photographee.eu
IT'S A COMMON myth that small spaces can't handle colour.
We're often told that they're better off styled to a minimum or covered in white paint and finishes to promote more room. 
But that doesn't have to be the case in a small bathroom – no amount of white paint is going to create the illusion of more space. Instead, you should embrace pops of colour to give that cramped space personality. The good news is that these tips and tricks are bright, bold and far from boring. 
Read on for six ideas for one room that often gets overlooked – the small bathroom. 
Mellow yellow: Whether you're on a budget or simply don't fancy a permanent change, investing in a small selection of accessories that share the same colour can rejuvenate a small bathroom instantly. Here, @houseofpollard matches the towels, blinds, mirror and even the toilet paper, adding warmth and a spring feeling to the space.
Look for a selection of yellow towels and other accessories at Arnotts.
Plant power: Take a leaf out of @hardcastletowers book and introduce some freshness to the space with hanging planters and pots. They should thrive in a humid space and will be easy to keep an eye on as you frequent this room every day.
Find similar macrame hanging planters at The Design House.
Wallpaper wonder: For maximum impact, @kbutlerinteriors wallpapers her small space with a brave design that adds fresh vibes. An interesting wallpaper will inject some life into a small room, especially  if your vanity or other fixtures are a bit on the plain side.
Check out a range of wallpaper options at Graham & Brown.
Precise paint: We love how @bo.fentum.design gets experimental with paint in this small bathroom. The curved yellow section contrasts nicely with the straight lined tiling and radiator, while the artwork adds a touch of layering and breaks up the block of bright colour.
Browse Colourtrend for a choice of paints.
Fun fixtures: A brassware update will instantly elevate a small space. Here,  @daniellenic0le_ goes for gold with shiny taps and lighting fixtures, while keeping everything else relatively simple. The shower curtain, with its gold and orange undertones, also does wonders for this bathroom.
Find vintage-inspired brassware at Lightinabox.com.
Touch of tiling: Gone are the days where tiles need to be uniform and boring. Here, @manuarino transforms one wall with hexagonal tiles that share a similar colour code but don't need to be completely aligned. This makes for a fun focal point as the tiles above creating the illusion of more height in this small space.
Head to TileStyle for a selection of tiles.