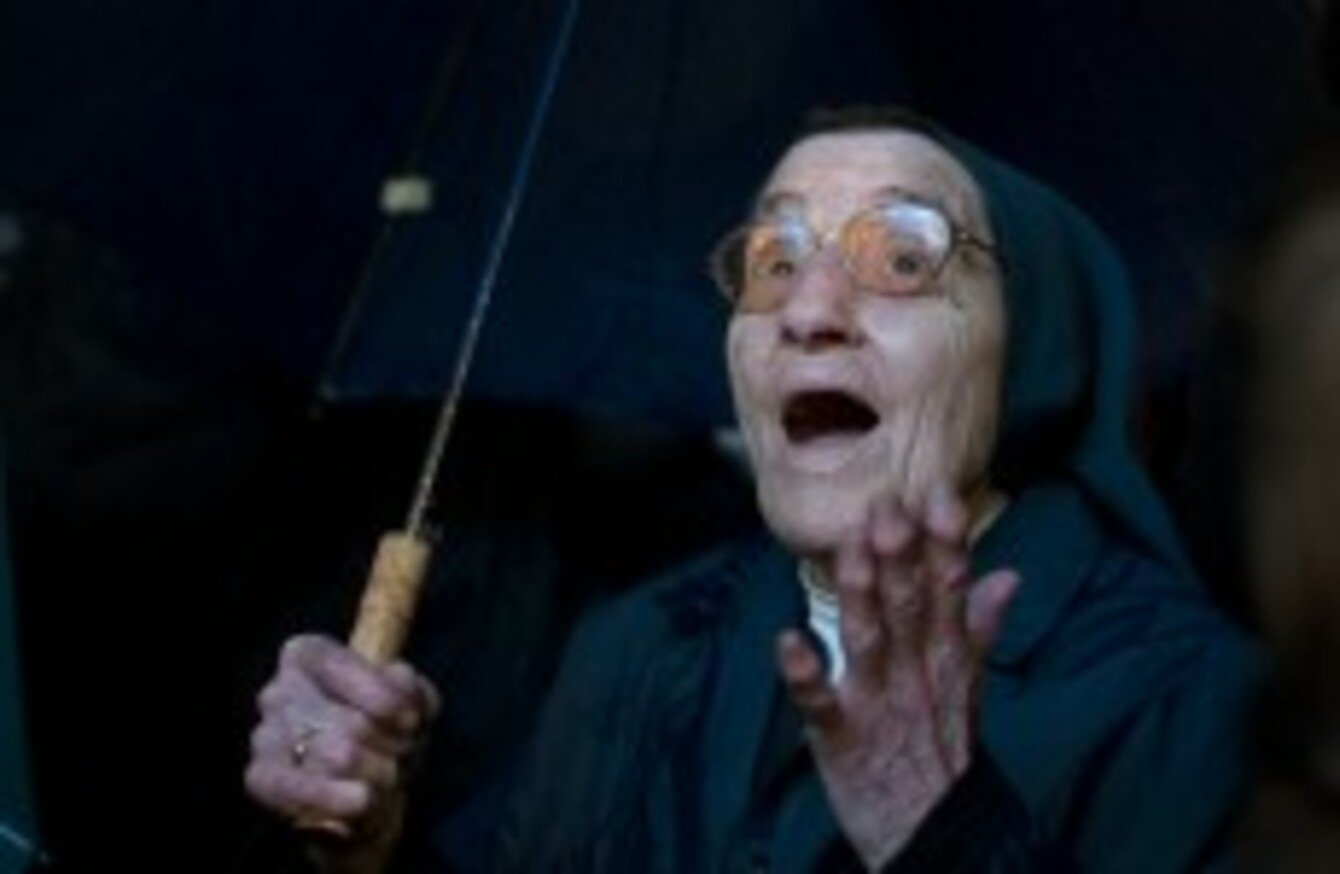 A nun reacts after seeing white smoke coming from the chimney on the Sistine Chapel on Wednesday
Image: AP Photo/Emilio Morenatti
A nun reacts after seeing white smoke coming from the chimney on the Sistine Chapel on Wednesday
Image: AP Photo/Emilio Morenatti
EVERY SATURDAY MORNING we like to take a look at all the best comments left on the site by you lot over the past week.
This week there was a lot of talk about the new pope, Ming and his penalty points, and Ministers flying abroad for Patrick's Day. Then there was also the issue of teachers spending time on religion in primary schools, the school in Limerick which suspended 28 students for 'liking' a Facebook post, and things no-one tells you about having kids.
So here, in no particular order, are the standout comments from the week that was.
The top 5 articles which received the most comments this week
1. And the new pope is… Jorge Mario Bergoglio (331 comments)
2. Ming: I want my penalty points back (236 comments)
3. 16 amazing songs from the 1990s that you've forgotten (198 comments)
4. This could ONLY happen on Irish Twitter (194 comments)
5. Meath East by-election: Here are the candidates and here's what they're saying (185 comments)
Some of the best comments left on the site this week
Are there some things you're never too old for? From kicking piles of leaves to building a fort, there were a lot of suggestions of age-inappropriate activities. Eileen McKenna and Jose had two more:
Walking all round tesco without stepping on a join in the tiles! Do it with the carpet tiles in the office too.
I'm 53.
*sigh*
Came home from work one day last year to find the two daughters giving each other rides around the house in the wheelbarrow, they are both in their 20s.
Ireland's micro-breweries have been undergoing something of a resurgence of late. Colin Toner pointed out the challenges they face:
It's great to see a small revival again with the craft beer market in Ireland, it reached a peak in the late 90′s/ early 2000′s but most of those breweries have closed such as the Dublin Brewing Company and the Biddy Early Brewing Co.

There are not enough pubs around the country that support the micro brewing Industry and any micro brew that successfully gets into a pub ( on draught not bottle ) will be quickly forced out by Diageo or Heiniken by offering the publican free stock to get it out. Hopefully the recent surge in micro brew companies will change that but somehow I doubt it.

If I Can recommend one new craft beer it would certainly be Creans Lager, one craft beer I would love to see back in production would be Revolution Red.
Here are 15 things no-one tells you about being a parent – and here's one more from Tina Heverin:
When leaving the house to do the grocery shopping on your own is like a mini-holiday
Do you remember your best and worst teachers? Christina Colling definitely remembers her worst (even 30 years later):
I remember in senior infants many moons ago I brought in a huge seashell to show it to my teacher mrs mcdonald…so off I toddled up to her during break time. She must have been having a bad day because she snapped it off me and threw it into her desk drawer. Never to see daylight again. She refused to give it back to me. That was 30 years ago and I will never forget it. Never forgave her for it either. I loved that seashell :'(
Pun Of the Week comes from Ciaran De Bhal on this article about a nun who voted on behalf of another nun – who had died – in the US presidential election last year:
That's an awful habit she developed..
The story was pretty compelling. A man who tackled a shark on a beach was later sacked from his job following a video that went viral showing the battle between man and shark. Michael Burke had high expectations:
It's amazing how what you picture in your mind when you first hear a news story can be so different from what actually took place. I had visions of this muscle bound beefcake with tattoos thrashing about in the water as the shark rolled him over and over again and the guy in the midst of all the fighting and blood letting shouting in what appears to be his last words on earth…."TELL MY WIFE …..gulp.gulp…pah pah…..I LOVE HERRRRRRRRRRRRRRR……aaagggggghhhhhhhhh

Was kinda disappointed.
(Video: NewsChamber/YouTube)
5 comments which received the most thumbs up
John Joe Kinsella had the most popular comment this week for a defence of the Gardaí who were attacked while answering a call in Dublin, which received 1,379 thumbs up:
Nobody deserves this for just doing their job.
Ru Ni Digs was close behind with 1,348 thumbs up for this comment about Aslan's lead singer Christy Dignam being diagnosed with cancer:
Get well soon Christy!!!
Simon got 1,126 thumbs up for this comment about Kate Middleton apparently being related to Brian Ború:
I wish we'd stop claiming everyone, its getting embarrassing!
A lot of commenters were unimpressed with Luke 'Ming' Flanagan's penalty points drama this week. Karen Hynes got 1,038 thumbs up for this:
So he thanked the first guard who stopped him using his phone while driving and said that guard may have saved a life… Then got caught again using his phone while driving. Were they the only times he used his phone while driving?
Did it ever cross his mind to get a hands free kit?
Rounding out the top five is Joe O'Shea who got 1,033 thumbs up for asking this question on the article about the 28 students suspended from secondary school for 'liking' a Facebook post which contained an explicit reference to some school staff members:
Did those students not realise their names were identifiable from the 'likes' they have given? They should be given another two days suspension for stupidity.
Spot any good comments? Let us know: mail christine@thejournal.ie with any suggestions for comments of the week.