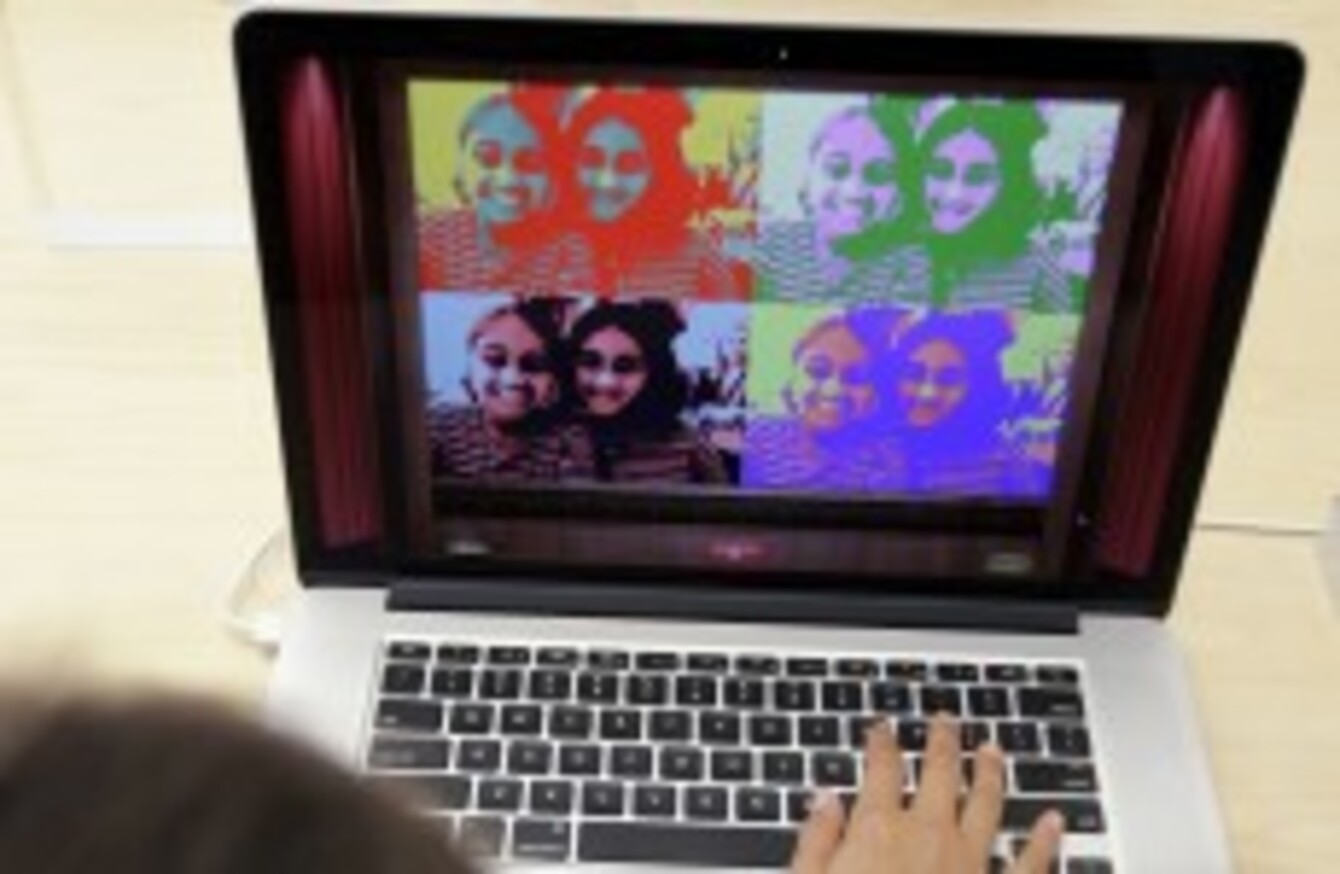 Image: AP Photo/Paul Sakuma
Image: AP Photo/Paul Sakuma
HERE'S SOMETHING NEW we learned this week: those crafty folks at Apple set the screen of every laptop in an Apple store to precisely 70 degrees.
There is a method to their… method. This angle allows you to see enough of the screen for it to seem inviting – but requires you to touch the notebook computer to fully open it up.
Gallo wrote on Forbes.com that Apple employees set the screens at that precise degree every morning using the Simply Angle iPhone app. The temptation to touch the product, according to communications coach and Apple observer Carmine Gallo, makes you engage with it and – bam – you begin to feel attached. He wrote: "Multisensory experiences build a sense of ownership."
For example, continues Gallo, when an Apple employee is showing you how to use a product in a one-to-one workshop they won't touch the computer without asking for your permission because they don't want to disturb your sense of ownership. He says that Apple doesn't want you just to "buy stuff" but to create an "ownership experience" that creates a loyalty to the brand.
Wow.
Apple aren't the only ones using sophisticated tricks to engage your consumer brain.
You have a favourite drink, right? Yet, according to an examination of the drinks industry by BBC's Newsbeat, there is a thing called the 'three-second rule' that can sway your alcoholic purchase in a bar.
Jim Reed spoke to industry insiders who told him that a punter gets three seconds to make a decision after bar staff ask what they want. This three seconds is a tight squeeze and if you are in two minds at all, you are likely to "focus on the products right in front of (you)". This means that brands put in this position are more likely to sell. It might explain why you occasionally ended up with a bright blue alcopop when you initially went to the bar thinking of a G&T.
At least you know that when you're in a supermarket and a stand is handing out free samples, they are – well – free. You can always walk away after your free bit of sausage/square of cheese/thimble-full of wine and not buy the product.
What if the free product was not the product the supermarket wanted to aim you towards? In a previous piece featured here on TheJournal.ie, we outlined one of the most fiendish tricks in the supermarket sales book:
Next time you're stopped for a free sample, have a quick look around and take note of the products on the shelves nearby: they'll likely be the ones that the supermarket either enjoys a hefty mark-up on, or the ones with particularly elaborate packaging designed to immediately catch your eye.

If you're offered a free sample of a drink, you'll take a sip and break eye contact with the salesperson as you drink it – and if your eye is caught by another shiny product, the chances are you'll go back to it later.
We did say it was fiendish. As fiendish as the use of behavioural economics to understand what will make people hand over money online? This excellent article in Wired by Dan Ariely outlines how a number of commercial internet giants engage your online behaviour to encourage you to part with your cash.
Take the company Zynga which specialises in 'social' games such as Farmville, which at one point seemed to have taken over every second Irish page on Facebook. Zynga uses a similar principle to Apple in terms of 'helping' consumers to feel 'ownership' of the virtual farms by making them take lots of little steps to build it and play around with it. Ariely writes that "the more complex and time-consuming a process is, the more we fall in love with our creation and the more we become interested in the game".
Then Zynga adds the double whammy with the "social element", which Ariely calls a "compulsion" in which you donate pieces of farm to help a Facebook friend to build their virtual agrarian dream – and they reciprocate. Ariely says:
Economists have learned that reciprocity is an extremely powerful motivator. Ernst Fehr, in particular, has done groundbreaking work on what is called the trust game.
How Zynga uses this principle to encourage players to give money to a fellow player, in the trust that he'll reciprocate to the benefit of them all keeps them both in the game in a lovely, warm circle of mutual trust – and keeps them spending money.
If that sounds pretty complicated, that's because it is. Easier to understand is the concept, discovered by a researcher called Paco Underhill in the 1970s, that shoppers are attracted by shiny things. (I know – embarrassingly simple, isn't it?)
His company Envirosell lends its expertise to massive chains like The Gap and Wal-Mart in the US. One of the most basic rules discovered by Underhill has led to the phenomenon of shiny shop fronts. He said: "People slow down when they see reflective surfaces. And they speed up when they see banks." Amen, sir.
One other simple rule we found in Envirosell's bible is particularly pertinent right now when most shopping streets in Ireland are plastered with midsummer sale signs. Eurosell says that if you want to get a customer to tune into a special offer, only present them with one or two. They advised in one study:
Shoppers reached a signage saturation point after reading two signs. Signage clutter caused shoppers to tune out messaging. (Promotional signage topped almost every store fixture.) Of the 45 per cent who knew about the special promotion, there was some confusion as to what the promotion was.
You have been warned. Watch out for shiny surfaces, neatly-angled laptops and the first tap you set eyes on at the bar.