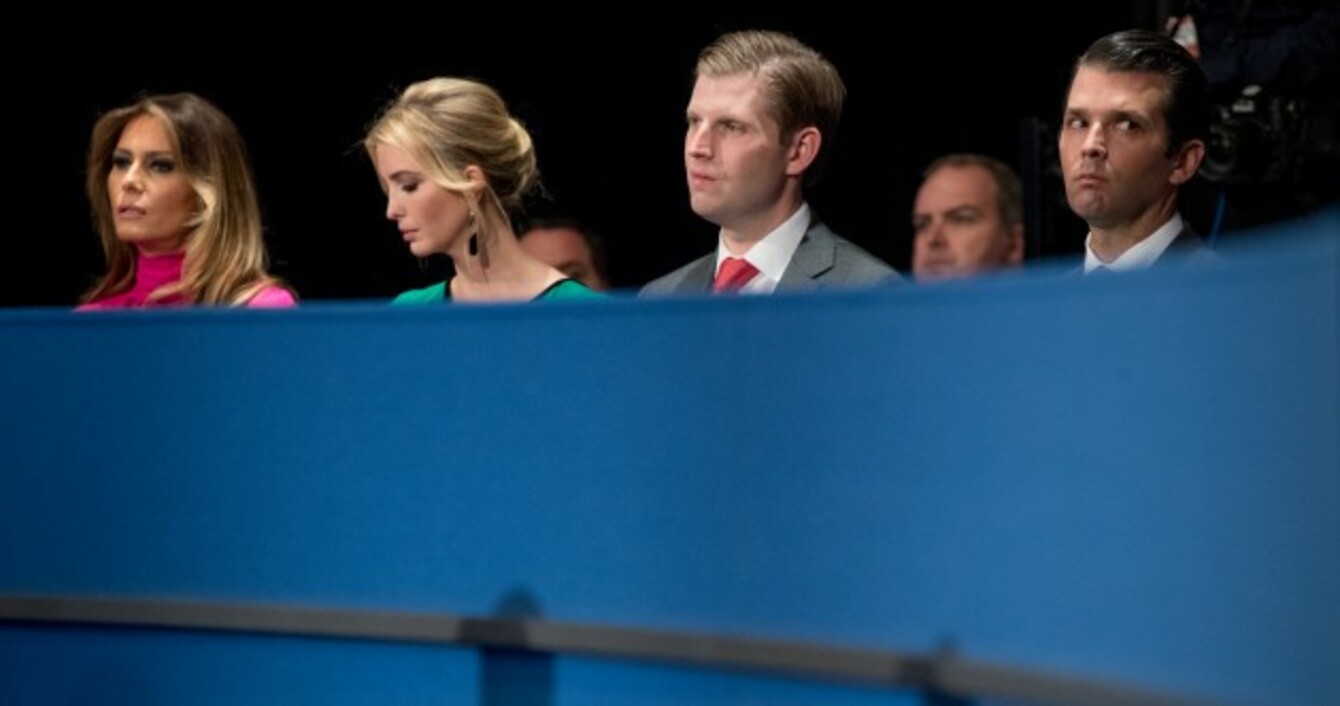 Melania Trump, Ivanka Trump, Eric Trump, and Donald Trump junior.
Image: Andrew Harnik
Melania Trump, Ivanka Trump, Eric Trump, and Donald Trump junior.
Image: Andrew Harnik
THE PRESIDENT-ELECT of the United States of America has denied he is seeking top-level security clearance for his grown-up children and in-laws, who will control his vast business empire while he is in office.
Donald Trump has given his three eldest children formal positions on his White House transition team.
Reports earlier this week on CNN, NBC, CBS and other media outlets suggested that Trump, who will control the most powerful military in history from January, had requested top-level security clearance his two eldest sons, his daughter Ivanka and his son-in-law, Jared Kushner.
The controversial property developer has put his grown-up children in charge of running his businesses during his presidency.
"I am not trying to get 'top level security clearance' for my children," he tweeted today.
"This was a typically false news story."
Tweetstorm
In a separate "tweetstorm", he denied rumours that his transition team is in disarray, amid reports in the New York Times that major US allies have been forced to ring the switchboard at Trump Tower in a bid to contact him.
The newspaper wrote that foreign leaders were "blindly dialing" Trump Tower, the billionaire's opulent office, to try to speak to him – a charge Trump strongly denied.
"I have received and taken calls from many foreign leaders despite what the failing @nytimes said," the Republican tweeted to his 15 million followers.
Russia, U.K., China, Saudi Arabia, Japan, Australia, New Zealand, and more. I am always available to them.
"[The New York Times] is just upset that they looked like fools in their coverage of me."
The newspaper also wrote that the president-elect's inner circle were "improvising" as they went about the critical task of hiring top staff to replace the administration of outgoing President Barack Obama.
After ditching his press pool – traditionally assigned to a president-elect in the name of transparency – Trump wound up at the 21 Club in New York, where he told its well-heeled patrons he would lower their taxes.
Jockeying
Another flurry of tweets from Trump denied rumors of internal disorder among his team, with several rivals jockeying for position.
"Very organized process taking place as I decide on Cabinet and many other positions," he wrote late last night, scoffing at media speculation about the frontrunners for key administration posts.
I am the only one who knows who the finalists are!
Several US news outlets have tipped former New York mayor Rudy Giuliani for the position of secretary of state.
Since his stint in City Hall, Giuliani has worked on behalf of the Qatari government, and a Canadian oil company, and has also given speeches to an Iranian opposition group which was listed as a terrorist organisation.
Hawkish former UN ambassador John Bolton and retired general Michael Flynn reportedly are also among those shortlisted for top jobs in the new administration.
"Lyin' Ted"
Also spotted at the property mogul's New York address was Ted Cruz – the arch-conservative Texas senator whom Trump belittled as 'Lyin' Ted' during the Republican primaries.
The Washington Post meanwhile has also reported that Trump's son in law Jared Kushner purged several transition team members linked to New Jersey Governor Chris Christie, who was demoted last week when Trump reshuffled his transition team and placed running mate Mike Pence in charge.
Kushner is a real estate developer with no political experience other than his role as a Trump confidant on the campaign trail.
Last week the Wall Street Journal reported that Trump's campaign team had no idea they would have to staff the entire West Wing following Barack Obama's departure from office.
With reporting from - © AFP, 2016