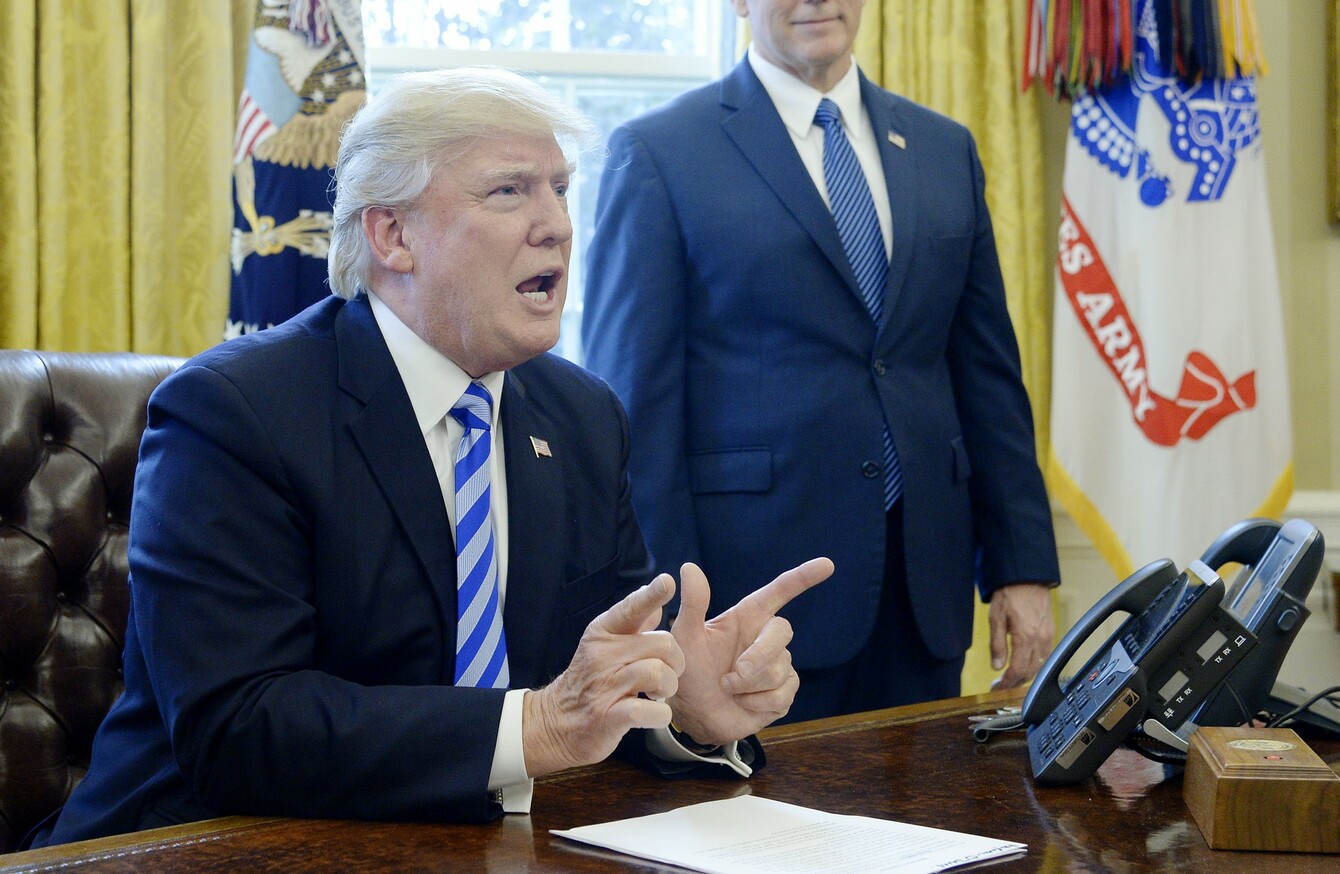 Image: SIPA USA/PA Images
Image: SIPA USA/PA Images
Source: hanque1/YouTube
HE'S ONLY TWO-THIRDS of the way through the first 100 days – but a number of US commentators are calling it already, saying that Donald Trump is experiencing the worst opening phase of any presidency in the country's history.
Trump and Republican leaders were forced to pull their Obamacare repeal bill off the House floor last night after it became clear the measure would fail badly.
The development was an embarrassing defeat for the President, who had demanded House Republicans vote on the legislation yesterday. He had earlier called off negotiations with conservative members who were critical of the legislation, threatening to leave Obamacare in place and move on to other issues if the vote failed.
In the end, the bill was withdrawn minutes before the vote was to occur.
"It was delusional in some ways," said David Gergen, a political analyst who served as an advisor to Presidents Nixon, Reagan, Ford and Clinton.
"This is a man who just shoved it off on other people and described things in ways that are just misleading," Gergen said of Trump's response to the fiasco.
It was perhaps the "worst first hundred days we've ever seen in a president," he added.
Author and commentator Charlie Sykes also tweeted that it was the worst 100 days for any president – saying he included William Henry Harrison in that assessment.
Harrison died 31 days into his term.
Here are some of the defeats Trump has suffered since taking office:
Travel bans
Just one week after his inauguration, Trump issued an executive order banning travellers from seven majority-Muslim countries and all refugees.
Unveiled with no prior warning, it sowed travel chaos and confusion, and ignited worldwide outrage.
However, in a humiliating setback for the president, a court in Washington state blocked the order on the grounds that it violated the constitution's prohibition of religious discrimination.
After the block was upheld on appeal, the administration issued a revised ban it said would better adhere to the law. It would close US borders to nationals of Iran, Libya, Somalia, Sudan, Syria and Yemen for 90 days, and all refugees for at least 120 days. Iraq was on the original ban but removed in the revision.
Still, courts in Maryland Hawaii dealt the White House a new blow this month, ruling that the second ban also discriminated against Muslims.
Although it does not mention Muslims, the courts have accepted arguments that Trump's statements while he was running for president last year – that he would open his White House term with a ban on Muslim arrivals – effectively defined his approach.
The case will next be heard in a federal appeals court in Richmond, Virginia.
Russia
Since US intelligence agencies last year took the unprecedented step of publicly accusing Russia of trying to swing November's presidential election in Trump's favour, questions have swirled about whether some in his campaign colluded with Moscow.
At least four separate congressional investigations are underway into Moscow's election meddling.
Democrats argue that the interference, in which the Kremlin oversaw a campaign to hack Democratic Party emails that were later leaked, contributed to Hillary Clinton's defeat.
The cloud hanging over the White House mushroomed last month when Trump's national security adviser Michael Flynn resigned after it emerged that he had misled the White House over meeting Russia's Ambassador in Washington Sergey Kislyak before taking office.
Attorney General Jeff Sessions recused himself from any Russia-related inquiries soon after, following the revelation that he also met Kislyak before Trump took office, contrary to Sessions's testimony during his confirmation hearing.
In a high-stakes public hearing in Congress on Monday, FBI Director James Comey took the extraordinary step of confirming the agency is investigating whether Trump campaign aides colluded with the Russian effort to influence the election.
He also repudiated the president's claim that he was wiretapped by Barack Obama.
Both the House and Senate Intelligence Committees will hold more public hearings in the coming weeks.
Source: Fox Business/YouTube
Healthcare
Trump had thrown his full political weight behind the now-abandoned law change, spending days arm-twisting recalcitrant Republicans.
The billionaire real estate tycoon – who entered the White House with no experience of politics or government – had put his reputation as a dealmaker on the line with the high-risk vote.
But the bill now appears dead, with Republican politicians urging a return to the drawing board.
Trump said he would shift quickly toward tax reform, another longstanding Republican goal.
"With no Democrat support we couldn't quite get there. They have Obamacare for a little while longer until it ceases to exist which it will at some point in the near future," he said, in the wake of yesterday's developments.
He said that if the Democrats were "civilised and came together", Trump's administration could work out "a great healthcare bill" with them.
Trump was back on Twitter this morning telling people to expect "a great healthcare plan" after Obamacare 'explodes'.
With reporting from © – AFP, 2017