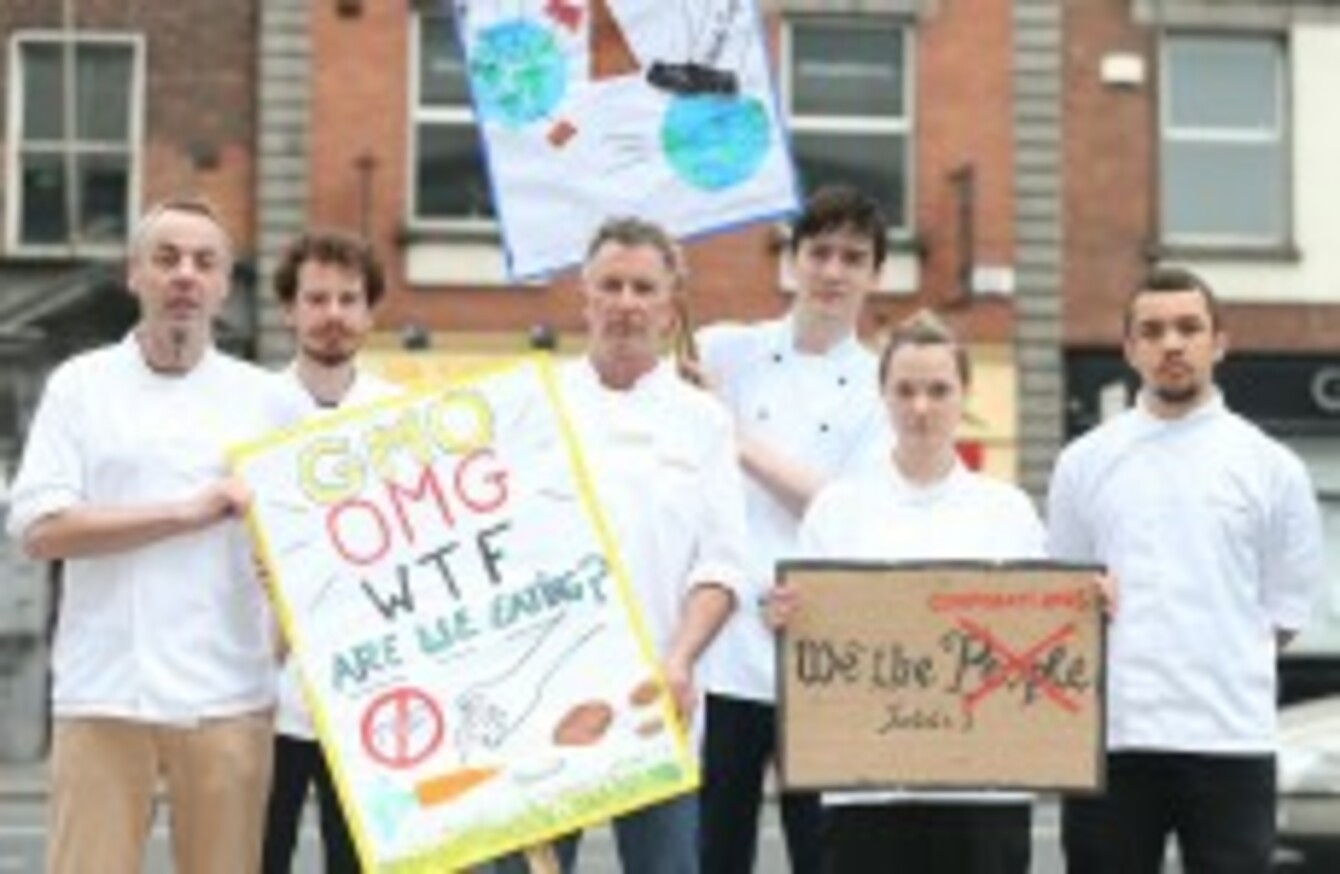 WTF Are We Eating?: Thornton (third from left) and his kitchen staff at the protest.
Image: Leon Farrell/Photocall Ireland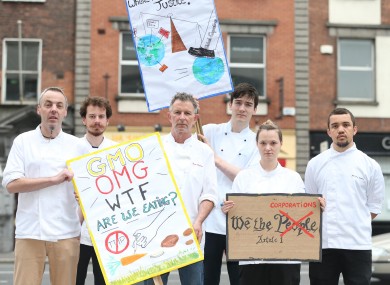 WTF Are We Eating?: Thornton (third from left) and his kitchen staff at the protest.
Image: Leon Farrell/Photocall Ireland
TOP CHEF KEVIN Thornton has expressed his concerns over a new EU-US trade deal that could open the door to genetically-modified foods in Ireland.
The Transatlantic Trade and Investment Partnership (TTIP) is currently being discussed by the European Parliament in Brussels.
Speaking ahead of a protest in Dublin against GM foods on Saturday, Thornton said that food standards are much higher in the EU than the US.
"You want trade between these countries but our standards are much higher than for the US. In the US the whole thing is run by multinational companies who are really only interested in the bottom line and money.
"The standard of food in Europe is much higher than it is there. My biggest concern would be is that you would have GM produce all over the place and no body is going to know about it.
Take something simple like raspberries. In a fridge raspberries would last a day or day-and-a-half max. So when your raspberries are lasting in the fridge two weeks, how is that possible? Because they are radiated.
The Michelin-star chef said he is concerned that the trade talks are happening "behind closed doors".
Anything that happens in secret is a problem because it means they are hiding stuff. If you are going to hide stuff it means you are ashamed of it or you know that people are going to be opposed to it.
'Safe to eat'
Responding to Thornton's comments about GM, a spokesperson from the Food Safety Authority of Ireland said that the organisation "is of the view that foods on the EU-wide market, including those that are derived using GM technology, are safe to eat".
There is a robust system in place which uses the most up-to-date, independent scientific data, that evaluates the safety of GM foods and which is carried out by the European Food Safety Authority.
The spokesperson added that the food legislation is "harmonised" in the EU and Ireland in relation to the authorisation and labelling of GM food and feed.
"GM-labelled food is rarely seen in retail outlets in the EU for a variety of commercial reasons, but none related to safety."
'Totally green'
Thornton noted that Ireland should be standing up as a "totally green" country.
"Our stance should be an example to the rest of the world of how food quality should be – clean and no chemicals. Okay, there are limits to no chemicals because if you have a blight how are you going to work it but it should be foolproof."
He added that he would never serve GM food in his own restaurant.
"We breed our own cattle. I'll go out and I will pick seaweed and try to be as honest as possible. It doesn't mean I'm a saint but I try."
Pro-GM
Pro-GM scientists argue that genetically-modified foods are not inherently more dangerous to either the environment or human health than any other method of crop mutation — whether through selective breeding or naturally through evolution.
Huw Jones, a scientist at Rothamsted Research in the UK, believes GM food could be safer than other food.
In fact, GM is actually safer than most forms of breeding because we know exactly which properties are being implanted — it's much less random.
#Open journalism No news is bad news Support The Journal

Your contributions will help us continue to deliver the stories that are important to you

Support us now
Thorton added that people need to be more conscious of what they eat.
I think we got lost along the way in relation to food and we need to think about what we are passing on to the next generation. When I was growing up there were three markets a week in the town but now there are none.
"It is just too convenient for people to go to supermarkets. In the last few years people have started to think about food and we want people to do more than think about it we want people to act on it."
Socialist politician Paul Murphy has said that TTIP "represents a very serious attack on our right to regulate in the interests of the environment, in terms of labour standards, in terms of food safety, consumer safety".
"It isn't really a free trade agreement, we effectively have that already, so what this is about is so called 'non tariff barriers' which include environmental, labour, health, consumer and financial regulations," Murphy stated.
Additional reporting: AFP.
This post was updated on 15 July to include the comments from the FSAI spokesperson.